Top ancient towns near Chengdu (4) – Jiezi town
( chinadaily.com.cn )
Updated: 2015-08-19
Visiting ancient towns can be a pleasant experience. Here we list four best ancient towns near Chengdu.
Jiezi Ancient Town – "backyard garden" of Qingcheng Mountain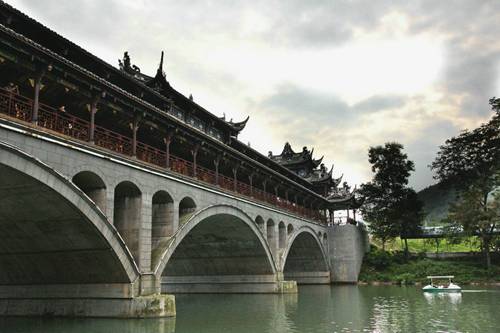 Location: lower lying edge of the Fengqi Mountain, 50 km from the city center of Chengdu
Highlights: 32 temples, Ziku Pagoda
Jiezi Ancient Town is located at the foot of the Fengqi Mountain and adjacent to the Qingcheng Mountain, the famous Taoist mountain in Sichuan province.
The rivers and mountains create an air of purity in the town and with its 32 ancient temples, the earliest of which dates back 1,800 years ago.
Near the Yulong Bridge in town stand a dozen of luxuriant maidenhair trees. Under their shade, there is a red pagoda built in Qing Dynasty (1644-1911) called Ziku Pagoda. When the wind blows, small bells on the pagoda will make a pleasant sound.
The beautiful scenery makes Jiezi town an ideal place to relax and have fun, that's why people call it the "backyard garden" of the Qingcheng Mountain.