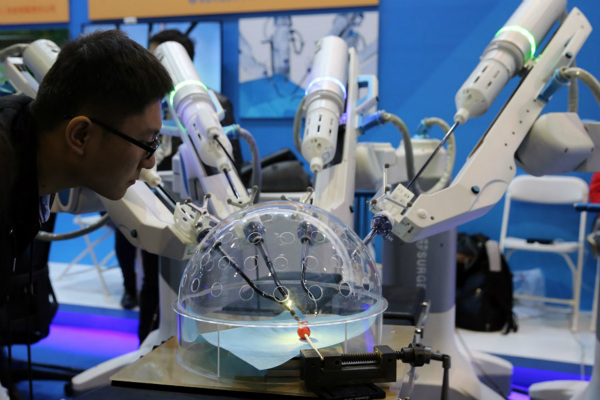 A visitor checks out a medical robot conducting simulated surgery on a grape at the opening of the Zhongguancun Innovation and Entrepreneurship Festival in Beijing on Tuesday. [Photo by Wang Zhuangfei/China Daily]
In Beijing's Haidian district, the Zhongguancun Innovation and Entrepreneurship Festival, part of the 2018 National Mass Innovation and Entrepreneurship Week, kicked off in the Zhongguancun Science Park on Tuesday. The festival runs through Oct 15.
The district will establish a special fund of more than 100 million yuan ($14.4 million) to help scientists turn their research into commercial and industrial products or services, the authorities said.
The fund is the first of its kind in China, said Yu Jun, the district's Party chief.
Yu said the district, known as the home of China's "Silicon Valley", will use the fund for a support plan it is starting for proof of concept - feasibility studies that are routine in developed countries such as the United States.
"We will try to use the proof of concept plan to fill the gaps between scientific research institutions and the market, aiming to further help the commercialization of scientific and technological achievements," Yu said.
The plan will cover areas including information technology, artificial intelligence, health and medicine, new materials, advanced manufacturing, energy and environmental protection.
Zhong Yaohui, marketing head of Zhongguancun Inno Way, a street of entrepreneur service agencies founded in 2013, said it will build a center to provide facilities to foster projects' commercialization and industrialization.
"In the past, China has had many services for transferring final scientific results into real products, which is called' helping with the last step', while this plan will help from the start, which could even be just an idea from a professional who wants to use resources including money and devices to prove the concept," Zhong said.
He said the plan will reduce the risks and costs of the commercialization of innovations and help integrate scientific and economic development.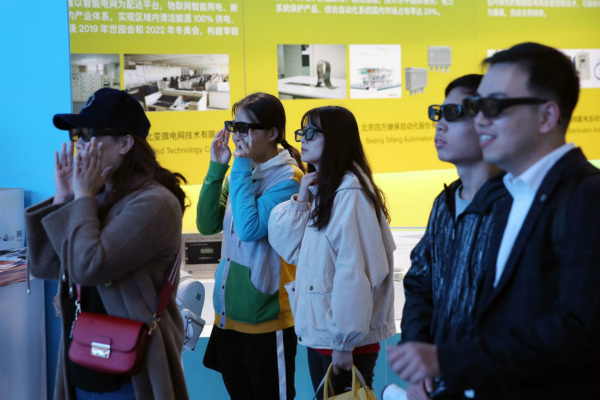 Visitors watch a virtual-reality movie wearing special glasses at the opening ceremony. [Photo by Wang Zhuangfei/China Daily]
Haidian district is also embarking on other initiatives, including an innovation partners plan and a startup cultivation plan.
There were 8,992 national high-tech enterprises established in the Zhongguancun Science Park by July.
From January to May, the total revenue of high-tech companies in the district was 752 billion yuan, up 17.8 percent year-on-year.
Contact the writers at dujuan@chinadaily.com.cn