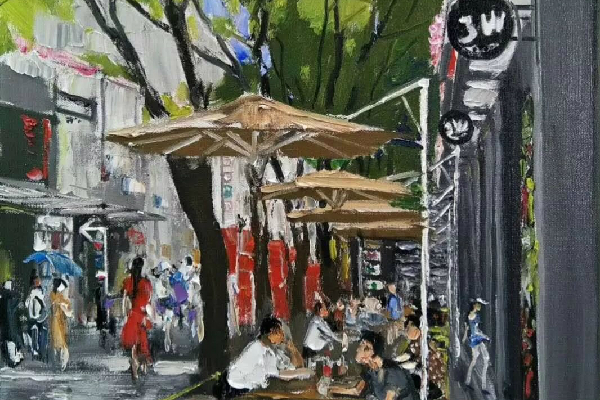 An oil painting captures the lively atmosphere of Beijing's Zhongguancun Inno Way on May 31. [Photo provided to chinadaily.com.cn]
A group of artists visited Zhongguancun Science Park and used painting to depict its innovation street (Inno Way) in Beijing's Haidian district on May 31.
The excursion, titled "Impression: Zhongguancun", was organized by Haidian district's publicity department and is a prelude to the upcoming exhibition tour of Zhongguancun Science Park's innovation culture.
Through these brilliant paintings, people from all walks of life can glimpse inside the gate of Zhongguancun Inno Way, an incubation hub which combines entrepreneur service agencies and an innovation community.
The painting activity is intended to promote the Zhongguancun brand and attract more talent from home and abroad.
Accompanying the artists were more than 100 government directors and enterprise representatives.
Zhongguancun Science Park, also dubbed China's Silicon Valley, is the nation's first technology pilot zone. It has the largest industrial scale, strongest innovative capability and highest research quality of any zone of its kind.
In 1978, a wave of reform and opening-up gave birth to the "Zhongguancun Electronics Street", where passionate entrepreneurs put their heads together and realized their dreams.
Forty years later, the pilot zone is marching forward with a development formation consisting of 16 sub-parks and some 20,000 high-tech companies, including computer manufacturer Lenovo, search engine Baidu, e-commerce retailer JD and chip manufacturer Cambricon.
The science park has also been a major source of innovation in China. Many core technologies like Sugon supercomputers, AI chips and grapheme equipment were bred in Zhongguancun's laboratories.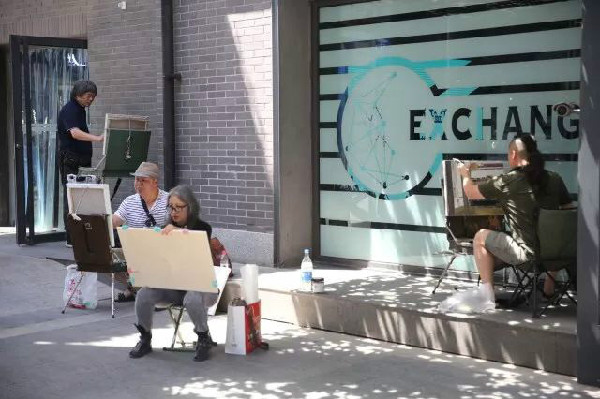 Artists endow Inno Way with an aesthetic taste in Zhongguancun Science Park, Beijing's Haidian district on May 31. [Photo provided to chinadaily.com.cn]