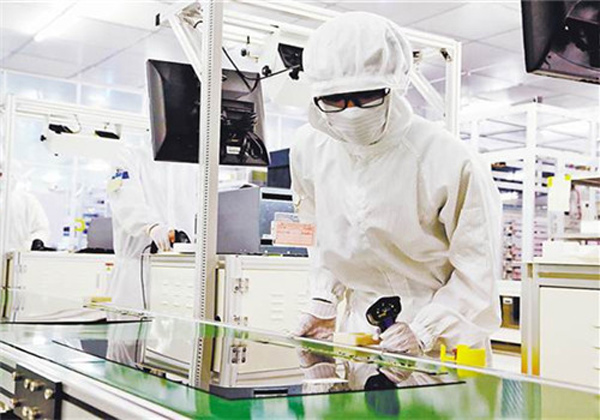 A technician focuses on his research at BOE's Chongqing factory. [Photo provided to chinadaily.com.cn]
Chinese company starts production of AMOLED display panels at Chengdu facility
BOE Technology Group Co Ltd, a supplier of display products and solutions, on Thursday commenced mass production of active-matrix organic light-emitting diode display screens ahead of schedule at its facility in Chengdu, Sichuan province.
The Chinese company said that the sixth-generation flexible AMOLED display panels have already been delivered to more than 10 smartphone manufacturers including Huawei Technologies Co, OPPO Electronics Corp, Vivo Mobile Communication Technology, Xiaomi Corp, ZTE Corp and Nubia Technology.
BOE has so far invested 46.5 billion yuan ($7 billion) in the Chengdu production line, which is also the country's first such facility. It mainly produces display panels used in mobile products and smart wearable devices. It can turn out 48,000 glass substrate panels (at 1850mm X1500mm) every month.
The commencement of mass production indicates that Chinese companies are slowly taking center stage in the global AMOLED industry and breaking the monopoly of South Korean companies in flexible and foldable panels for high-end smartphones.
"Mass production at the Chengdu plant will greatly enhance BOE's competitiveness in high-end smartphones and mobile displays and also meet the fast-growing demand for small and medium-sized display panels," said Chen Yanshun, CEO of BOE.
Chen added the move is of great importance to the further development of the Chinese organic light emitting diode industry and the global flexible display industry. BOE has another sixth-generation flexible AMOLED line in Mianyang, Sichuan province, that is expected to start production in 2019.
Market research firm IHS Markit expects BOE to be the world's largest supplier for AMOLED display panels in 2019.
"The flexible AMOLED display brings more possibilities to a phone's appearance," said Zhang Yu, senior vice-president of BOE. He said AMOLED panels are in short supply, and the market is so big that there is virtually no competition. "We are now solving the problem of insufficient production capacity."
AMOLED technology is physically flexible with a fast response, high contrast and wide visual angles, compared with traditional liquid crystal display panels.
South Korean technology giant Samsung Electronics Co currently dominates in AMOLED technology and products, accounting for a market share of around 90 percent. These panels were used in its Galaxy series of smartphones.
Statistics from industry consultancy CINNO Research showed that shipments of flexible AMOLED smartphone panels reached 55 million units last year, and will rise to 160 million pieces by the end of 2017, with an estimated annual compound growth rate of 88.2 percent up to 2020.
Industry experts expect Chinese manufacturers to eat into Samsung's market share by 2019 as they increase investment and production in the sector. "China has become the world's largest producer and consumer of mobile phones, but the flexible AMOLED display market has been dominated by South Korean companies," said John Wang, an analyst at Sigmaintell Consulting Co Ltd, a panel industry consultancy.
Wang said the AMOLED technology is the future for smartphone panels, adding the flexible display technology will play a vital role in small and medium-sized display sector.
Around 23 percent of global smartphones had AMOLED display panels last year. The figure is expected to reach 64 percent in 2021, according to Sigmaintell.