Million-dollar diamond for sale in Auckland

Updated: 2006-06-21 14:55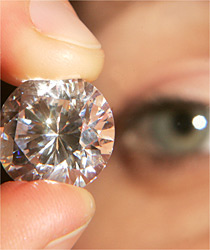 A million-dollar diamond, the biggest, sparkliest and most expensive ever to go on sale in New Zealand, has arrived in Auckland.
And prospective buyers are lining up to check out the precious stone.
Included among them are a New Zealand couple and their two adult daughters.
Win Charlebois, managing director of The Diamond Shop, said the family had been looking for a rare diamond for about five years, to keep as a family heirloom. "They're not buying it to invest in and sell," he said. The family were in line to be given first look at the stone ĘC but if they turned it down, another interested couple was waiting in the wings.
At 19.15 carats, the stone is one of only a handful of diamonds of its size and quality in the world.
Mined in South Africa last year, the rough diamond was 52 carats before being cut in Israel.
Mr Charlebois said when the cutters found out it was coming down-under, they named it "The Star of New Zealand".
"It is a rare occasion that a diamond of this size and cut comes on the market," he said. "To have this stone in New Zealand is very exciting."
The diamond was escorted to New Zealand by Lior Sofer, son of acclaimed diamond merchant Beny Sofer, and will be on public display at The Diamond Shop, in Queen St, till Friday.