Nude bicyclists seek motorist respect

Updated: 2006-06-11 10:54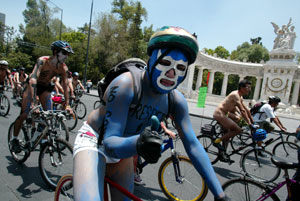 A nude cyclist wearing a mask rides across a street as part of "The World Naked Bike Ride" in downtown Mexico city, June 10, 2006. [Reuters]
About two dozen bicyclists rode nude through downtown Mexico City on Saturday, demanding respect from motorists and protesting the car-oriented culture in this megalopolis of 20 million.
With slogans like "Respect Bike Riders" painted on their bodies, the naked cyclists turned many heads in a city where it's rare to see even clothed cyclists braving the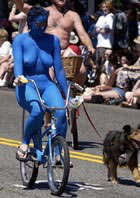 Bicyclists demonstrate

chaotic traffic.

"Drivers don't respect us, which is why we've had to take this kind of action," said Felipe Fulop, a protest organizer.

Agustin Mendez, 48, arrived to the protest wearing only a pair of sneakers and a bike helmet.

"This is what we have to do to get drivers to see us, and respect us," said Mendez, adding he was recently hit by an object ¡ª believed to be a bottle ¡ª wielded by a youth leaning out of a passing vehicle on a Mexico City street.

While the city has constructed a few bike paths and lanes in recent years, it has built far more expressways for cars.

Much of the city's bicycle route consists of lane markers painted on streets and sidewalks, which few drivers respect.

Saturday's demonstrators also stressed that they were helping the city's severe smog problem.

"We don't pollute," Fulop said.