Molecular scientist chases ideas, knowledge in China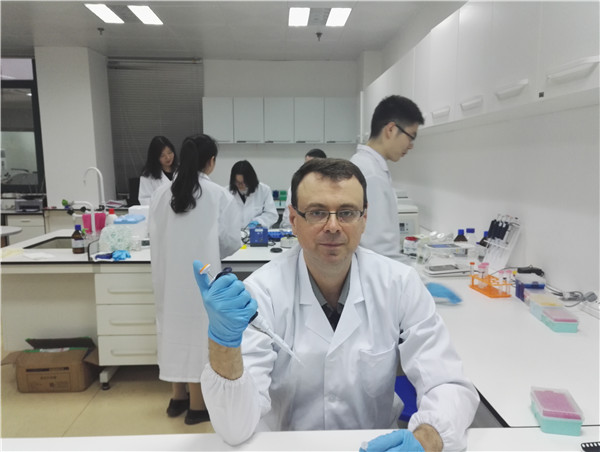 Philipp Kapranov plays a leading role with the biological research team at Huaqiao University in Xiamen, Fujian province. [Photo provided to China Daily]
You probably don't know Philipp Kapranov, but he knows a lot about what's inside you.
The American genomic scientist has made a particular study of RNAs, a class of macromolecules known as nucleic acids. These biopolymers are essential to all forms of life-best-known for storing and transmitting hereditary data by synthesizing proteins. But Kapranov is fascinated by what the "non-coding" RNA molecules do, and their potential to uncover new opportunities in areas like fighting disease.
Kapranov says it's his nature to explore new ideas for discoveries and take on new challenges. That nature brought him to China.
"China has so many resources. I realized there is also a desire for growth and scientific discoveries here," says Kapranov, 43. "I wanted to bring my scientific seeds and let them grow here."
Kapranov has played a leading role with the biological research and scientific team at Huaqiao University, located in Xiamen in Fujian province, after he became a professor there in 2014.
Born and raised in Kiev, in today's Ukraine, Kapranov had a strong interest in biology when he was young. He later went to study in the United States and got his PhD in genetics from Michigan State University in 2000.
Before coming to China, he lived in the US for more than two decades and had done research for a private nonprofit research institute and high-tech companies located in California's Silicon Valley and Boston area.
His primary research interests include systems biology and genomics. In the past few years, he has been involved in the mapping of transcribed regions in the human genome.
His research shed light into the functions and importance of the genome's non-coding RNAs-those RNA molecules that are not translated into proteins.
"Discovering what these non-coding RNAs are doing has been the passion and goal of my life," Kapranov says. "If the cell is really using them for something, then there is a lot of new opportunity for us, such as finding those variants that cause diseases."