Book fair goers want more literary exports
Updated: 2011-10-19 16:50
By Fu Jing (China Daily)
| | | | | | | | | | | |
| --- | --- | --- | --- | --- | --- | --- | --- | --- | --- | --- |
|   | | Comments() | | Print | | Mail | | Large Medium  Small | 分享按钮 | 0 |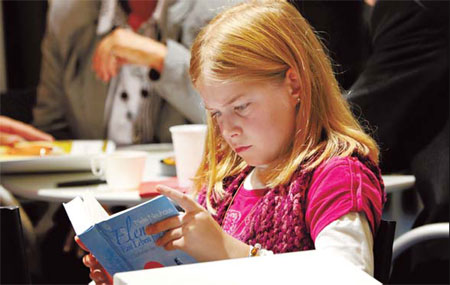 A girl reads a book at the Frankfurt Book Fair 2011 in Germany on Oct 12. About 200 Chinese publishers attended the book fair. Ma Ning / Xinhua
FRANKFURT - Western audiences should have access to more cultural products and publications that convey the views of Chinese writers, journalists and artists.
That's what many of those who attended the Frankfurt Book Fair 2011 said at that event this past week.
"There are many books available about China and Chinese culture, but they are all written by foreigners," said a German visitor, Almute Grohmann-Sinz. "For us readers, it would be great to have the opportunity to read Chinese books written by the Chinese for us."
Grohmann-Sinz said Chinese literature that has been translated into foreign languages is harder to find than Western literature.
"If we were to read about China from a Chinese perspective, it would enrich our knowledge as it is much more original," Grohmann-Sinz said. "So it would be very good if more Chinese publications were present here."
His friend Gisela Bassa agreed: "We would have a different view of China if we had access to books written by Chinese people."
Another visitor, who preferred to only use his first name, Jay, said he believes foreigners can obtain a better understanding of China by reading works written by Chinese natives.
At the Frankfurt Book Fair, many of the Chinese and foreigners there said they were in favor of taking knowledge about China and its culture and spreading it in Europe. Some also said that abolishing stereotypes and increasing the understanding between the Chinese and Westerners will improve those groups' relations.
China has made progress in recent times in distributing homegrown publications overseas. Even so, it is still difficult for many Chinese publishers to finding qualified Chinese writers and translators.
Guo Xiaoyong, executive vice-president of the China International Publishing Group, said Chinese publishers need to improve their understanding of Western readers. He also said there are few translators who can take Chinese material and convey it successfully in a foreign language.
"This can be done by many Chinese translators of course, but the quality is not always very high," Guo said. "We are not very good at presenting China in a way that Western people accept; for example, we're not good at telling stories."
Guo said China needs to find different ways to present itself.
By promoting its culture, China can wield more soft power throughout the world. But doing so will prove difficult.
China does not have blockbuster movies as the United States does, said Guo, making it harder to promote Chinese culture outside of China.
Meanwhile, he called on the West to shed its stereotypes about China.
"The promotion of Chinese culture is not a one-sided story," Guo said. "I believe that efforts like today's book fair will bring more cultural products and contribute to China's success."
More than three decades ago, the "cultural revolution" (1966-76) took place in China, bringing the country a spate of bad publicity.
"We are changing that, but Western society still remains skeptical," Guo said.
In another step meant to increase the country's influence, Germany will celebrate the "Year of Chinese Culture," said Li Xin, minister-counselor and head of the Chinese embassy in Berlin's cultural department. "People need to understand each other", he said. "We want Westerners to understand us."
Li said misunderstandings and misconceptions undermine cooperation between countries, while cultural exchanges contribute to the happiness of the people.