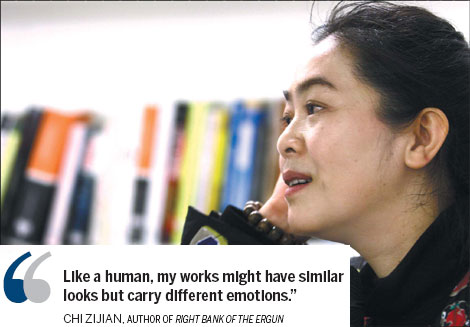 Chi Zijian says she refuses to limit her writings to those about personal experiences and calls the good vs evil struggle an everlasting theme of her works. Zhan Min / For China Daily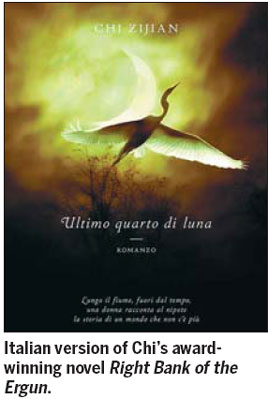 Author Chi Zijian's works reflect the shades of darkness and light that color the human soul. Liu Jun reports.
Chi Zijian noticed she was constantly washing up when she wrote her latest novel White Snow and Black Raven (Baixue Wuya, 2010) about a plague that killed one in five residents in Heilongjiang's provincial capital Harbin in 1910.
She realized she had started to unconsciously fear the plague would somehow infect her, too.
Taking inspiration from the 2003 SARS outbreak, she strove to reconstruct that city's early history. Harbin only had a population of about 100,000 a century ago. But it was thriving with the inflow of clever Russian merchants and diligent Chinese.
"It's such a dramatic change from the serene mountains and river I wrote about just three years ago in Right Bank of the Ergun," the 47-year-old says.
Her rapid-fire speech sounds musical and full of confidence during her telephone interview with China Daily, conducted upon her return from Italy.
The Italian version of Right Bank, which relates the life of the Ewenki people and won the Mao Dun Literary Award in 2008, has just been published as Ultimo quarto di luna. The English version by American translator Bruce Humes could come out in 2012, followed by Dutch and Korean renditions.
Chi is displeased about the little recognition contemporary Chinese literature receives in the world.
The lack of investment in establishing the country's cultural image has led to "misjudgment" of Chinese literature, she believes. While top writers' works are rarely translated, some commercial works with little literary value but lucrative market potential have led foreign readers to belittle all Chinese writers.
During a trip to France, Chi and a local author visited a major bookstore and couldn't find any of her three books translated into French. A few other leading Chinese authors' books were stuffed in the Asian corner.
"My friend tried to comfort me, saying my books had been sold out. I felt so sad," Chi says.
Chi jokes that her English "sucks", and named Twain, Balzac, Hemingway and many other foreign writers as sources of her literary nutrition.
But she disapproves of the fast assembly-line translation of foreign works in recent years. Compared with classics by such established translators as Fou Lei and Yang Jiang, today's translation is of poor quality, she says. She was very disappointed with the translation of Orhan Pamuk's My Name is Red.
Chi is one of the country's few women writers who refuse to limit writings to those about personal experiences.
"I work hard to bring readers new scenery with each work. The struggle between good and evil is the everlasting theme of my writing," Chi says.
In White Snow, Chinese and Russians join doctors to fight the plague. A small boy and his father take it upon themselves to send food to patients in quarantine. They contract the disease and die.
Sunny Above the Clouds (Yueguo Yunceng de Qinglang, 2003) - which hasn't won much attention, although it's her favorite work - gives a shuddering description of the evil in human nature. The protagonist, a yellow dog, witnesses a mentally disturbed teenager shoot his kind doctor to death in a remote forest. The father and the boy then bury the doctor, carry away his valuables and sell the dog.
"Love and beauty are the best beliefs of mankind. There is an ultimate inclination toward goodness even in those who have done countless evil deeds," Chi says.
The dog is given to many owners, of whom Mei leaves an everlasting impression on readers.
The woman hides in a remote town in Northeast China after she caused the death of her entrepreneur father in Shanghai. She repents for her sin by giving birth to babies for total strangers.
She loves the dog and plants a courtyard of sunflowers. The bright color lingers even after Mei dies in childbirth.
Chi's husband, a county official, died in a car accident while she was writing Sunny. His surname was Huang (which translates as yellow) and was born in the Year of the Dog. Hence, her pet name for him was, "Big Yellow Dog".
"It was writing that helped me out of grief," she says.
"Like a human, my works might have similar looks but carry different emotions. I'll continue writing even into my 80s. I never know when I'll reach my zenith."