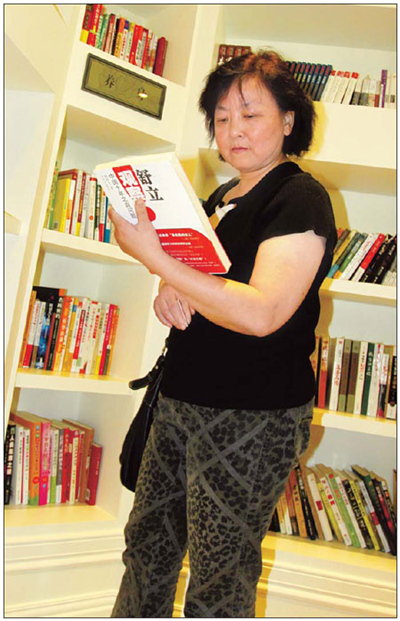 A writer of "new realism", Fang Fang's fiction is distinguished by a direct and fierce confrontation with reality. Provided to China Daily
A self-declared 'pessimist?seeks an upbeat outlook on real life.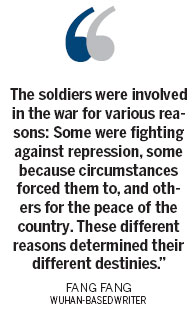 Writer Fang Fang's The View (1987), about the brutish struggle of an illiterate docker's family in the poorest area of Wuhan, narrated by its deceased baby protagonist, was eerily reminiscent of French poet Charles Baudelaire's The Voice, published in 1857.
Fang Fang's half-a-month-old Little Eight, is Baudelaire's "the voice" that revealed "distinctly bizarre worlds" from "behind the scenes of life's vastness".
The View was representative of China's "new realism" literary genre that rose to prominence in the late 1980s.
The Wuhan-based writer's latest offering, Wuchang Town, tells the tale of a besieged settlement - the town in which she has always lived.
The capital of Hubei province has been the setting of all her stories.
"My knowledge about the city has grown from a leaf, to a tree and finally to a forest."
The writer regards the soon-to-be-published Wuchang Town as her best work in years.
Its plot focuses on a 40-day battle (from Sept 1 to Oct 10, 1926) during the Northern Expedition, a civil war between the northern warlords and the Kuomintang army from 1926 to 1928.
"War brings out the extremes in human nature," Fang writes in the afterword.
"The soldiers were involved in the war for various reasons: Some were fighting against repression, some because circumstances forced them to, and others for the peace of the country. These different reasons determined their different destinies."
Fang was born into an intellectual family, which she supported by working as a freight loader after high school. She started writing poems during this period and was first published in 1975.
"The four years as a freight loader was like attending a different sort of university," she recalls.
"It acquainted me with the ways of the impoverished urbanite, which was entirely outside of my previous experiences."
Fang studied at Wuhan University from 1978 to 1982 and published her first short story, On a Canvas-Covered Truck, in her senior year. After graduation, she became a scriptwriter for Hubei TV for seven years before quitting to write full time.
Most of Fang's works are novellas. Her early writings are mainly about the idealism and optimism of youth - works she has come to regret and consider superficial.
The turning point came with her 1986 novella White Dream, an acrimonious satire on the disappointment and frustration of a failed friendship that was inspired by the actual betrayal by a fellow writer friend.
Two types of urban youth - the hurt and lost intellectuals and the struggling workers of the lower social classes - were portrayed in her 1988 novella White Foal and reappear in her subsequent works.
In the partially autobiographical My Grandfather in My Father's Mind (1989), Fang reflects on the lives and attitudes of her grandfather and father, who represent two generations of Chinese intellectuals.
Her grandfather, a scholar of traditional Chinese language and literature, was killed in 1938 during the War of Resistance Against Japanese Aggression (1937-45). Her father, a linguist, lived with the fear of persecution during the "cultural revolution" (1966-76) until his accidental death in 1973.
The experiences of her grandfather and father have greatly influenced Fang's literary interests and understanding of life.
She believes life is driven by cruel fate.
Humankind is helpless in the face of reality but refuses to easily surrender. The resulting "tension" is what she seeks to convey.
According to Han Shaogong, author of A Dictionary of Maqiao, the secret of Fang's success is that she can capture the complexities of an ever-changing life without losing its thread.
Fang's stories are permeated by a Kafkaesque absurdity and Sartre-like nihilism.
Her protagonists' endeavors to understand the meaning of existence often end up in failure and sometimes even death.
The utilitarian Seventh Brother in The View, who manages to rise above poverty, compares life to a leaf, which appears in the spring only to wither in autumn.
"I can't help but be pessimistic when I'm writing, because this is the way life is," she says.
"But when I'm actually living life, I try to be upbeat."