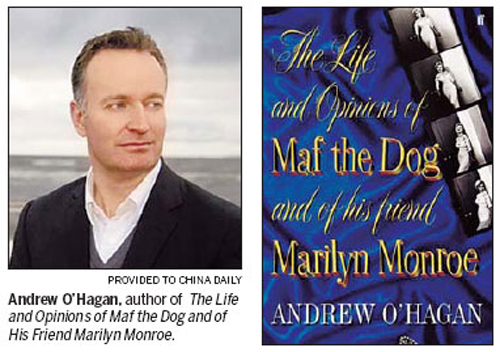 Andrew O'Hagan slipped into the role of the famed American art dealer, Leo Castelli, quite effortlessly at the Bookworm International Literary Festival in March. O'Hagan, acclaimed in the United Kingdom for his erudition and insight into the complicated nature of Scottish identity, was reading from his last novel, The Life and Opinions of Maf the Dog and of His Friend Marilyn Monroe.
He chose the section in which Castelli shows Monroe around his gallery, introducing her to the dynamics of 1960s post-modern art.
"All the pop artists want to burn, burn, burn you know, and repeat everything," Castelli says. "They're so caught up in life they just don't have the time for death."
O'Hagan's rendition of the slightly nasal-accented and patronizing Castelli, showing off his acquisitions and his knowledge of the avant-garde art scene with theatrical flourishes, had the audience in splits.
Maf is a fun novel. It's quite a departure from O'Hagan's earlier works. The Missing (1995), his first non-fiction book, is based on real-life incidents of people who disappeared in Britain. It's an attempt to piece together the absent bits, based on exhaustive interviews with friends and family and conjecture.
O'Hagan's first novel, Our Fathers (1999), shortlisted for the Booker and Whitbread awards, was about failed fatherhood. In it, the violence and drunken excesses of the narrator Jamie Bawn's father could be read as an extension of the crisis in Scottish society in the throes of mindless urbanization and collapse of family values in the post-war era. Personality (2003) follows the journey of a child prodigy, a singing star who is a second-generation Italian immigrant, from a small Scottish island to the cesspool of celebrity worship that is London.
In Maf, O'Hagan, who engages with such serious themes as migration, fracturing of family ties and political and ideological shifts, has hugely invested in humor. Narrated by Mafia Honey, aka Maf, a Maltese terrier that the singer Frank Sinatra gifted to Marilyn Monroe, it's an account of the rich and the famous, the rock stars and cultural czars, from England to LA, via New York. Seen from a pup's eye view, the excesses and affectations of the stars, bizarre in themselves, are magnified several times over.
The dog in question is formidably learned, an authority on the famous canines in history, from Russian space traveler Laika to Elizabeth Barrett Browning's pet Flush, who inspired a novel by Virginia Woolf. A sworn Trotskyite by faith, he quotes freely and frequently from Plutarch to F. Scott Fitzgerald, with the smug attitude of a university sophomore.
"He's a cross between Bill Connolly and Noel Coward," says O'Hagan, conceding that the narrative voice is "quite like mine".
"Monroe shared a certain communion with Maf, which was not compromising," says O'Hagan. This was the only relationship she had that was asexual and uncomplicated, he says.
Those looking for intimate details about Monroe's private life might be disappointed. President J. F. Kennedy makes an appearance, recounting how he called Martin Luther King Jr's pregnant wife during King's incarceration. Frank Sinatra flits in and out of the book, playing a doting host to Monroe and Natalie Wood one moment and setting his Beverly Hills villa on fire the next. But there's nothing much to indicate a full-blown romance between Monroe and J.F.K. or Sinatra - the two supposed affairs that are crucial to the Monroe mythology. Neither is there a hint about how Monroe brought about her own end.
"The figure of the artist in trouble is a manifestation of society's secret revenge. We like to see people who have achieved success being tortured and brought down," says O'Hagan, who refused to fall in line with the audience's expectation of reading about Monroe going the way of glorified martyrdom.
Instead, his contemplative canine narrator is interested in recording impressions of early 1960s America and interpreting them in terms of the literary canon.
"This was the era of the Cold War, man's journey into space, the golden age of Hollywood coming to an end, and feminism into a corner. This was both the end and the beginning of America's great obsession with itself," O'Hagan remarks, explaining his fascination with the swinging 60s.
A dog's-eye view on the trends, events and the people who made them happen is certainly a new perspective.