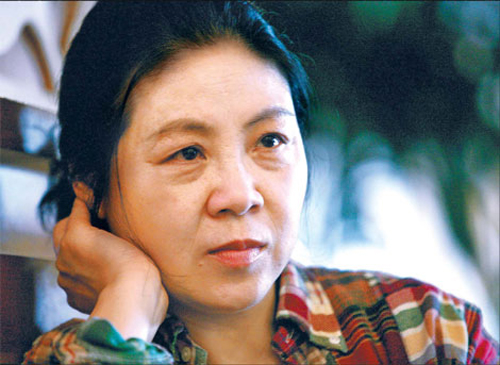 Wuhan-based author Chi Li's works, that revolve around the lives of ordinary people, have been translated into French, Spanish and English. Du Lianyi / China Daily
Chi Li is one of the country's best-known writers in the West and is about to publish a new book that focuses on Chinese men, a major theme of her writing.
When Chinese author Chi Li got her first royalties from the French publisher Actes Sud for her books published in France in 1995, she celebrated by spending the money on her dream luxury - a bottle of Chanel No 5.
Chi's trip to Europe was the first time she had traveled alone and the European winter left a deep impression on her.
She gave lectures at a German university and traveled to Paris by train to sign a contract with Actes Sud, which has since published some 20 of her books.

"I don't remember how much money it was, but it was a pleasant surprise. With the francs in my pocket, I ran to the Chanel store on Champs-Elysees. What was important was not the money, rather it was buying into the legend of romance," she recalls.
Chi is one of the best-known Chinese writers in the West, with her books translated into French, Spanish and English. Renowned French translators like Isabelle Rabut, Angel Pino and Nathalie Alliel have worked with her.
Though she says she is not a good communicator and rarely grants interviews, she is candid and sincere.
As a member of the National People's Congress (NPC), Chi discussed politics with other representatives at the NPC meetings in early March, in Beijing. She said it was a good platform to understand the country's realities and policies and express opinions.
Chi says she is a born writer and at 4 years old was obsessed with Chinese characters - "They were my friends and playthings".
Like many Chinese writers born in the 1950s, Chi's childhood was affected by the "cultural revolution" (1966-76).
After her father, a military official, was labeled a rightist, the family moved from Wuhan, Hubei's capital, to a remote village in the province. Words were her greatest comfort.
"My dream of literature has not changed since it germinated in those early days," Chi says.
In 1976 Chi, then 19, entered a medical college. "Corpses gave me great courage and kindled the fire of literature in me."
She recalls her first lesson was an autopsy of a man's body. It was the first time she became acquainted with a man's body, in what was a conservative era.
"There are only men and women, so as a good author, you have to understand men," Chi says, who worked as a doctor at a Wuhan hospital.
Facing disease and death every day, literature was a way of facing life and praising it for Chi.
"Life is a beautiful thing, but there is dying and suffering. Literature, however, can describe the beauty and re-live it many times."
"In each reader's heart, Hamlet could have a resurrection. And that is the charm of literature."
Chi's passion for words led her to further her studies in literature. In 1983, she passed the national exam and was admitted to Wuhan University, majoring in Chinese language and literature.
Upon her graduation in 1987, the 30-year-old chose writing as her profession.
Looking back, Chi says she has passed through several stages in her writing.
Throughout the 1980s, Chi wrote many bold and unrestrained works full of love that eulogized life. She saw herself as a master of life.
"I was young and passionate," Chi recalls.
"After 30, I learned about the lightness and weight of life," Chi says. "I was upset when I realized I had no control over anything in life."
In the 1990s, Chi stayed in an unhappy marriage, for the sake of her daughter.
"She was still young then, and I didn't want her to grow up in a broken family," Chi recalls.
Her works in this period, such as Apart From Love and The Sun Was Born, are about the lives of young people as they deal with the big questions of love and marriage, and everyday problems such as job-hunting, housing, and bringing up children.
Since 2003, Chi has reached a higher level of sophistication in her works and a number of her novels have received wide acclaim.
Life Show is one of her representative works and has been translated into many languages and adapted for the screen. The story revolves around a beautiful woman who sells a popular snack in Wuhan and has a complicated life.
Chi often focuses on the lives of ordinary people in Wuhan and critics say she is good at portraying their courage, cowardice, vanity and ambition.
"Writers don't need to be anyone, but they should be able to understand everyone," she says.
Chi ended her marriage in 2008 when her daughter was 19 and since then has been fascinated about love.
"I'm always wondering about the romantic love of foreign literature, so pure, so fantastic," Chi says.
In Western culture, women are seen as the sun and Earth, and admired by men, she says. But in China, women were dependent on men in feudal society.
"Even today, Chinese men are still interested in money and social status, not love, nor women," says the author, whose daughter studies in London.
Her new novel, to be published in 2011, will reveal more of her views on Chinese men.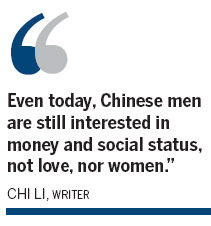 "I think both men and women will like it," she says.
Her notion of an ideal lifestyle, she says, is that of a flower, blooming and fading, quietly and naturally.
She likes to ride a bike and walk, and has a vegetable garden.
"It was some seven or eight years ago when I felt I was ready to practice a lifestyle I prefer: trying to be simple, clean, fine and delicate," she says.
"I try to travel alone to get a feel of how the world is. I try to get as close as possible to people from all social strata and understand them. Then I try to express it slowly with the literary words that I love so deeply. It's as simple as that."
Chen Daolin contributed to the story.