Years from now, Finn Donoghue-Roulston might look back on the day when he, a 5-year-old, was rolled up inside a carpet, and say, "Wow, I was useful in making mummy's bestseller." That's his mother Emma Donoghue's fond wish.
Donoghue - Irish-born novelist, literary historian and playwright - is a stickler for detail. To test how a rather bizarre escape sequence she had imagined for her now widely read and acclaimed novel, Room, might work in real life, Donoghue once wrapped her young son in a carpet.
The hard labor put in by both mother and son paid off. Room triggered a bidding war among publishers in the United Kingdom, and was finally snapped up by Picador for an astronomical amount. Now, more than a year after its publication, Room accounts for 90 percent of the total sales notched up by all 20 titles long-listed for the Orange Prize, a highly prestigious and cash-rich award given to a novel by a woman writer published in the UK.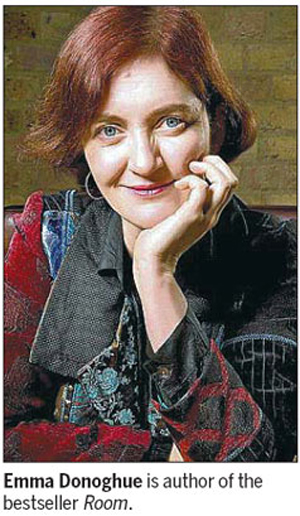 "Every author should have a Room happening to her, at least once," said Emma Donoghue, speaking to a starry-eyed audience at The Bookworm International Literary Festival in Beijing in March.
A seasoned author of seven novels, two short-story collections, several radio and stage plays and a formidable range of books on 18th-century literary history, Donoghue has been making a living as a writer since she was 23 but Room is, unequivocally, the brightest plume in her multi-generic literary hat.
It's easy to get repelled by the theme, if you have not read the book. The novel was triggered off by a rather macabre real-life incident involving the Austrian Josef Fritzl who kept his daughter in a dungeon for 24 years, fathered seven children with her, three of whom were locked up with their mother.
But Room is more life affirming than morbid, more to do with the pleasures of discovery than creepy details about psychopathic behavior. Told in the voice of 5-year-old Jack who lives with his mother in a 3.4 meters by 3.4 meters space cut off from human society, and knows it as his world, Room is a story of extraordinary resilience against the most potentially-debilitating odds. Like Jack the Giant Killer, he defeats the mighty adversary with his will to survive, although there is nothing remotely mythical about him.
"He is just a normal child, placed in an abnormal situation," Donoghue says. His relationship with his mother has a strong physical side. The idea of a 5-year-old breastfeeding, Donoghue says, made some of her American editors cringe. "I knew I had touched a raw nerve. I had to keep it," she says, tickled by the way people tend to see a deviation from the "standard mother-baby model" as aberrant.
"We tend to think of children as a perfect pea, bought from the supermarket," she says. But they are hardly ever that, sometimes a tyrant ready to start a war, and an utterly helpless creature in the next moment. "A parent-child relationship is never static. They are like two intersecting graphs, creating an odd kind of psychodrama."
Room was Donoghue's way of responding to the acute, complicated and compelling nature of mother-child bonding.