SHANGHAI - More than 100 old houses that were homes to celebrities, famous scholars, politicians and authors are excluded from protected-building status and in danger of destruction, according to a recent report by the local political advisory body.
These historical buildings are not listed among any kind of protection program, and some have already been dismantled. Some residences are designated as "protected", but no efforts to save them have been made, according to the report from the history committee under the Chinese People's Political Consultative Conference Shanghai Committee.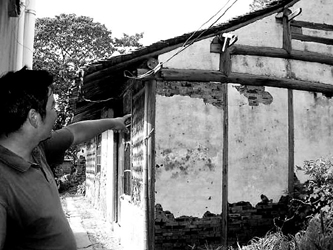 The old residence of Fu Lei, a translator of Balzac and other French classics.
A translator of Balzac and other French classics, Fu Lei (1908-1966), lived in a village of suburban Shanghai's Wanglou Village in the Pudong New Area. The old residence of 31 rooms has now only 17 left, and 16 of those are now inhabited by local villagers, said Zhu Minyan, deputy director of the history committee.
"We spent two years on the research and found 155 celebrity residences not under protection all over Shanghai," he said. "Some hosted more than one historical figure, and witnessed events of historical importance."
Although the municipality has various programs protecting culture relics and historical buildings, these homes have been left out for various reasons. "Celebrity, or historical figure, is a broad concept," Zhu told China Daily in an interview.
He said there should be an institution responsible for deciding who should be recognized as "famous" and which relevant residence should be protected.
Complicated property rights also make it hard to protect historic buildings. Some are now public property under administration of various governmental institutions, and some others private property.
"A regulation has to be made concerning the definition and protection of historical buildings and celebrity residences," Zhu said. "Otherwise the urban development in Shanghai will be affected in the near future."
"It's not just the responsibility of the municipality to protect the city's legacy. I think it's good practice that private capital should play an important part in the exploitation and protection of historical buildings, as long as their rights and obligations are clearly defined by the law," he said. Last year, the old home of writer and artist Feng Zikai (1898-1975) on Changle Road was opened to the public as a memorial museum for him. Feng's children had spent 3 million yuan ($455,290) to buy back the second and third story of the old building, which had been sold to others in the past decades.
One local official said that effort could be a new model for protection of old celebrity residences.