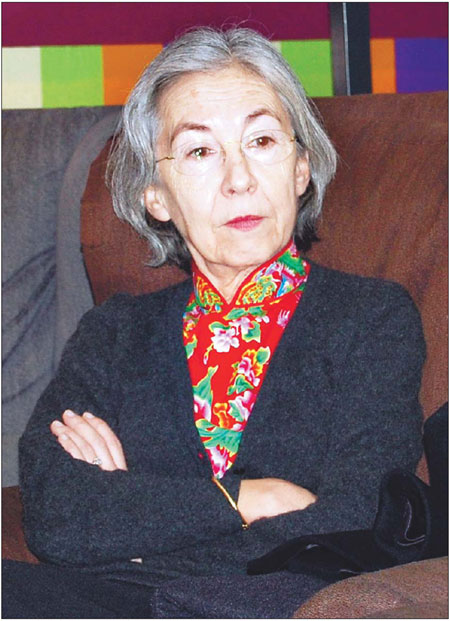 French publisher Genevieve Imbot-Bichet frequently visits China to
 track the latest trends. Xu Caihong / for China Daily
Blue of China is Europe's only publishing house dedicated solely to Chinese books. Yang Guang reports.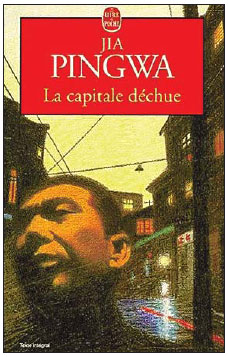 Genevieve Imbot-Bichet's translation of Jia Pingwa's Ruined Capital, helped Jia win the French literature prize, Prix Femina, in 1997. Provided to China Daily
Genevieve Imbot-Bichet's connection to China is readily apparent in her cheongsam-collared red blouse covered in peony and phoenix patterns. But the connection goes deeper than that. Since 1994, the slight 55-year-old French translator and publisher has been working to promote modern and contemporary Chinese literature in France.
Blue of China, the publishing house she has set up, has to date brought out nearly 180 Chinese titles, by some 80 writers who run the gamut from the late Ba Jin and Shen Congwen, to veteran Wang Meng, middle-aged Zhang Chengzhi and Liu Xinwu, and the younger Chi Zijian. She is even considering roping in writers born in the 1980s and 1990s, such as Han Han and Jiang Fangzhou.
Bichet's interest in China was triggered by Pearl S. Buck's novel Peony and she decided to study Chinese when starting college in Paris in 1973. Two years later, she landed in Taiwan for further study, where she read Eileen Chang and also met her. In 1981, she earned her doctorate with a dissertation on the Northern Expedition (1926-1928).
As a translator, she made a good start with Hong Kong writer Lillian Lee's Farewell My Concubine which sold well, as it was published when the novel's film adaptation, directed by Chen Kaige, won the top award at the Cannes Film Festival in 1993. Her translation of Jia Pingwa's Ruined Capital helped Jia win the Prix Femina, a French literature prize, in 1997.
Encouraged by these successes, Bichet founded Blue of China. She says the publishing house's name was inspired by Tang Dynasty (AD 618-907) scholars who used to put their books in blue cases when they traveled. It is the only publishing house in Europe devoted solely to Chinese books.
"Classics such as The Book of Changes have already been translated, but few publishers seem to be interested in modern and contemporary Chinese literature," she says.
"If French readers have a chance to read writers like Ba Jin and Shen Congwen, they have a better chance to understand China."
With the publishing house being a one-man show, Bichet is responsible for everything from project selection to distribution. For a long time, she used to ride a bicycle to promote her books to bookstores in Paris.
The first title she published was a collection of Wang Meng. She says she felt French readers might be interested in a writer who was the country's culture minister in the late 1980s.
Peking University professor Dong Qiang, once Bichet's "consultant", says Bichet's business has been boosted, to a certain extent, by the increasing popularity of Chinese culture in France.
"It used to be the case that only those who had certain things to do with China had the desire to know about China," Dong says. "But now, everybody is interested."
Bichet started cooperating with Gallimard, one of France's leading publishers, in 2009. She plans to publish five to six books annually, with 3,000 to 5,000 copies each, as part of the Blue of China-Gallimard collection.
Her next "product" is a novella collection by Liu Qingbang, writer of the Lao She Literature Prize-winning Sacred Wood, whose film adaptation Blind Shaft won the Silver Bear at the 2003 Berlin Film Festival.
Her to-be-published list in 2011 also includes Man Asian Literary Prize-winning The Boat to Redemption by Su Tong, Peach Blossom Beauty by experimental writer Ge Fei, and There's Nothing I Can Do when I Think of You Late at Night by Cao Naiqian, whose English translator John Balcom has made comparisons with Sherwood Anderson, William Faulkner and Erskine Caldwell.
Bichet travels to China three or four times a year and uses that time to track the latest trends in Chinese literature and to interact with Chinese writers.