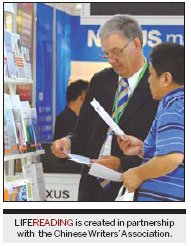 Chinese publications are attracting increasing attention in the global market. Lan Shan / for China Daily
Wu Wei, who has toiled for years to introduce Chinese books to the international market, says the world isn't looking for just kungfu, cuisine or pithy wisdom from the Middle Kingdom.
"International readers also have a keen interest in stories about the country's current development," says the office director of the State-sponsored China Book International (CBI) project.
Since it was established in 2006, CBI has inked more than 500 contracts with foreign publishers, involving more than 2,000 titles.
In 2010 CBI sponsored 357 new overseas publishing projects to promote books by Chinese writers in a variety of languages.
Wu says at 2010's Beijing International Book Fair (BIBF) and Frankfurt Book Fair the country sold more copyrights than it bought, by a ratio of 1.46:1 (at BIBF).
In addition, the Chinese Writers' Association (CWA) is promoting its translation project of 100 works of contemporary Chinese literature. Launched in 2006 and featuring works by established writers like Wang Meng and Tie Ning and younger writers like Wang Shiyue, their works have been translated into Russian, Polish and other languages in 2010, says Liu Xianping, director of foreign communication department of CWA.
Hanban (the Chinese Language Council International) initiated a five-year project in January with international publishers that will be carried out by the School of Chinese Language and Literature at Beijing Normal University, University of Oklahoma Press and the United States-based magazine World Literature Today.
The project will also see the launch of a biannual academic journal, Chinese Literature Today, comprising translated literary works and reviews, in the US, and the publication of a 10-volume series of contemporary Chinese novels, in the next three years.
Besides the government-sponsored projects, private organizations are also going global. They're either deepening ties with their international counterparts, or exploring marketing channels, says Chen Yingming, vice-director of the foreign communication and cooperation department of General Administration of Press and Publication.
Nie Zhenning, president of China Publishing Group Corporation, said at the 2010 BIBF in August the company was going global to meet rising demand and fulfill its cultural responsibilities.
Nie credits the 2008 Beijing Olympic Games, Confucius Institutes and the 2010 Shanghai World Expo, for attracting more curiosity abroad about China.
In recent years, it has been the focus country at major international book fairs, which enables Chinese writers to enjoy frequent exchanges with foreign minds.
Despite the achievements, experts are not painting a totally rosy picture of Chinese books in the international market.
British translator Bruce Humes, known for translating Wei Hui's Shanghai Baby, says Westerners are looking for books that provide easy access to Chinese society and culture, and novels are the best option.
As channels widen, more qualified literary/book agencies that are adept at operating in the international book market are being sought out.
Lagardere Group, a world-leading publisher based in France, signed a contract with Shanghai Press and Publishing Development Company in September to sell Chinese books and journals in foreign languages at its 3,100 bookstores, located in airports and train stations worldwide.
The move is considered a significant part of the initiative to sell Chinese books through international selling channels, a project launched in December by the General Administration of Press and Publication, and related companies.
Both Penguin's Jo Lusby and Harper Collins' Stella Chou, however, have pointed out the difficulty of selling "new" authors in the Western market, as readers are reluctant to buy books by unfamiliar writers.
Chitralekha Basu contributed to the story