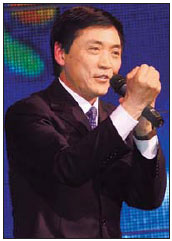 Cao Wenxuan, one of the winners of the National Children's Literature Award. Provided to China Daily
The winning works of the 8th National Children's Literature Award show the growing diversity and quality of original children's books in Chinese.
"Children's writing has made much progress in recent years," said Tie Ning, chairwoman of Chinese Writers Association (CWA) at the award ceremony in Nanjing, Jiangsu province, on Dec 15.
"The writers create a world of spiritual purity and dignity that stands in contrast to the mindless consumption children see around them," she said.
The prestigious award, organized by CWA, picked 20 works in nine categories including novel, fairy tale, poetry, sci-fi and reportage, out of a list of 350 works published over the past three years.
The number and quality of works competing for the award impressed veteran children's book critic Wang Quangen.
"This year's award attracted the largest number of entries, leaving the judges spoilt for choice," Wang says.
Just a decade ago, he adds, the judges had difficulty finding works that qualified for the award. At that time, both children's literature and the country's publication industry were poorly developed, Wang says. Bookstores were crammed with translations of children's books.
Now there are best-selling writers like Yang Hongying and Zheng Yuanjie, whose works sell tens of millions of copies. Two leading magazines in the field, Children's Literature and Infants' Pictorial, sell 1 million and 1.7 million copies, respectively, every month, and feature original Chinese literary creations for children.
Even so, demand far exceeds supply, Wang says, and publishers are constantly seeking new works.
"Besides the emergence of talented writers, the country's growing economic strength, new ideas about education and parents who give more emphasis to quality reading have also spurred the development of the children's book market," he says.
Realistic fiction and fantasy are the most popular genres.
Huang Beijia's winning novel You're My Baby deals with a child who lives with dignity despite suffering from Down's Syndrome.
For the sole winner in the reportage category, A Year of Being Empty Nested, its author Qiu Yidong says he talked to more than 1,000 children of migrant workers left behind in the countryside.
Many writers also showed their rich imagination, a skill once considered an overriding strength of foreign writers, Wang says.
Established writers Cao Wenxuan and Zhang Zhilu both won with fantasy stories, while real-life polar scientist Wei Menghua was honored for his sci-fi work.
The award also unveiled many works targeted at elementary school students, which once lagged far behind the books aimed at children aged below 6 and teens.
Animal stories such as The River of Wolverines by Mongolian writer Heihe continue to play a significant role in children's literature.
China Daily
(China Daily 12/24/2010 page19)