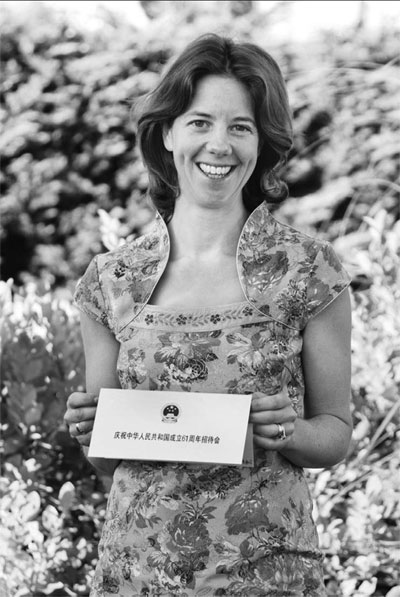 H-J Colston's Chopsticks Club hosts banquets in London to
 better inform the British about Chinese affairs. Provided to
 China Daily
A network of sinophiles combines delicious food and good company to plug Britons' 'knowledge gap' of the Middle Kingdom. Zhang Haizhou reports
Before her 18th birthday, the only thing H-J Colston had learned about China was the Opium War. Such ignorance about Chinese history is a gap in the British education system, Colston says.
"Students can learn more about China from the Internet now. But in the actual curriculum, how much do they know about China?" she says.
"As a nation, we are very ignorant in that regard."
The Chopsticks Club, a British network for China-related professionals, is one of the best agents to help bridge that gap, Colston says. The 40-year-old has been committed to the club since its founding in 1993 and has become its director.
The club has about 300 members, about half of whom are Chinese, Colston says. These members represent a culturally rich and diverse network of professionals, such as academics, politicians, lawyers and businesspeople involved with China.
In addition to offering Mandarin classes, the club organizes activities on the first Tuesday of every month. Most are talks on China-related issues, including politics, business, society, history and culture. The events are usually held in a big private room at a Chinese restaurant in London's Chinatown, where members can "discuss China while enjoying delicious food".
At the most recent event this month, Colston and another member spoke about their recent trip to a remote township in Southwest China's Guizhou province, where they offered a weeklong English-language training course for teachers at a local school.
"Over the past 15 years, we have held 180 dinner/speaker events, entertained nearly 9,000 people, eaten over a ton of noodles and devoured 17,000 crispy duck pancakes," Colston says.
The club was founded as "China Tuesdays" back in 1993 and comprised 10 China studies graduates from the University of Durham in northern England. The club's founding members included Rupert Hoogewerf, who is famous in China for his Hurun Business Report.
It was also Hoogewerf who planned the regular meetings among peer graduates working in London in 1993.
"There was no Internet or mobile phone. We relied on letters and landlines to stay in touch," Colston recalls, adding that "Tuesday" members then met regularly at an Italian restaurant near central London's Green Park.
"It was just a group of people staying in touch with China and keeping abreast of the enormous changes happening in China in the early 1990s," she says.
Some founding members are still in China, she says.
Colston's own interest in China originated in the mid-1980s, when she visited Hong Kong and Guangzhou, capital of Guangdong province, to spend the Easter holiday.
The moment she set foot on the soil of the then British colony Hong Kong, Colston realized she knew nothing about it or the Chinese mainland.
"I was actually sort of let down by the education system in the UK," she says. "We hadn't been taught anything about China."
During her two-week stay, Colston spent an "amazing" day on a trip to Guangdong by train. She saw not only the huge differences between Hong Kong and Guangzhou, but also a China that was "a huge place, a huge country, a huge population. The history was fascinating."
On returning from Hong Kong, Colston decided to study Chinese at Durham University, where she met Hoogewerf.
Durham University and Renmin University of China had an exchange program so Colston had the opportunity to study in Beijing for a year in late 1990, during which time China charmed her completely.
Outside of their Mandarin classes, the group of about 20 Britons spent all their time exploring the "mysterious, oriental country". Colston cycled almost everywhere she went, from the campus to Tian'anmen Square and the Summer Palace.
In the early 1990s, it was a China where almost every man wore the same kind of blue jacket, where people in Beijing piled up frost-resistant cabbages outdoors when they had no fridge and where each foreigner was charged 60 yuan ($9) to enter the Forbidden City, while Chinese visitors paid only 1 yuan.
It was also a country where people were really friendly, Colston says.
One day, a local man came up to Colston when she was waiting for a train in a small township in Guizhou province because foreigners were "rare" at that time.
The man invited her to lunch. She agreed and jumped on the back seat of his motorbike. He took her home and introduced her to all his family members.
After lunch, the man returned her to the train station to see her off.
"It was a crazy thing I did in my 20s, and I'd never do it now," she recalls, adding that she felt the Chinese were extremely warmhearted.
In China, Colston also met Theresa Booth, an entrepreneur and environmentalist, who opened a Western sandwich shop in Beijing. The two women took over the management and direction of the club and renamed it the "Chopsticks Club" in the late 1990s.
They also built a website, www.chopsticksclub.com, and designed a logo - a bowl of noodles and a pair of chopsticks - to increase the network's visibility.
While the club became increasingly influential, funding became the most difficult challenge for Booth and Colston, as their work with the club was voluntary.
"I have a great husband, who fully supports my work," Colston adds.
She remained committed to promoting China. Colston started a Mandarin course at a primary school in Holt, a small village about 20 minutes' drive from Bath.
While her class attracted only five students - two of which are her sons - out of more than 100 pupils, Colston says she will continue teaching it.
Her commitment also won approval from Chinese authorities. Two Chinese ambassadors to the UK - Fu Ying, now vice-foreign minister, and current ambassador Liu Xiaoming - have spoken at the club's events.
Colston was even invited to Beijing in September to commemorate China's 50th anniversary of receiving foreign students and the 61st National Day. She got a chance to attend a banquet with more than 700 other guests and Chinese Premier Wen Jiabao.
Colston says her long-term vision is to build the club into a "real gateway" for Britons going to China. She even hopes to find a partner in China to co-develop the club and host joint events.
"The great thing is there are always familiar faces ... and there are always new ones," Colston says.