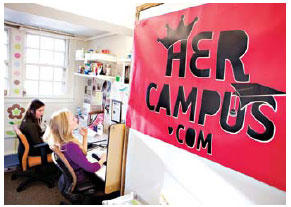 Self-starters like Stephanie Kaplan, left, and Windsor Hanger are finding niches online. [Photo/Matthew Cavanaugh/The New York Times]
Successful young start-ups with no offices, addresses or expertise.
Five years ago, after graduating from college with a film degree and thousands of dollars in student loans, Scott Gerber moved back in with his parents in New York City. He then took out more loans to start a new-media and technology company, but it went broke in 2006.
"It made me feel demoralized and humiliated," he says.
So Mr. Gerber considered his career options. Using his last $700, he started another company.
With Sizzle It, Mr. Gerber vowed to find a niche, reduce overhead and generally be more frugal. The company, which specializes in short promotional videos, was profitable the first year, he says.
Mr. Gerber, now 27, isn't a , but he has paid off his loans and rents his own apartment. In October, he started the Young Entrepreneur Council "to create a shift from a résumé-driven society to one where people create their own jobs," he says. "The jobs are going to come from the entrepreneurial level."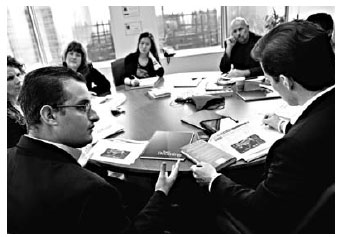 Responding to high unemployment, Scott Gerber, near right, founded a group to help young people start businesses. [Photo/Andrew Burton/The New York Times
The council consists of 80-plus business owners across America, ages 17 to 33. Members include Scott Becker, 23, co-founder of Invite Media, an advertising technology firm recently acquired by a Google unit; and Aaron Patzer, the 30-year-old who sold Mint.com to Intuit for $170 million.
The council serves as a help desk and mentoring hotline for individual entrepreneurs. Each month a group of council members will answer 30 to 40 of their questions in business publications like The Wall Street Journal and American Express Open Forum, and on dozens of small business Web sites.
Council members assert that young people can start businesses even if they have little or no money or experience. But roughly half of all new businesses fail within the first five years, according to United States federal data. And the entrepreneurial life is notoriously filled with risks, stresses and sacrifices.
But American unemployment is at 9.8 percent. According to the National Association of Colleges and Employers, only 24.4 percent of 2010 graduates who applied for a job had one waiting for them after graduation (up from 19.7 percent in 2009). The lesson may be that entrepreneurship can be a viable career path, not a renegade choice.
"It's not a pure dichotomy anymore that entrepreneurship is risky and other jobs are safe, so why not do what I love?" says Windsor Hanger, 22, who co-founded HerCampus.com, an online magazine.
Thanks to the Internet, there are fewer upfront costs for entrepreneurs, who can build a Web site, host conference calls, create slide presentations, and host live meetings and Web seminars - all with very little capital.
For $300 a year, Mr. Gerber rented an address from ManhattanVirtual­Office.com, which forwards mail from a recognizable address. He says it saved him $100,000 in rent and gave Sizzle It credibility; his clients now include Procter & Gamble and the Gap. He does most of his work at home and in coffee shops and shared work spaces.
Open-source software can reduce or eliminate the need for tech support.
"All you need today is a laptop, patience and willingness," says Shama Kabani, 25, a council member and founder of Marketing Zen, a digital marketing firm in Dallas, Texas, with yearly revenue in the seven figures. Ms. Kabani hired all of her 24 employees online; 15 are in the Philippines. "I've never met any of them," she says.
But start-ups do need some financing. So Mr. Gerber, whose message is "No one will give you money," is also starting the Gen Y Fund, from which young entrepreneurs can seek funding.
The goal is not to find the next Facebook or sexy Web start-up, he says; instead, it will look for practicable, marketable business ideas. In fact, a favorite phrase of his is "boring is better."
Mr. Gerber has never taken a business or economics class. "I e-mailed people in my circle and figured who knew what I needed to know," he said.
Lack of experience can be an asset. When Ms. Kabani started Marketing Zen, she tried to hide her age. "Then one of my clients told me he hired me because I was 23. He wanted someone who spoke digital as a first language."
Ms. Hanger says being young helps attract advertisers like New Balance and Juicy Couture to HerCampus.com, which recently started turning a profit.
For many of these entrepreneurs, success didn't happen overnight. It took Eric Bahn, 29, another council member, several years to get his company, BeatTheGMAT.com, a community for business school applicants, off the ground. Now it generates close to seven figures in revenue.
Ben Brinckerhoff, 28, started Devver.net, an online tool to test computer software in 2008. It folded last spring.
"There are very real cons to starting a company," he said. "It can hurt your ego, and financially it's a big hit."
The New York Times