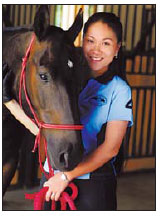 Polo club founder Hua Huicong is also an avid player. [Photo/China Daily]
Overlooking her 5,000-square-meter spread of land in Hangzhou Bay, Zhejiang province, Hua Huicong outlines her ambitious plans for polo in the country.
The vice-president of the China Equestrian Association, mother of three and co-founder of Nine Dragon Hill Polo Club, says this is the first polo club in China.
Before taking on polo as a business venture, the 40-year-old established two PR companies in Hong Kong, representing high-profile brands, such as Cartier, Rolls-Royce - a business she has left to her sister.
She developed the first tours between Hong Kong and Vietnam in the 1990s, when the country had just recovered from the war. She recalls her mom warning her to be careful about mines.
Hua says she was inspired to play polo after meeting her "brilliant" British husband Steve Wyatt and has become such an obsessive fan of the game that she "cannot bear living in a city without polo".
The couple moved from Singapore to Australia because there were more opportunities to play there and eventually bought some land and a polo club.
On a business trip to China, they decided to establish another polo club, here, which has since become a prosperous business.
"I am just the hands and feet, handling the trivial matters, while Wyatt is the real brains, making the important decisions," she says of her husband, who has two master's degrees from Cambridge and Harvard and is a senior business consultancy associate.
Even so, Hua has raked in more than 150 million yuan ($22.54 million) in sponsorship since opening in 2006, though she adds it isn't just about the money.
"People never become rich by dealing in horses. They only do that after becoming rich," she says.
"Polo is a game that can be played by the family. Compared to golf it advocates team spirit, a quick mind and a sense of judgment. It's connected to nature and animals."
"We are just astonished that no one in China knows more about it," she adds.
As such Hua is a pioneer spirit, promoting polo by editing and publishing a 50-page polo magazine every three months.
Hua predicts, however, that it won't be long before polo is in vogue among the country's rich.
"It took 15 years for golf to become popular in China, five years for yachting. Maybe polo will be just as fast, then I can retire even earlier so I can be just a player," she says.