With his white beard and red cheeks American Kevin Kelly looks as sturdy as Santa Claus. Nicknamed KK, the 58-year-old former executive editor of Wired magazine outran most of his juniors, when climbing the Great Wall during his recent China tour - a packed four-day affair.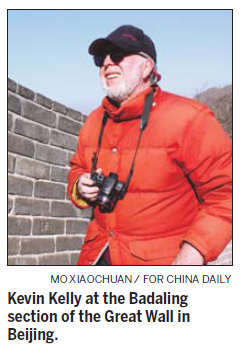 Sixteen years after the publication of his prophetic bestseller Out of Control: The New Biology of Machines, Social Systems, and the Economic World, KK is sure its newly released Chinese translation will find a large audience in China.
The book, with the central theme of how a decentralized social system can be a great power in the world, foresees the advent of new technologies such as cloud computing and the Internet of things.
"I wrote the book because I am interested in looking at organisms and have found something in common among all complicated things," KK says.
He closes the book with nine laws that he thinks will facilitate our understanding of the world.
Interestingly, the Chinese translation of the book corroborates the legitimacy of his top two laws: "distribute being" (everything is distributed over a multitude of smaller units) and "control from the bottom up" (overall governance must arise from the most humble interdependent acts).
Zhao Jiamin, proofreader of the book, started looking for a translator almost three years ago. The actual translation started in May 2008. With one translator working alone, only a quarter of the book was covered by the end of the year, falling far behind Zhao's expectations.
Zhao decided to recruit more translators online. Eight qualified ones were chosen and the work was thus distributed among nine translators.
The assignment was completed in a month and a half, with all the translators interacting in the virtual community, exchanging ideas on how some terminologies should be handled.
The "control" of the book was then transmitted from the nine grass-roots translators up to Zhao, who finally unified the manuscript's tone and style.
"The whole translation process is a perfect example of how KK's two laws can function," Zhao says.
KK has just finished his new book What Technology Wants. During his visit, he gave lectures on his understanding of the future, the Web and new technologies, and had talks with Chinese IT engineers, university students as well as lay readers.
It was an Asia tour in 1971 that made the university dropout believe that real change was possible. The access to the Internet in 1981 changed his thinking about technology and he remains optimistic about constant changes. He even makes "change changes themselves" his ninth law.