Hong Kong-based English literary journal Cha will give readers a taste of the growing English literary scene in China with the publication of its "China Issue" in June 2011.
Hong Kong native Tammy Ho Lai-ming, who studied English Literature at the University of Hong Kong, founded Cha in 2007 with Canadian-born Jeff Zroback, co-editor of the short fiction collection Love and Lust. They have since published Asian-themed writing from a range of contributors including Asian writers, Western writers of Asian descent and foreigners interested in Asia.
"This project was also fuelled by a sense of confidence about English writing in Asia. We wanted our journal to provide a platform for quality writing from the region," Ho says.
"I also felt strongly that Hong Kong, which is often called an 'international hub', should have its own English-language literary journal."
Ho, who is pursuing a PhD in Literature at King's College London, adds that she wants to show that there is room for literary endeavors in the predominantly business-driven city. In fact there is an active literary scene in Hong Kong, from Master in Fine Arts programs offered by universities, local English publishers, and regular poetry readings to large-scale organized writers' events such as The Hong Kong International Literary Festival.
Cha is now widening its vision, expanding its literary influence by focusing on the mainland. The China Issue will be devoted to poetry, fiction, non-fiction, scholarly works and visual art.
"The country is becoming more assured and influential and we want to capture some of the voices that are describing the state of the nation at this time," Ho says.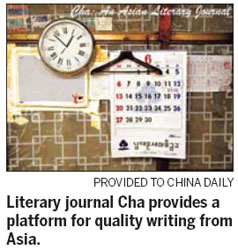 Huang Yibing, born in Changde, Hunan province, now an associate professor of Chinese at Connecticut College and author of two books of poetry, Stone Turtle and Approaching Blindness, will be the guest editor of the issue and read the submissions with Ho and Zroback.
Huang says when he started writing poetry back in the 1980s as a student at Peking University, he did not give much thought to submitting his work for publication. "At that time we wrote and exchanged poems in private circles to please ourselves and our friends. We also edited literary journals ourselves. We were a generation of self-taught writers," Huang says.
Lin Yutang (1895-1976), one of the early Chinese writers fluent both in Chinese and English, had influenced the world's understanding of China with such classics as My Country and My People. His translations of classic Chinese texts into English made him one of the most influential writers of his generation.
There is now a growing group of Chinese writers writing in English who have been gaining international attention in recent years such as Bei Dao, Ha Jin and Zhu Wen.
"As Mandarin becomes a language used increasingly outside of China and the country becomes more culturally assertive, I am sure that we will see more books from mainland writers written in English," Ho says. "As a side note: I wonder how many foreign writers will choose to write in Chinese in the future?"