For her 29th birthday earlier this month, actress Fan Bingbing received a special gift.
Seven children with congenital heart defects, from the Tibet autonomous region, drew a picture for her of the sun and the moon, and wrote: "Happy birthday, sister Bingbing. Thank you!"
The children, ranging in age from 5 to 16, don't know much Mandarin, but learned to write the message on the train to Beijing.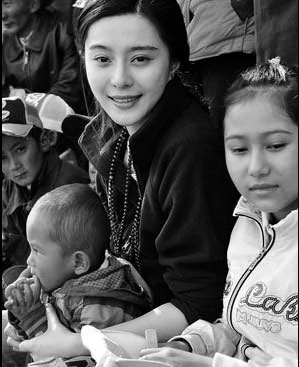 Fan Bingbing meets Tibetan children during her recent trip to Tibet. China Photo Press
They are scheduled to have operations at the First Hospital Affiliated to Tsinghua University, a leading hospital for the treatment of heart diseases in China. Fan will provide all the expenses.
On Sept 16, her birthday, Fan met the children at the hospital. For every child, she prepared candies and Chinese knots, a handicraft representing auspiciousness.
"My birthday wish is that the operations go well and the children become very healthy," she says.
Earlier this year Fan heard from a friend that in Ali prefecture in Tibet, there are about 800 children who suffer from congenital heart defects mainly due to the high altitude and diet. Although some can live to their 50s or 60s, they will lose the ability to work during middle age.
Ali covers an area of 345,000 square kilometers where just 90,000 people live. The annual income per capita is 1,700 yuan ($252). Most families cannot afford the operation.
Fan made a trip there in August and was impressed by the scenery and children.
She suffered from altitude sickness, had headaches and found it difficult to think sometimes. Doctors told her that children with congenital heart defects suffer from these symptoms every day.
"I badly wanted to do something for them," she says. "When they looked and smiled I felt they were communicating with me with the most sincere kindness."
An overseas foundation did medical examinations of the children and found 270 of them were suitable for operations. Fan wanted to help them all, but that would have cost 15 million yuan ($2.22 million).
She chose to help 10 of the most needy children.
But three of them did not make the trip to Beijing. Their parents had never left the region and were worried about the results of letting their children leave.
"I hope that after the first seven children recover from their operations more children will go," Fan says. "I will try my best to help more."
Two Tibetan translators accompanied the children to Beijing and the hospital reserved the west wing for them, their parents and the translators.
The hospital's president Wu Qingyu, a prestigious heart surgeon who has won international recognition for his innovations in the surgical repair of heart defects, will take part in all the operations.
Fan has joined forces with the Red Cross Society of China, which will supervise the use of her donation of 500,000 yuan ($74,632) on operations, traveling and the children's two-week stay at the hospital.
"I've shot promos for charity campaigns and worked as an ambassador before, but compared to what I can do now, that pales by comparison," she says.
"Now I want to do something down-to-earth. If people think I am just doing this for show, let them think that way. I only want to make a real change for the better."