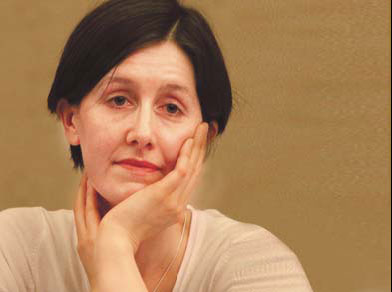 British literary translator Julia Lovell says the Chinese literary
scene is open to foreign influences and interests.
British literary translator Julia Lovell had her eureka moment some 15 years ago, while watching the James Bond film You Only Live Twice as a Cambridge freshman studying history.
"Back then Cambridge was very keen on history students writing in a rather argumentative style," says the 35-year-old lecturer in Chinese history at the University of London, whose translations of Lu Xun (1881-1936) and Eileen Chang (1920-95) are part of the Penguin Classics series.
"I didn't get along so well in the department, maybe because I'm too mild."
After learning that James Bond acquired his Japanese skills at Cambridge, Lovell was determined to start another Oriental language - Chinese.
She first landed in China in 1997 and spent a year as an exchange student at Nanjing University. It was then that she was drawn to 20th-century Chinese literature.
"The 20th century was an era in which ideas about literature changed dramatically in China," she explains. "And I was particularly interested in tracking changing ideas about authorship, in the role played by Western influences in this transformation and in Chinese writers' relationship with Western literary values."
A year later, Lovell was again in Beijing, doing research for her PhD, which was published later as The Politics of Cultural Capital: China's Quest for a Nobel Prize in Literature.
For her, the Nobel Prize constitutes a troubled symbol of 20th-century Chinese literature's quest to redefine itself; the "Nobel complex" expresses some of the tensions in 20th-century Chinese culture.
"To my mind, it (the Nobel complex) is irrational. It highlights the combination of resentment of Western strength and desire for Western recognition that some literary intellectuals have felt over the past century or so. Confidence in the Nobel Prize also reveals a faith in a universal literary standard that simply does not exist."
With help from the Chinese Academy of Social Sciences, she interviewed leading authors, such as Mo Yan and Yu Hua, and some of the younger writers, such as Zhu Wen, Li Feng, Lin Bai and Xu Xiaobing.
"Compared with the relative insularity of British culture (in particular its aversion toward reading translations), the Chinese literary scene is extremely open to foreign influences and interests."
Although tracking contemporary Chinese fiction is occasionally exhausting and frustrating, the self-proclaimed "fussy" reader feels there is nothing quite as exciting as finding a new voice that has not been translated but ought to be known to more people.
"I still remember how immediately appealing I found Han Shaogong's writing when I read him for my Master's degree," she says.
Her translation of Han's A Dictionary of Maqiao was published in 2003, followed by Xinran's Sky Burial (2004), Zhu Wen's I Love Dollars (2006), Eileen Chang's Lust, Caution (2007), Yan Lianke's Serve the People (2008), and Lu Xun's The Real Story of Ah-Q and Other Tales of China (2009).
When she first called Zhu Wen, an engineer-turned-avant-garde writer, about the possibility of her translating I Love Dollars, Lovell recalls that Zhu appeared "surprised and perhaps a little suspicious", because he could not believe a person with such a different temperament and background would be interested in his writing.
Zhu is one of the "new generation" writers, most of whom were born in the late 1960s or 1970s and have never been translated into English, except for Wei Hui and Mian Mian, both known for their bold portraits of China's younger generation.
"I love Zhu's work, because of the extraordinary, sarcastic swagger of his first-person narrators," Lovell says.
She finds his subject matter, like that of much contemporary Chinese literature, fairly dark and grim. "But it's lightened by the narrative voice. Without it, the text would risk overwhelming with its pessimism. It is the comic swagger that rescues it."
It is for a similar reason that she relates to Yan Lianke, who is able to narrate a tragedy powerfully but also with a keen sense of absurdity.
"I think Zhu Wen would probably now accept that people from different cultural backgrounds can find common ground through literature," she says. "Literature has an ability to make sometimes surprising connections across societies and cultures."
Lovell admits to the difficulties of publishing translated Chinese literature. In the case of A Dictionary of Maqiao, she could not interest a commercial publisher at first. But after Columbia University Press published it in hardback, commercial publishers bought the rights for the paperback version.
"Once they saw it (the book) worked, they were prepared to take it on. This is one way in which Chinese literature can enter the publishing mainstream."
At the moment, Lovell is finishing a book on the first Opium War (1840-42). Her next translation might be an abridged version of the classic Journey to the West.