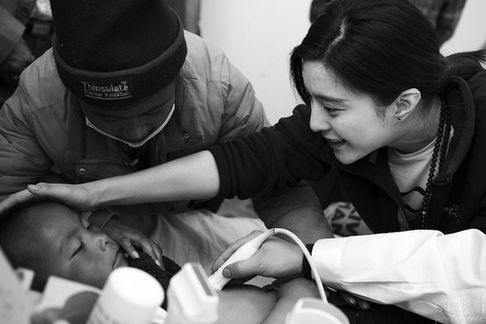 Actress Fan Bingbing visits children suffering from congenital heart defects.
[Photo/soho.com]
Actress Fan Bingbing has financed surgery for 10 rural children with congenital heart defects. The actress says she is working on helping more children in need.
Fan recently visited the Ali Prefecture in Tibet, where she hoped to explore the medical conditions of children there.
Statistics show the area has more than 800 congenital heart defect patients, among whom 270 or so are suitable for surgery.
The first ten children benefiting from Fan's charity efforts will depart for Beijing next month. Fan says she will cover the travel and medical expenses.
Fan has starred in such films as "Chongqing Blues" ("Rizhao Chongqing"), "East Wind, Rain" ("Dong Feng, Yu") and "Sophie's Revenge" ("Feichang Wanmei").
Congenital heart defects refer to heart problems that develop before birth. In serious cases, CHD can cause sudden death.