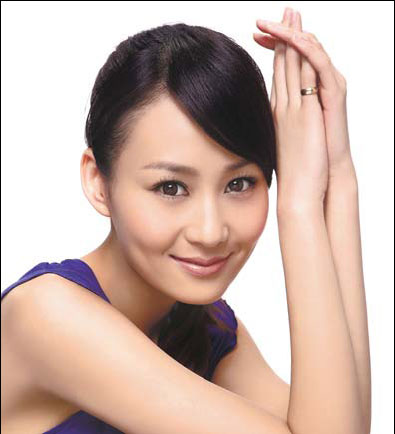 Wang Linna says an ad model must have an amiable face.
Wang Linna usually begins her working day in a state of chaos. She wakes up around noon and finds plenty of missed calls on her cell phone from people she needs to call back.
Wang is an independent advertisement model. The Beijinger refuses to sign with an agency because she likes her freedom.
In a quiet restaurant, she sat down with METRO to share her stories as an advertisement model striving for success in a large city never short of beauties.
Q: When did you shoot your first commercial?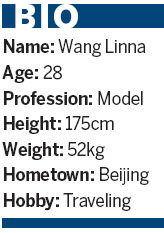 A: When I was an 18-year-old high school student. My father sent me to a month-long model-training program during the summer vacation as he thought I was tall then. The director picked me and I did my first commercial, which I still remembered clearly, was a handset advertisement for Nokia 5110. And that is how I began my career.
Q: How many commercials have you shot so far?
A: Too manyI am afraid I cannot remember. Anyway, I have shot television commercials and advertisements for print magazines, for products ranging from food such as milk powder, drinks, instant noodles, to big enterprises such as banks, telephone companies and hotels.
Q: What's the difference between models posing for advertisements and those walking on fashion runways?
A: Actually, to be an ad model, you don't need to have the "top model look" or be a certain height. In fact, it's quite the opposite and you don't want to be too skinny. But an ad model must have an amiable face to make consumers or audience feel she is the girl next-door. It is better if people can forget your face right after they see you in the commercial, so that you can shoot a lot more without making people feel bored of seeing you on television all the time.
Q: Do you worry about working late at night and then going home alone?
A: No. Quite often, I need to work the entire night but it just the nature of the job. I just remember to relax when I feel tired or stressed.
Q: How to let your stress out?
A: I cry. Sometimes when I finish my work and drive back home, say, at 1 am or 2 am in the morning, I feel an urge to cry and I don't know why. I often just let the tears burst. I don't care if the tears will make my make-up look terrible. It is quite effective, as usually when I get back home, I am in a good mood again.
Q: Why did you choose to work for yourself?
A: Maybe because I am an Aquarius. We like freedom and want to master our own fate. A more important reason is that I can therefore manage my own workload rather than have it decided for me by an agency.
I don't want to be purely driven by work. I make a realistic goal each month about how much I plan to earn and then work toward it.
If I meet the goal, I will spend the rest of my time enjoying life by hanging out with friends and going to bars. Now I am planning a two-week trip to Tibet. I sometimes decline some commercial offers, but if you are signed with an agency, it is impossible to do so.
Q: Are you a typical Beijinger?
A: I think quite typical. I am an extrovert, I have a lot of friends and I also have a short memory about unhappy moments.
Q: What is most rewarding part of your job?
A: It is when my families, relatives, neighbors, or classmates see my commercials on television or see my print advertisement on billboards. Days ago, one of my classmates from college contacted me. I hadn't talked to him for a long time. He phoned saying when he took the elevator in his office buildings, he saw me in a commercial on the television in the elevator. He said even though the elevator was packed, he almost shouted out loud that he knew the woman in the commercial.