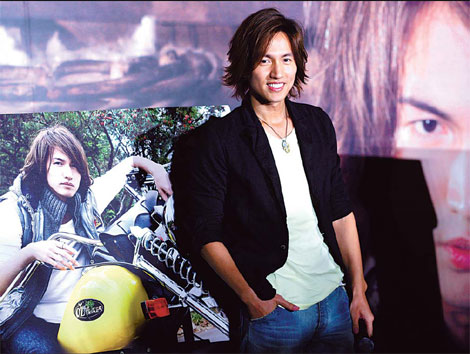 Jerry Yan says he wants to be known as a professional actor, not an idol.
Zou Hong / China Daily
Taiwan star Jerry Yan returns to the limelight with biography
The conference room is closed, but that does not deter news reporters and TV cameramen from trying to enter.
Nearby in the hallway of the five-star hotel in Beijing, fans jockey to catch a glimpse of the star attraction, a pop singer who has not appeared on Chinese mainland in five years.
The camera-and banner-toting fans, some of them speaking Japanese, scream in delight, despite the entreaties of hotel staff to stay quiet.
They are all waiting for Jerry Yan, a model, singer and actor from Taiwan who was an overnight sensation across Asia nine years ago.
Yan, now 33, has "grown up to be a mature man and artist", he wrote in a new book.
As a step to retool his career on Chinese mainland market, Yan launched the book/CD package, Jerry Yan - 9314 Man and Boy, which details his dreams and reveals secrets of growing up. More than 200 pictures of Yan, shot in Adelaide, Australia, are included.
The book, produced in a limited edition of 2,000, sold out in three minutes during a recent online presales launch. A regular edition is sold in bookstores.
The number 9314 in the title refers to the distance between Taipei and Adelaide.
"It symbolizes the distance to my dream, which takes a long time to cover," he said.
That dream, he said, is to live in the bucolic surroundings of Adelaide, where he would be surrounded by family and barnyard animals on a farm.
But in Beijing, the spotlight was on his life as an entertainer.
"After five years, I am happy to meet many old friends and fans here," he said with his trademark shy smile of dimples and gleaming white teeth.
"If (the press conference) was held earlier, I would have been very nervous in front of so many media friends," he said.
"Eight years ago, when I shot my first photo album, Amphibian, I said offensively to my costume artist that he knew nothing about my dressing style," Yan added, noting his petulance as a young artist.
Despite that, the team, including the costume artist, reassembled for a second album.
"I was forthright," Yan said. "In order to do things better, I always required a lot. But I didn't know how to put myself in others' shoes."
After he took a lead role on the popular television drama series Meteor Garden and its sequel, Meteor Garden II in 2001, he shot to fame and became a teen idol across the continent.
"At that time I had a lot of staff taking care of me and I was treated as a spoiled boy. Thus, didn't care about others," he said.
In his new book he wrote: "It was not until I went though difficulties and hit the lowest point in my career that I learned that every one had been kind to me.
"Because they had always been so caring and friendly I took everything for granted. But during the unhappy times, I learned no one should be good to me, no matter who I was and would be. I learned to cherish."
"After many years, I have gradually learned communication is an art," he said.
During his visit to Beijing he appeared on China Entertainment TV's hostess Li Jing(not the author)'s talk show Close to Star by Jing. After the taping, Li said she was amazed at Yan's change.
"The introverted boy has grown up," she said. On the show, Yan praised the beauty of the hostess, likening her to the goddess Venus and addressing her as "Xiao Jing" as a compliment for yer youthful appearance.
Although Yan's attitude is greatly changed, his striking looks are little altered, fans said.
"He is gorgeous and handsome," said a female journalist. "I almost felt dizzy when he answered my questions, staring at me."
But his face is not the only tool he aims to captivate his audience with; his skills as an actor have won accolades.
"In the photo album, I wore no makeup. It is an attempt to distract people's attention from my appearance." He said his target is to be a compelling and serious actor, as opposed to an idol.
"I am a professional actor and willing to try different roles," he said. "If there are any good roles and scripts, I would take them, regardless of the salary."
His next film, he said, will be his first cooperation with a mainland movie director.
"Though my age has got 10 older, I don't think I am a real man yet. I have learned a lot but am still not mature enough in many things," he said.