Like Sylvia Plath, whose recognizably-autobiographical novel, The Bell Jar, became a classic well after her suicide, Wang Xiaobo's deep essays on Chinese society and culture found a following only after his death in 1997.
Often a momentous piece of writing is "discovered" long after it is written. Instant recognition frequently eludes the singular and iconoclastic. It's either arrived too ahead of its time or doesn't fit the template preferred by the market, or is just plain "unlucky" to have not been noticed by critics, the media and the reading public.
We asked a few people engaged in the business of locating, translating and disseminating some of these possibly "neglected" gems of Chinese literature across the Anglophone world to pick their favorites. The chosen work would have to be written in 1949 or after and not widely known in a translated English version, to make the category of a "missed" contemporary classic.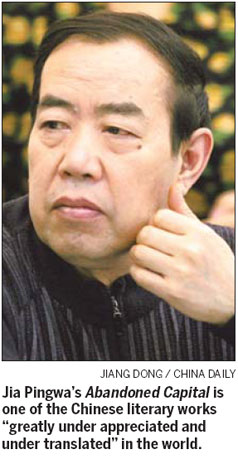 There were two votes for Jia Pingwa's Abandoned Capital (Feidu, 1993), by Eric Abrahamsen, PEN translation awardee, and Paul Richardson, chairman of the Board of China Publishing Ltd, UK.
"It's simultaneously a breathtaking tapestry of Chinese society and its transformations, and also a rich literary masterpiece," Abrahamsen says. "In style most closely related to the Chinese classic Story of the Stone [better known as A Dream of the Red Mansion], the themes of Feidu are more akin to the great social novels of 19th century Europe."
Despite a French and an early English translation, the book, Richardson says, remains "greatly under appreciated and under translated".
Shelley W Chan, associate professor of Chinese Language and Cultural Studies at Wittenberg University, picked Shi Tiesheng's Notes on Principles (Wuxu Biji, 1996) - a self-reflexive and profoundly meditative take on existential themes, such as love, illness, disability and spiritualism, told in the form of stories.
"It is very different from most of the literary works nowadays," Chan avers. "In some sense it is similar to The Soul Mountain (Ling Shan) by the Nobel Prize winner Gao Xingjian, but even better. I was deeply touched by the author's sincerity, authenticity, his philosophical quest as well as his painstaking interrogation of the human soul."
Marysia Juszczakiewicz, who runs the Peony Literary Agency in Hong Kong, zeroed in on the writer Wang Anyi, "who has some following in France but could do with a little more familiarity in the Anglophone world".
Juszczakiewicz refused to pick a single work, preferring to recommend the entire oeuvre of Wang whose unsparing depiction of the vagaries of city life has sometimes been compared to the other keen watcher of Shanghai's urban excesses - Eileen Chang.
Juszczakiewicz is all for getting the entire backlist by an author translated, rather than doing a one-off title, as most publishers out to acquire translation rights seem to be doing.
While the hunger to find the potential bestseller is understandable, as is the Chinese government's all-out effort to reach out to a global audience, "what we need now," she say, "is some consistency".