Stars lit up Shanghai on Wednesday evening, as the 2009 SMG MTV Style Gala got underway at the Shanghai Grand Theater.
Stars from the mainland, Hong Kong, Taiwan and abroad walked the red carpet, and later joked, laughed, sang and danced on stage. More than 10 awards were given out. Jackie Chan won the "most stylish public welfare achievement" award and said that he would continue his charity work.
Zhang Liangying, of Super Girls fame, was chosen "most stylish mainland female singer". She later sang Mulan Star, the theme song of the latest blockbuster Hua Mulan. The singer said she would release another album next year. When asked what "most stylish" means, she said it refers to a positive attitude to life, no matter in what field you work.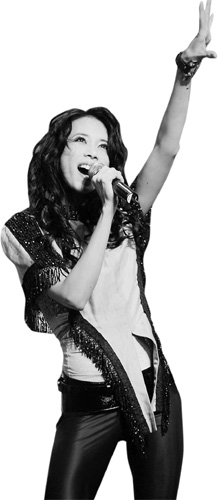 Karen Mok won the title "most stylish Hong Kong female singer" at the 2009 SMG MTV Style Gala.
Style Gala also attracted artists from abroad. This year, the event opened with a performance by the South Korean band Wonder Girls. The five-girl band's Nobody is a huge hit in China with its easy-to-sing tune and simple dance steps. The band picked up the "most stylish Asian artists" award.
Wonder Girls held a concert in Shanghai just before the gala and said they were very happy with their Chinese fans. Last year, the foreign face at the event was that of Paris Hilton, who made an appearance in a traditional Chinese qipao.
To commemorate World's AIDS Day that fell on Tuesday, all the actresses and singers wore a red ribbon. "We want to show solidarity with the fight against AIDS/HIV," Hong Kong singer Gillian Chung said.
Other important awards went to Xu Wei, chosen "most stylish mainland male singer", Khalil Fong, "most stylish Hong Kong male singer", and Karen Mok, "most stylish Hong Kong female singer". The most stylish Taiwan male and female singers were Stanley Huang and Tanya Tsai.
The award for "most stylish domestic fashion designer" went to Lu Kun, who designed Paris Hilton's qipao last year. The most stylish model was Du Juan. Vivienne Tam won "the most stylish international fashion designer" award.
Started in 2003, the Style Gala has been instrumental in launching not just all-inclusive entertainment events in China, but also the concept of "big entertainment". Each year, it brings together the latest releases in film, television, music and fashion, selecting the most stylish entertainers and artworks.
Managing Director of MTV China, Mei Yan, believes style is everything.
She said that although this is not a huge event, the focus on film, television, music and modeling shows the everlasting appeal of innovation.