China is doing its best to move toward a freely traded currency, a central bank official said, appealing for understanding from two US senators who are threatening trade sanctions unless the yuan's value rises.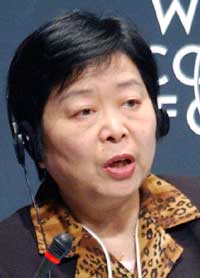 Wu Xiaoling, vice governor of the People's Bank of China [newsphoto/file]

``They should understand that China is doing its best,'' Wu Xiaoling, vice governor of the People's Bank of China, told reporters in Beijing Saturday ahead of next week's visit by senators Lindsey Graham and Charles Schumer. ``China's economic restructuring needs a process.''

Graham, a Republican from South Carolina, and Schumer, a Democrat from New York, are sponsoring legislation that would impose tariffs on Chinese imports unless the yuan is allowed to strengthen. The senators will meet Chinese officials in Beijing and Shanghai before deciding whether to proceed with a vote on their bill by March 31.

The yuan this week had its biggest weekly gain against the dollar since the government scrapped a decade-old peg in July, after Premier Wen Jiabao promised more flexibility. China is under pressure to let the yuan trade more freely before the U.S. Treasury's semiannual report on global currency manipulation and President Hu Jintao's visit to the U.S. next month.

The yuan's ``flexibility is increasing gradually,'' Wu said in a speech to a banking conference today. The central bank will improve the exchange-rate mechanism `` actively and progressively'' and ``allow market supply and demand to play a fundamental role in forming the exchange rate.''

Wen's Pledge

U.S. lawmakers and manufacturers accuse China of keeping the yuan's value artificially low to spur exports. China's trade surplus tripled to a record $102 billion last year, helping to drive economic growth of 9.9 percent, the fastest among the world's major economies.

`A flexible exchange rate will help to improve the international balance of payments, but large-scale fluctuations will harm the stable development of the economy,'' Wu said. She said the central bank isn't concerned about U.S. pressure for faster progress toward a freely traded currency.

China on July 21 reset the yuan's value at 8.11 to the dollar, a 2.1 percent appreciation from the pegged level where it had been held since 1995, and linked its value to a basket of currencies including the euro and yen. Under the system, the yuan is allowed to rise or fall 0.3 percent against the dollar either side of a daily rate announced by the central bank.

Trading Band

The yuan, a denomination of China's currency, the renminbi, rose 0.1 percent to 8.0313 against the dollar at 3:30 p.m. in Shanghai Friday, bringing its gain for the week to 0.2 percent, according to data compiled by Bloomberg. It has gained almost 1 percent since the revaluation.

The yuan's daily fluctuation exceeded 0.1 percent for the first time on March 15, a day after Premier Wen said China will ``add more flexibility to the exchange rate's trading band.''

Wu said the central bank is studying introducing interest- rate futures and more foreign-exchange derivatives to give companies and financial institutions tools to hedge against a more volatile exchange rate.

The central bank will also ``release reasonable demand'' in the foreign-exchange market while ``controlling abnormal foreign- exchange supply,'' she said.