Tantalizing tasters of homegrown music
Updated: 2019-11-15 07:48
By Rob Garratt(HK Edition)
| | | | | | | | | |
| --- | --- | --- | --- | --- | --- | --- | --- | --- |
|   | | Print | | Mail | | Large Medium  Small | 分享按钮 | 0 |
The Hong Kong Philharmonic Orchestra has long endured criticism for failing to offer a suitably bright spotlight to contemporary homegrown composers, instead predictably devoting its energies to retreading the western classical canon - a charge it appears to be addressing head-on with a spate of local commissions dotting the 2019/2020 season.
The first stage time put aside to introduce these voices was a specially conceived locally-themed program entitled Sounds of Hong Kong - presented at the orchestra's home of Hong Kong Cultural Centre (HKCC) on Nov 1 and 2. So it almost felt anticlimactic to find just eight minutes of locally written music featured in the final bill.
Yet each of these four, short, specially commissioned vignettes proved frustratingly tantalizing tasters. Rather than fashionably probing contemporary atonalism, the four composers each drew richly from the Old World's established and familiar harmonic language.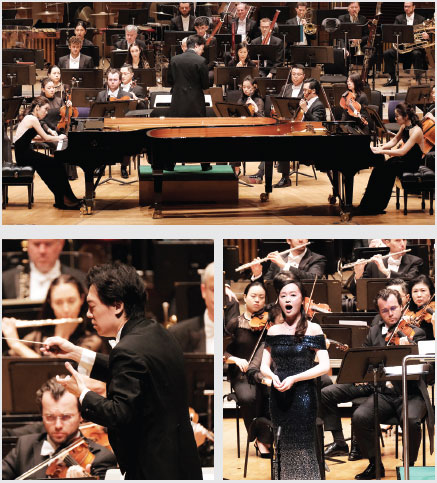 Clockwise from above left: Conductor Lio Kuokman, pianists Lok Ping and Lok Ting Chau and soprano Louise Kwong perform at Sounds of Hong Kong.
Indeed, the most instantly memorable piece, Ray Leung's tautly structured Downpour, appears to reference as many moods and eras as possible - a wrong-footed noir-ish horn spurt gives way to cinematic strings, before a sudden onslaught of descending horror-movie chromaticism and a sweet lead-violin coda. The stop-start freneticism is apparently the result of an inspiration-struck composer repeatedly interrupted by the titular rain.
Equally ambitious, Cheung Pui-shan's Xixi begins with cheeky bow-rattling double basses, which introduce chirping woodwind birds before stately strings take over. Later, a short disagreement between the horns is resolved with a big brash triumphant close. Less contention is found in Blaze, a chilly, subdued answer to Beethoven's Egmont overture framed by clambering percussion and thrashed descending chords, written by a second female composer, Joyce Tang.
Conducted by Lio Kuokman, the current music director of the Hong Kong New Music Ensemble, perhaps most instantly satisfying piece, on first listen at least, is Austin Yip's Romance, a lush and impressionistic mood-painting of spiraling melodies and crashing, splashing strings - cresting majestically before falling away like an unanswered question.
If these composers took less harmonic risks than contemporaries in other territories, it may have more than a little to do with the commissions' ceremonial nature - loosely pegged to ongoing celebrations marking the 30th anniversary of the HKCC venue - and the accessible, gala-like mood they were somewhat awkwardly thrust into.
Because Sounds of Hong Kong was also there to celebrate local performers, naturally headline duties fell to the evergreen duo - Hong Kong-born identical twin sisters Lok Ping and Lok Ting Chau - called in to delicately navigate the three-way dialogue of Poulenc's Concerto for Two Pianos and Orchestra.
This meaty musical workout was coupled with the brooding, existential crisis of Brahms' Schicksalslied (Song of Destiny), conceived as a showcase for the under-utilized Hong Kong Philharmonic Chorus.
After quickly dispensing with the four premieres, the second half of the evening took on brighter shades, with a pair of crowd-pleasing vocal showcases for the powerful but ornate vocal delivery of soprano Louise Kwong. However even her idol's applause couldn't beat the reception which met the endearing and robust Hong Kong Children's Choir. These youthful voices leant an innocent joy to the encore sing-along of Cantopop standard Under the Lion Rock, by Roland Tam, which united all the players, singers and composers on stage.
Expect rather meatier local flavors soon, with composers Chai Kai-young and Alvin Tam Lok-hei both set to reveal new pieces under the baton of musical director Jaap van Zweden, during high profile shows on Nov 22-23 and Jan 23 respectively.
(HK Edition 11/15/2019 page10)