Remake in forms, not substance
Updated: 2019-10-18 07:38
By Shadow Li(HK Edition)
| | | | | | | | | |
| --- | --- | --- | --- | --- | --- | --- | --- | --- |
|   | | Print | | Mail | | Large Medium  Small | 分享按钮 | 0 |
Textile manufacturers seek to resurrect the industry in HK using new technology that creates new clothing from discarded material. Shadow Li reports.
There's a steep climb ahead, but some in Hong Kong who want to restore the city's status in "the rag trade" are ready to compete with the big names like Chanel, Dolce & Gabbana, Zara, and H&M.
Hong Kong was a major center for textile manufacturing, a pillar industry in the city, as far back as the 1950s. But the industry "went south" - or, more accurately, north - with China's reform and opening-up, cheap labor, and all that.
Now the industry is hoping for a comeback using new technology.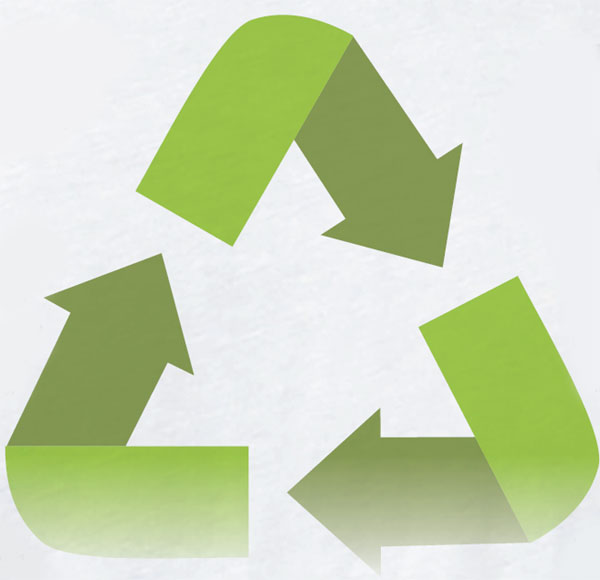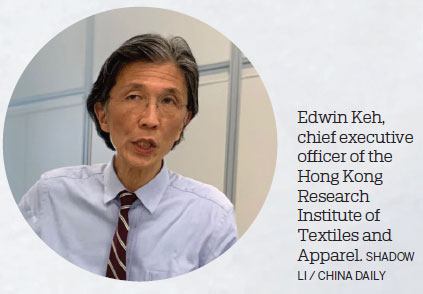 A mill in the Tai Po Industrial Estate is one of the innovation leaders. As Hong Kong's first spinning mill to upcycle discarded fabrics, it is a little like a time machine - processing fabrics from discarded clothing and spinning them back into yarn to fashion new garments - and it can do this without discharging polluted water.
The Tai Po mill is owned by Novetex, a company built by renowned Hong Kong textile entrepreneur Chao Kuang-piu. The company is one of the largest single-site spinners in the world. The upscaling system on site was the brainchild of the Hong Kong Research Institute of Textile and Apparel (HKRITA).
Ever since it opened in September 2018, the mill has been recycling and upcycling 3 metric tonnes of discarded clothing every day. The company wants to expand its capacity to 10 tonnes eventually.
The enterprise, on the third floor of an industrial building in Tai Po, shines as a beacon of hope for people who want to bring about a renewal of traditional manufacturing in the world's most expensive city.
"If a factory proves profitable in Hong Kong, a city where land is in deficit, and labor costs and utilities are high, then it can survive everywhere else, whether in a developing country or a developed economy," HKRITA CEO Edwin Keh said.
Raw materials are never in short supply. The city dumped 135,050 tonnes of textile waste in the landfills in 2017, which is 370 tonnes per day, while the recycling rate of textiles reached a new low of 2.2 percent, according to data from the Environmental Protection Department.
And the total textiles recycled annually in Hong Kong were reduced almost 90 percent, from 31,000 tonnes in 1991 to 3,000 tonnes in 2017.
A survey by Greenpeace in 2016 revealed that people in Hong Kong own on average 94 pieces of clothing each. The survey, which interviewed 3,000 people from Hong Kong and Taiwan, found that people in Hong Kong own on average 20 percent more clothes than people in Taiwan.
Breaking from tradition
The idea that launched the upscaling endeavor was conceived in 2016 and was launched in about three years - as impressive feat, since research and development normally takes more than 10 years.
The factory has six full-time workers to manage three processing lines. Four are responsible for removing buttons and zippers from clothes so that the machines will not be damaged. The rest of the work is fully automated.
The process guarantees a high recycle rate of approximately 90 percent. And the cost of recycling yarn is 30 percent lower than the cost of producing new yarn from raw materials such as cotton, silk or wool.
Keh believes that the urgency of recycling textiles would be higher in the first-tier cities on the mainland, as they produce far more textile waste every day.
Talking to consumers
The blight on the environment brought about by needless textile waste is part of a worldwide problem, and people like Keh are keen to find a solution and make resources more sustainable. Keh thinks there is a missing link in environmental protection, and that's the consumer/consumption effect on the value chain.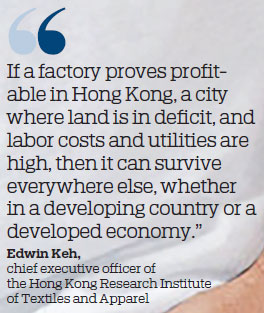 A recycling system was established in Tsuen Wan in an effort to engage consumers. The Nan Fung Group, a local textile company, set up the city's first garment-to-garment mill. It takes customized orders from customers who bring in outdated clothes, and four hours later, there's a brand-new garment waiting for them. The designs are simple, completed with the assistance of a 3D-knitting printing system. The glass-encased mill allows consumers to see how the magic happens.
"By engaging with consumers, the mill can help educate consumers about protecting the environment in the hope of changing their buying habits," Keh said.
Associate Professor Li Li, from the Institute of Textiles & Clothing at the Hong Kong Polytechnic University, agreed.
"There is definitely a new trend for high-value-added products that aligns with sustainability. With advanced technology and continually improving quality of life, consumers will pursue new products that uphold the aesthetics of fashion design and complement recent living standards and lifestyles," Li said.
"High-value-added and eco-friendly products attract much attention from the market," said Li, adding that they also promote industrial transformation and upgrading, and eventually enhance competitiveness.
The cooperation between HKRITA and Novetex is pretty much a pinnacle, showing how Hong Kong's well-developed basic research, the upstream sector, flows into downstream production. It is the dream model Hong Kong has been looking for in its quest to be recognized as an innovation and technology hub. It's also a priority that's been high on the government's agenda, especially now, with the release of the development blueprint of the Guangdong-Hong Kong-Macao Greater Bay Area.
In April 2006, the HKRITA was established. The organization, funded by the government's Innovation and Technology Commission, aims to revitalize the city's textile industry. Its mission was to work on research and development related to textile materials and new technologies for producing fabrics.
The organization has come quite a long way. In 2018, it earned internationally recognized awards at the 46th International Exhibition of Inventions of Geneva for its new technologies, including AI-based production, order prediction algorithms, washable hygienic face masks, and the textile recycling system.
Green textile materials are one of the HKRITA's principal research and development achievements, with growing awareness and considerable interest from international brand-name manufacturers.
It's more than environmental protection, Keh said, adding that he believes Hong Kong needs industry to maintain a healthy economy - and Hong Kong has been all but abandoned by industry.
Government data for 2016 showed 97,700 people working in industrial jobs in the city, accounting for a little over 1 percent of GDP.
There is little room for heavy industry in Hong Kong - there's just not enough land. There's a high potential for a comeback of light industry, however.
Keh recalled that the textile industry's best days were back in the 1970s. The supply chain still is very much a part of the city's commercial community, and it's an area in which the city can claim rich experience, he said.
With the emergence of the Bay Area, Hong Kong will be able to team up with other cities of the Bay Area to focus on more value-added processes, including research and development, design and brand-building.
"I couldn't think of anywhere else, except the Bay Area, that is a better fit for producing technological advances in textiles manufacturing, including special features, like waterproof sports attire," Keh said.
Be creative and sustainable
In a research article by the Hong Kong Trade Development Council on Hong Kong's textiles industry, dated Sept 5, 2018, "technology and innovation" are cited as two buzzwords rocking the textile industry, especially on the technical side. Innovations are being sought worldwide, for insect-repellent apparel, tunable noise-reduction carpets, and others.
Li, a PolyU professor who has done extensive research on functional textiles, believes integrating design with innovative technology is a means to create new business opportunities for textiles and even for other industries.
Traditional markets are disrupted by new technologies and demographic shifts, Li said.
In the past, companies focused on developing products at low cost in a tactical, ad hoc approach, which gave little to advance the value of innovation and creativity. Today, companies need to be more strategic in product development, to create a new, higher level of value, Li added.
Li believes that in order to achieve reindustrialization, products must be human-centered and sustainable.
In terms of marketing coupled with environmental protection, the upcycling mill completes the missing link in environment protection by including the customers to the process of production. The process means old favorites can be reincarnated and go on to a new life.
When Keh decides to reincarnate a cashmere sweater he's had for more than 10 years, he expects that the remake, in a new design, will have a feel just like the original's.
Contact the writer at stushadow@chinadailyhk.com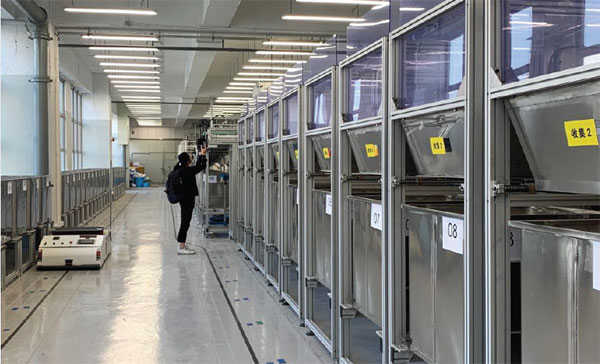 The upcycling process of the Tai Po mill owned by Novetex could guarantee a high recycle rate of approximately 90 percent. Shadow Li / China Daily
(HK Edition 10/18/2019 page8)