Fugitive surrender: Rights and responsibilities
Updated: 2019-06-12 07:45
(HK Edition)
| | | | | | | | | |
| --- | --- | --- | --- | --- | --- | --- | --- | --- |
|   | | Print | | Mail | | Large Medium  Small | 分享按钮 | 0 |
Editor's note: At a Tuesday forum titled "Extradition law and human rights: Does the Hong Kong government's bill provide sufficient safeguard for our rights?", Grenville Cross, honorary professor of law at the University of Hong Kong and the city's former director of public prosecutions, shares his insights into the proposed amendments to Hong Kong's extradition law.
Good afternoon.
I am most grateful to have been invited to today's conference, and to have the opportunity to discuss the surrender of fugitives, in the context of rights and responsibilities.
The Security Bureau's proposed amendments to the Fugitive Offenders Ordinance are designed to promote effective criminal justice, and to redress an intolerable situation. They will enable Hong Kong to return fugitives, on a case-by-case basis, to other parts of China, as well as to over 170 countries with which it currently has no extradition agreements. Such case-based approaches are used in other jurisdictions, and are of obvious utility where long-term surrender arrangements are not yet in place. Given the existing vacuum, many fugitives from other places have obtained sanctuary in Hong Kong, some from elsewhere in China, others from around the globe.
We know that over 300 fugitives from other parts of China are currently enjoying safe haven in Hong Kong, including at least one alleged murderer, as well as businessmen already convicted of corruption and money laundering. However, because of the weakness of our laws, they are able to avoid their just deserts, and cannot be returned to face justice. Apart from China, no other country, not the United Kingdom, not the Russian Federation, and certainly not the United States, tolerates a situation in which a suspect can simply evade justice by moving from one part of the country to another, and it is incumbent upon Hong Kong to break the impasse. Although we cannot know for sure how many fugitives from around the world are also evading justice by coming here, the Security Bureau's proposals will, hopefully, have given them a rude awakening, and put them on notice that their time is up.
In the debate over the Security Bureau's proposals, the whole focus has been on the rights of suspects, and what Hong Kong should do to protect their interests. Although their interests are obviously important, there is, I believe, another side to the equation, which is often downplayed. "No man is an island", said John Donne, and Hong Kong has wide responsibilities to other places, as well as to the victims of crime, and these cannot forever be shirked, on one pretext or another. Those who think Hong Kong can simply evade its responsibilities, by isolating itself and refusing to help other jurisdictions to pursue criminal suspects, are doing it no favors at all, not least because it will result in a breakdown of trust.
Responsibilities to other jurisdictions
If Hong Kong falls down on its responsibilities to others, we cannot expect other jurisdictions to carry on assisting us. It has, for example, been estimated that, since 2006, the mainland has transferred 248 suspects to Hong Kong to face justice, and this has helped us enormously to enforce the law, while Hong Kong has surrendered none in return. Quite clearly, in the absence of reciprocity, assistance of this type could well dry up, and we would have only ourselves to blame. Hong Kong has clear responsibilities to other jurisdictions, and, if these are disregarded, there will inevitably be consequences. Those responsibilities are readily identifiable, and have repeatedly been emphasized.
The UN Model Treaty on Extradition, for example, urges all states "to strengthen further international cooperation in criminal justice". Since 2006, the UN Convention on Transnational Organized Crime, which promotes efforts to combat global criminality, has applied to Hong Kong, and it requires states, subject to domestic law, to endeavor "to expedite extradition procedures and to simplify evidentiary requirements relating thereto in respect of any offense to which this article applies" (Art 16). Again, the United Nations Convention Against Corruption, which has also applied to Hong Kong since 2006, seeks to strengthen measures against corruption, and calls for effective extradition mechanisms (Art 14).
Hong Kong, moreover, belongs to both the International Association of Prosecutors (IAP) and the International Association of Anti-Corruption Authorities (IAACA). Whereas the IAP promotes international cooperation in the prosecution of fugitive offenders, the IAACA encourages global anti-corruption efforts, including the apprehension of suspects. However, the presence here of large numbers of wanted fugitives, and even convicted criminals, makes a mockery of our international obligations. It sends out the message that although Hong Kong pays lip service to fighting crime, it cannot be trusted, and is content instead to offer safe haven to fugitives, no matter how grave their crimes may be.
Since 1960, moreover, the Hong Kong Police Force has belonged to the International Criminal Police Organization (Interpol), most recently as a sub-bureau of the National Central Bureau China. One of Interpol's most effective tools is the Red Notice, which is a request sent out to law enforcers everywhere to locate and provisionally arrest wanted fugitives, pending extradition or surrender. By netting fugitives, it has helped to make the world less safe for criminals everywhere. Last year, for example, after a corruption suspect from Zhejiang province, Yao Jinqi, was apprehended in the European Union, following an Interpol Red Notice intercept, he was sent back to China by Bulgaria to stand trial. However, in Hong Kong, the Red Notice system simply breaks down, because many fugitives, if located here, can be neither extradited nor surrendered, which undermines one of Interpol's key objectives, namely, the return of fugitives as a deterrent to globalized crime.
Time to shed negative image
Hong Kong, therefore, is not only letting itself down, but also its criminal justice partners around the world, and the time has come for it to shed its image as China's criminal sanctuary. I firmly believe that, 22 years after reunification, the situation in which someone can, for example, rob a bank in Beijing, commit a rape in Shanghai, or traffic drugs in Nanjing, and then claim safe haven in Hong Kong, cries out for redress. Although some people have described this state of affairs as a "firewall", it is, in reality, a criminal's charter, which undermines effective law enforcement throughout the country, and beyond. The Secretary for Security, John Lee Ka-chiu, clearly recognizes this, and his bureau's proposals offer a sensible means by which Hong Kong's responsibilities to others can finally be honored.
There is, however, a great difference between creating a mechanism which enables a person to be extradited, and actually extraditing someone, and hopefully, people appreciate this. The United Kingdom, for example, has extradition agreements with dictatorships, failed states, and states riven by civil war, but, in reality, it would never extradite someone to one of those places, and I have no doubt that it would be the same here. Even with countries not in those categories, extradition is by no means a given. Whereas, for example, the UK has an extradition treaty with the Russian Federation, it rejected 63 of the 67 requests for extradition made by Russia over the past 17 years. Likewise, the creation of a mechanism for returning fugitives to other parts of China certainly does not mean that this will happen whenever a request is made, as there are numerous hurdles to be overcome.
The Fugitive Offenders Ordinance (Section 5) contains internationally recognized safeguards for suspects, and these are replicated in Hong Kong's 20 existing fugitive surrender agreements. Because fears have been expressed that people might be at risk for political reasons, the proposals emphasize that there will be no surrender for offenses of a political character, and no surrender where the purpose of the request is to punish the wanted person on account of his political opinions (or his race, religion, or nationality). Of course, there is no political dimension to most offenses, and, other things being equal, there should be no particular difficulties when cases of, say, burglary, kidnap or rape are considered for surrender, or when they are ultimately tried. No surrender, however, will be made if the suspect might be prejudiced at his trial or punished, detained or restricted in his personal liberty because of his political opinions, race, religion or nationality. A fugitive will also not be returned if he will face the death penalty, if the crime is not an offense in both places, if extra charges might be brought, or if the double jeopardy principle will be breached. This is a formidable battery of protections, and the government, to allay concerns, has explained that they can be supplemented.
Different legal systems
On the "fair trial" issue, it should be remembered that different places have different legal systems, some more advanced, others less so, and it is not always salutary for one jurisdiction to sit in judgment on another. Of course, different systems develop at different paces and in different ways, but it certainly does not follow that other systems cannot be trusted, or that they will not use their own judicial processes to establish guilt or innocence. Although some people are always eager to malign the mainland's legal system, its increasing alignment with our own, in terms of better criminal procedures and the quest for justice, cannot forever be disregarded.
Ever since the former paramount leader, Deng Xiaoping, famously declared in the 1980s that "we must build a modern legal system for China", progressive academics and jurists have taken him at his word, and worked tirelessly, often in the face of great resistance, to improve the criminal justice system. I have been privileged to meet many of those reformers, and to discuss with them the improvements that have been made, although they readily admit that the legal system is still a work in progress. Most of the critics, unfortunately, actually know very little about recent improvements to mainland criminal justice, and, what is worse, many are simply not interested, presumably because they interfere with their preconceived views of China's legal system.
In March, however, when the chief justice of the Supreme People's Court, Zhou Qiang, delivered his work report for 2018, he said that the judiciary had sought last year to uphold two principles in criminal cases, namely, no punishment where doubt exists, and evidence obtained illegally cannot be allowed. This, of course, resonates with Western approaches to criminal justice, but it is certainly not coincidental, because the mainland has sought to modernize its legal arrangements by studying other legal systems, including our own. There have been some significant reforms of late, perhaps most notably in relation to involuntary admissions. Whereas, previously, the courts were only concerned with whether an admission of guilt was true, without regard to the circumstances in which it was made, this has now changed, at the urging of reformers. In 2012, the National People's Congress overhauled the Criminal Procedure Law, as a result of which the courts must now exclude coerced confessions, even if true. What is interesting, moreover, is that, whereas in Hong Kong an accused person can be convicted solely on the basis of a confession, in the mainland the courts, in addition to the confession, also look for corroborating evidence, which provides the accused with an additional safeguard. As regards the standard of proof, mainland judges when asked say they must be "sure" of guilt before they can convict, which is not light years away from our own standard of "beyond reasonable doubt".
Also, mainland law enforcers are now encouraged to video-record the confession taking process in the more serious cases, so that the judges at trial can see how an admission came into existence. This technique, of course, was originally pioneered by Hong Kong's Independent Commission Against Corruption, then adopted by the Hong Kong Police Force, and has now spread into the mainland and Macao. At trials, which are now generally held in public, recent changes have seen witnesses appearing far more often than previously, so that their evidence can be tested, and there is less reliance on witness statements which are simply read into the record. Since the Regulations on Legal Aid took effect in 2003, the government, as in Hong Kong, has been required to provide legal aid, and it is available to accused persons who lack funds, as well as for victims of crime.
'Judicial democracy'
Another fascinating development concerns people's assessors, who are not dissimilar to Hong Kong's own jurors. Although they were originally introduced in the 1950s, to give the public a voice in the judicial process, the People's Assessors Law, enacted in 2018, gives them equal rights with judges in trials, unless the law specifically provides otherwise. The idea is "to achieve judicial democracy", and, although they normally sit on three-person collegiate benches, they are also eligible, in graver cases, to participate in seven-person panels, usually comprising three judges and four assessors. Although assessors cannot vote on legal questions, they can still discuss them, but they vote jointly with the judges on factual issues, which are decided by the "principle of majority rule". As an aside, when one asks critics of the Security Bureau's proposals if they are any way reassured by the increased role for people's assessors in criminal trials, their faces invariably glaze over, and it is a pity that ignorance of how the mainland's criminal justice system is actually developing informs so much of the debate.
There has, moreover, been a significant improvement in judicial standards in recent times. Although, until about 20 years ago, judges had little legal training, this has now changed, and anyone who aspires to be a judge (or a prosecutor or a lawyer) must pass the difficult National Unified Legal Professional Qualification, together with the separate judge's test, and this has raised judicial standards enormously. Many of this new breed of judges, prosecutors and lawyers have also studied law elsewhere, often in the UK, Germany or the US, but also in Hong Kong, and they are familiar with Western notions of criminal justice, and this has undoubtedly impacted upon their work.
Additional safeguards
Having listened to people's concerns, however, the government has wisely agreed that, in addition to the mandatory protections stipulated in the Fugitive Offenders Ordinance, additional safeguards can be added, given that the amendment bill allows the government to "further limit the circumstances in which the person may be surrendered". In consequence, the requesting party can be required to provide assurances that satisfy general human rights protections regarding special surrender arrangements, including such matters as presumption of innocence, open trial, legal representation, right to cross-examine witnesses, no reliance on coerced testimony and right to appeal. Indeed, many of Hong Kong's existing fugitive surrender agreements, including those with Indonesia, Sri Lanka and the Philippines, already contain the safeguard that the requested party can refuse surrender if it may place it "in breach of its obligations under international treaties".
The significance of this, of course, is that, under the Basic Law (Art 39), the International Covenant on Civil and Political Rights applies to Hong Kong, and this contains fair trial guarantees as well as rights of appeal. Other discretionary grounds for refusing surrender, as found, for example, in the agreement with Australia, include such things as extensive delay since the offense occurred, humanitarian grounds associated with age, health or personal circumstances, and offense triviality. To allay concerns, moreover, the offense seriousness threshold will, with special surrender arrangements, be raised from one to seven years, which, while not ideal, has been welcomed by the business community.
As regards the role of the chief executive, there is already an established mechanism in place, which mirrors that of other common law jurisdictions. Once a request for surrender is received, the CE will decide if the circumstances of the case require the requesting party to provide extra guarantees. If these are refused, the case will end there. If they are given, an authority to proceed will usually be issued, unless, of course, it appears that an order for surrender could not lawfully, or would not in fact, be made. The CE is not required to decide if the evidence in support of the request is sufficient, but simply whether there is enough evidence to justify a magistrate deciding if there is a prima facie case. If the CE issues an authority to proceed, this may be challenged by way of judicial review, which is an additional safeguard.
Once the process is triggered, the judicial consideration begins. If committal is ordered, the prisoner can challenge it by seeking habeas corpus, and rights of appeal extend as far as the Court of Final Appeal. After a court has ordered a committal, the case returns to the CE, who can either approve the surrender, or else reject it, perhaps on humanitarian grounds. Again, the CE's decision to approve an extradition can be challenged by judicial review. At every stage, therefore, the CE's actions can be scrutinized judicially, and this is one of the strengths of the system.
Although concerns have been expressed that the CE might be directed to surrender a suspect by the central government, this is fanciful, not least because established legal procedures cannot be bypassed in that way. It is the courts, not the CE, that decide if an order of committal should be made, and, if a suspect is discharged, there is no way the CE could then order his surrender. In any event, I do not believe the central government would give illegal instructions to the CE, quite the contrary. Because of the sensitivity of the case, I would expect it to lean over backwards to ensure that proper procedures are followed, and that it would avoid doing anything that might place the CE in an invidious position.
Going the extra mile
Some people have suggested that, once a fugitive is returned to the mainland, any guarantees given may be disregarded. I take the view, however, that the mainland courts, aware of the interest in the case, will actually go the extra mile and do all they can to ensure that the fugitive is appropriately treated on return, and the precedents support this view. After all, the mainland, like other jurisdictions, understands full well that if fugitives do not receive justice, as promised, it will forfeit the trust of others, and its future requests will be imperiled.
Moreover, 55 places have now signed extradition agreements with China, of which about 40 are now in force. They include nine EU member states, among whom Bulgaria (in the case of Yao Jinqi, wanted for corruption), France (in the case of Chen Wenhua, wanted for embezzlement), Italy (in the case of the fugitive named Zhang, wanted for theft) and Spain (in the case of the 218 Taiwan telecom fraud suspects, 94 of whom were returned to Beijing just last week, following two years of judicial proceedings) have recently returned fugitives to China without problem, which makes the EU's professed concerns over the Security Bureau's proposals all the more extraordinary. Even in the absence of such agreements, the US (in the cases of Yu Zhendong, wanted for fraud, and Yang Yinjun, wanted for bribery, and the fugitive named Zhu, intercepted on an Interpol Red Notice alert for violation of personal rights) and Canada (in the case of Lai Changxing, wanted for smuggling) have also recently returned fugitives, albeit subject to assurances as to future treatment. In all these instances, China has honored the guarantees requested of it, and fair-minded observers would be entitled to conclude that it will also do likewise in respect of any fugitives returned from Hong Kong.
In conclusion, the Basic Law's "50 years unchanged" provision for Hong Kong's capitalist system and way of life (Art 5) reaches its conclusion in 2047, and nobody knows for sure what will happen after that. There will undoubtedly be some people in Beijing who will take the view that "one country, two systems" has run its course, and should not be continued. I imagine, however, that everyone here hopes that our current arrangements will survive beyond 2047, but the chances of this happening will be far greater if Hong Kong shows itself to be a responsible part of the nation, willing to shoulder its responsibilities in the combat of crime.
Thank you.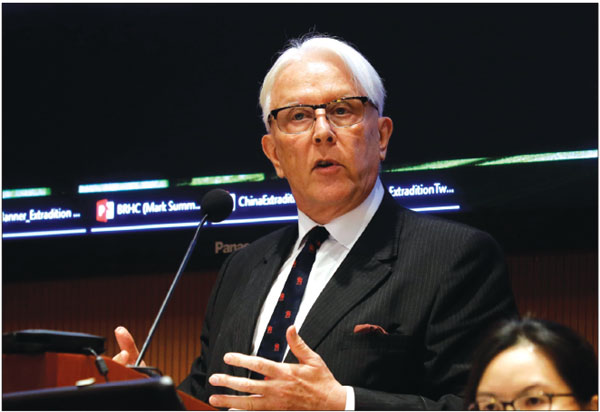 Grenville Cross, honorary professor of law at the University of Hong Kong and previously the director of public prosecutions of the Hong Kong Special Administrative Region, addresses the Tuesday forum on extradition law and human rights. Roy Liu / China Daily
(HK Edition 06/12/2019 page7)