SAR needs to take a stronger stand against political subterfuge
Updated: 2019-06-10 06:14
By Chow Pak-chin(HK Edition)
| | | | | | | | | |
| --- | --- | --- | --- | --- | --- | --- | --- | --- |
|   | | Print | | Mail | | Large Medium  Small | 分享按钮 | 0 |
Chow Pak-chin condemns tactics used by those opposing revisions to extradition law
Watching the events unfold in relation to the fugitive law amendment is like viewing a political crime thriller. The only difference is that it is set in Hong Kong and features events that show the city being turned upside down. Since the government presented its plans to amend the Fugitive Offenders Ordinance and the Mutual Legal Assistance in Criminal Matters Ordinance, the opposition has been up in arms.
The move aims to plug a legal loophole to prevent the city being turned into a haven for criminals. There are provisions for each transfer request to be vetted by a Hong Kong court, besides being approved by the chief executive to prevent potential abuse such as persecution for political crimes or religious beliefs.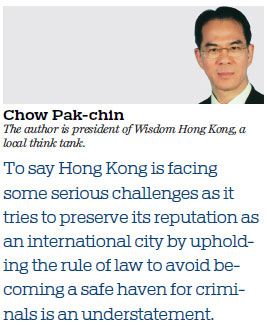 At present, the city has fugitive extradition agreements with 20 jurisdictions, including, as a recent case reveals, India, but excluding the Chinese mainland, Macao, and Taiwan. Having a proper fugitive law with a wider coverage is long overdue to protect our international status and the very open nature of our society, but not everyone, for political adversarial reasons, appears to see it this way.
All valid arguments have fallen on deaf ears as the opposition, who have been rallying support from overseas, are determined to scuttle the amended fugitive law with their overseas allies, and, some would suspect, their overseas puppet-masters, in the West.
In an unusual move, and in very vague and general tones, the United Kingdom and Canada issued a joint statement to express their concerns for their citizens as a consequence of the proposed changes to extradition laws in Hong Kong.
In the joint statement, UK Foreign Secretary Jeremy Hunt and Canadian Minister of Foreign Affairs Chrystia Freeland said their governments were "concerned about the potential effect of these proposals on the large number of UK and Canadian citizens in Hong Kong, on business confidence, and on Hong Kong's international reputation".
And in Hong Kong, allegedly some judges, who spoke on condition of anonymity, have jumped on the bandwagon to speak out against the fugitive law. This move struck me as not only highly unusual but also utterly inappropriate. It is unheard of - and very improper - for judges to comment and discuss publicly political and legislative matters.
Three senior judges have apparently said the amendments will spark fear on the bench because the law would put them on a collision course with Beijing and send shockwaves through local business, political, and diplomatic communities on the mainland.
Business groups such as the American Chamber of Commerce said they were concerned that Hong Kong is not ready for the law yet as there needs to be further discussions as well as more consultation on tougher safeguards.
Meanwhile, opposition voices came also from far and wide. In the US, eight congressmen and senators across a wide political spectrum sent a joint letter to Chief Executive Carrie Lam Cheng Yuet-ngor, urging her to withdraw the bill.
In Canada, a number of legislators warned that the law might affect Hong Kong's rule of law, hence its international reputation. Even the EU Office in Hong Kong and Macao issued a statement to join in the chorus of opposition protest.
Former Hong Kong governor Chris Patten was not going to miss the show. He alleged that the new extradition law was the "worst thing" to happen in Hong Kong since 1997. He said it would break the principles of "one country, two systems" as it would risk undermining the city's rationale as an international trade hub.
On the financial side of things, high-profile US fund manager Kyle Bass, for unknown reasons, issued a scary report on the possible impact on Hong Kong financial markets, saying that Hong Kong's foreign exchange reserves are insufficient in terms of defending its currency peg with the US dollar.
So much seems to have erupted in such a concerted way. But what is really going on?
There is no simple way to explain all these political reactions except to assign it to paranoia or conspiracy theories.
But whatever the motives or explanations, sadly the response on the part of Western countries and their mouthpieces in Hong Kong is spreading across the city and beyond like wildfire.
Among them, the actions of the German government were the most baffling. They granted refugee status to two Hong Kong activists who jumped bail while being tried for their parts in the Mong Kok riots and almost in the same breath denounced amendments to the Fugitives Ordinance.
I am not sure if the city's reputation or Germany's reputation has suffered more as a result of the German government's decisions. Popular wisdom in Hong Kong seems to suggest that Germany had a special relationship with the Mong Kok rioters.
All these foreign moves are undeniably political maneuvering and attempts to interfere with Hong Kong's internal affairs, with the ultimate goal to undermine China's sovereignty.
To say Hong Kong is facing some serious challenges as it tries to preserve its reputation as an international city by upholding the rule of law to avoid becoming a safe haven for criminals is an understatement.
One cannot help but wonder, is Hong Kong under siege by foreign powers who are in collusion with local opposition forces that have been making unsubstantiated claims that the fugitive law will be used as a weapon to arrest political activists?
Are they weaponizing the law to try to discredit and undermine the authority of both Hong Kong and the Chinese mainland as a whole by attacking any policy put forward by the Hong Kong government?
If our city is to uphold its reputation as an upstanding place on the world stage, then it needs to take a stand against political subterfuge. Hong Kong may be a small city - at least in geographical terms - but it certainly isn't small in stature. Will it stand to be in the shadow of other nations?
Let me repeat this question: What is really happening?
(HK Edition 06/10/2019 page8)