Finding art on a path less-trodden
Updated: 2019-03-08 07:05
By Chitralekha Basu(HK Edition)
| | | | | | | | | |
| --- | --- | --- | --- | --- | --- | --- | --- | --- |
|   | | Print | | Mail | | Large Medium  Small | 分享按钮 | 0 |
Art curator David Chan has put together a show to mark the first anniversary of H Queen's - the city's only purpose-built high-rise dedicated to art. If one were to imagine H Queen's as an upright oblong box - radiating art from each of its stacked gallery floors through the transparent glass-paneled walls - the anniversary exhibition, called "Exit Strategies", is a result of out of the box thinking in more senses than one. Chan has chosen to place the art in spaces, quite literally, less-trodden. In a building with multiple well-appointed lifts and even a pulley on the rooftop to help haul large paintings from the road below directly inside the galleries, a service staircase isn't expected to draw much attention, but by using it as a spare, spiraling, vertical art gallery, Chan has invested a rarely noticed staircase with a sense of uncharacteristic dignity.
Other instances of unconventional use of space in "Exit Strategies" include Tsang Kin-wah's irreverent take on the ornate floral wallpaper-pattern trope. Titled I Love You, the vinyl plates installed on the lift doors and wall in the ground floor lobby are easy on the eye, until one takes a closer look at the sentences that make up the design. They contain blunt aphorisms like "I love your dollar, Honey", "I love your sexual powers, sexy guy" - drawing attention to the deceit and greed that often comes with protestations of love in a materialist culture.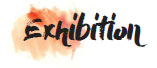 A video installation, Reflections, by the new media artist Tamas Waliczky, also makes use of a familiar trope - the classical European Renaissance triptych. Waliczky, his art historian wife Anna Szepesi and teenage daughter photographed each other in a garden in Budapest. The three frames rotate simultaneously, showing the phantom presence of the cameraperson in each, containing slices of photographed figures, thus underscoring the layered, shifting and complicated dynamic between family members.
Silas Fong has contributed two pieces - a video installation called Working in Hollywood and a transparent box with a slit on top called Art Recycle Bin. Visitors are invited to drop unwanted material - floor maps, exhibition flyers - into the box, placed strategically near the exit on the first floor lobby. The material collected inside the box is expected to shape up, organically, into a sculpture. Fong says the idea is to have the viewers who presumably had their fill of art at H Queen's go through a round of detox on their way out - creating space in their bags, and heads, after the art overload.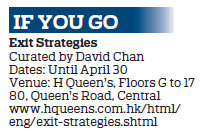 The material for Chloe Cheuk's installation Homeless was also sourced from unsuspecting people - beggars in Montreal (Cheuk is studying toward an MFA in sculpture at the University of Quebec). She bought coins from the beggars, sometimes offering two for one, thus "reversing the role between provider and receiver". The coins of varying sizes and denominations she collected have been arranged in a horizontal line against the wall, each distinguished by the human touch, even as they have ended up together.
Spread out across three floors, from the 15th to 17th, Lost Textures by Linda Lai and The Floating Projects Collective is a graphic narrative, documenting how Queen's Road, Central (where H Queen's is located) has morphed since the 1930s. Old snapshots of the city embossed on metallic boards have been arranged against the staircase walls like family photographs. On the landing, clips of old Cantonese melodramatic films are projected at an angle on a wall plastered with kitchen utensils and other objects found in the neighborhood.
Lost Textures looks back on a different time without necessarily fetishizing it. One could enter or exit at any point in the narrative - which is more or less true of "Exit Strategies" in general.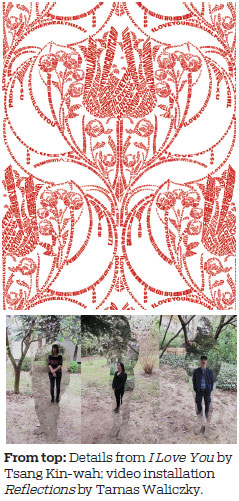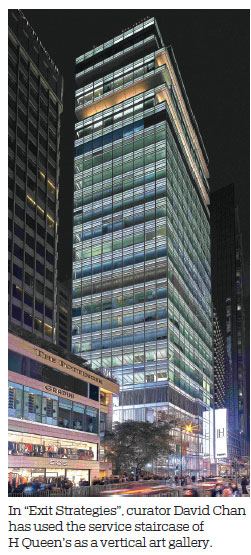 (HK Edition 03/08/2019 page10)