A step in the right direction
Updated: 2019-01-04 06:24
(HK Edition)
| | | | | | | | | |
| --- | --- | --- | --- | --- | --- | --- | --- | --- |
|   | | Print | | Mail | | Large Medium  Small | 分享按钮 | 0 |
Editor's note: One of the city's most esteemed dance educators, Anna C.Y. Chan returned to Hong Kong Academy for Performing Arts a few months back to head its School of Dance. In a freewheeling interview with China Daily Hong Kong, Chan revealed some of the school's forthcoming projects, plus a scoop about her first stage performance in years.
What made you want to return to Hong Kong Academy for Performing Arts (HKAPA) after more than five years as head of dance with West Kowloon Cultural District (WKCD)?
I think WKCD gave me great opportunity to build the dance industry in Hong Kong. I had a platform to connect with an international network of artistes as well as local artistes. Since they are building the Lyric Theatre complex which will have WKCD's first dance house, I felt I must do something different to prepare Hong Kong's upcoming artistes by the time Lyric Theatre opens in 2023.
The four years in between are going to be a really crucial time for us. It's our chance to go back to the fundamentals of the city's dance ecology through education.
What are the goals you're looking to achieve during your HKAPA tenure?
I take my job as an opportunity to develop something unique for Hong Kong. I think after 35 years in existence, HKAPA is ready to revisit what we have developed in the past decades and to nurture the unique voice that is particular to Hong Kong in relation to Asia. I don't want to introduce a new model of dance education because this is something we've been working on for many decades.
Would you like to share one or two highlights of the new shows the HKAPA dance school aims to put on in the near future?
I have invited the artistic directors of the three major Hong Kong dance companies - Hong Kong Ballet, Hong Kong Dance Company and City Contemporary Dance Company - to create new works for our graduate students to perform in 2020.
This will in fact be a great opportunity to showcase the talent, range and diversity in our students. For example, a student training in ballet might perform in a different style. My goal is to have the students form a strong connection with these dance companies.
In the second half of 2019 I am trying to do dance-meets-multimedia type of productions. I wanted students to understand that dance is not confined to the proscenium stage. It can be in conjunction with different media. In West Kowloon I worked with video and multimedia artistes. I want to bring those experiences to our students. We are already in talks with several leading artistes across the world to bring their projects here and give our students a chance to learn about innovation in dance.
I believe you have plans for staging shows outside the HKAPA theaters, in open-air public spaces
Yes, our students will perform at the British Council-hosted Spark festival in Tai Kwun later in the month. It's a collaboration between Trinity Laban Conservatoire of Music and Dance in London and HKAPA. The show will be staged in Tai Kwun's Prison Yard. Twenty-one of our second-year students are participating. This will help our students to develop a deeper understanding of the audience. Through these encounters they will develop different skills and also learn how artistes are being positioned in society.
I feel it's important to give junior students a chance to perform at public shows, so that they can build on their performance and experience.
I imagine most of them embrace the challenge of performing in unregulated spaces in close proximity to the audience.
Well, it's not enough for our students to say I want to reach out directly to the audience. Dance is also about respect - respect to the space, to the people around - we need to instill such education in our future artistes so that they use the power of creative expression with responsibility.
In November HKAPA dance students made a surprise entrance at a music school concert. They walked down the audience galleries at the French Romanticism and Modernity concert (conducted by Michal Cousteau) in Jockey Club Amphitheatre
A lot of audiences coming to listen to the concert would not have expected to see a performance. We're opening up a possibility for the regular audience of a music concert to visually experience the movement of music through dance, or how dancers express music through movement. We're creating a new aesthetic of appreciation.
Would you like to look back on one or two of your previous projects aimed at connecting the local community with an arts practice?
We felt it was important for the HKAPA to reach out to different sectors of the community so that we can contribute to society by using our talents. That's how Performing Arts Marathon came about. We deliberately chose areas where we'd find a diversity of nationalities, like Sham Shui Po, for the program's first edition in 2012.
At that time we were thinking of ways to educate our students about the mission of an artiste. We also wanted to teach them the skills required to dance in close proximity to an audience. It is important for our students to understand that being an artiste is not about making the work for themselves. It's also about how they work and communicate with the audience and community. So the marathon provided opportunities to revisit, reflect on and apply what they learnt in their practice.
The On View Hong Kong project (a fusion of live and video-recorded dancing on stage) with WKCD emerged from wanting to share contemporary dance in Hong Kong with the rest of the world. We also had an exhibition. Many people may not actually buy a ticket to go see a dance performance but they could walk into an exhibition featuring a video installation any time of the day.
We were trying to open up people's perceptions about dance. In Hong Kong people still think of dance as something that you buy a ticket to see in a theater space at specific show times. I wanted dance to be integrated in people's daily lives. Now we have the technology to do that.
The On View show was a video installation on five screens plus choreographic installations involving live dancing. The live performance was an extension of the choreographed videos. The audience could walk through the performance space, have close encounters with the dancers. At the same time films were projected on the performers' bodies. The audience was able to see how their muscles moved.
We've found a partner in Japan. They just filmed a Japanese version. In 2020 we'll have a version combining On View shows in Australia, Hong Kong and Japan and we'll have a full-scale performance in Hong Kong.
Would you ever consider going up on stage again? Or are you happy being an academic and curator of dance-based projects?
I have an invitation to perform in a major dance event in April. I will probably say yes.
You know I never really gave up performing. Only in the recent years I did not have any opportunity to perform for the public.
I imagine you have stayed connected to your practice all along.
I would say playing a curatorial role is also part of my practice. But I will go up on stage this time. It's going to be dance theater and I will play one of the characters.
Interviewed by Chitralekha Basu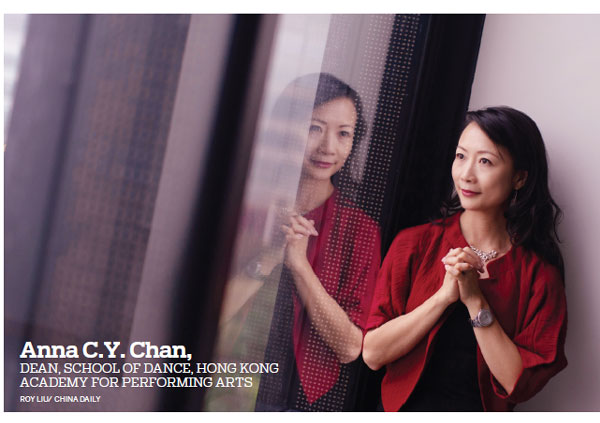 (HK Edition 01/04/2019 page11)