HK can expect to have a stable economy in 2019
Updated: 2019-01-02 07:43
(HK Edition)
| | | | | | | | | |
| --- | --- | --- | --- | --- | --- | --- | --- | --- |
|   | | Print | | Mail | | Large Medium  Small | 分享按钮 | 0 |
Ho Lok-sang explains why he is upbeat about Hong Kong's prospects in the new year - particularly on economic growth
I do not believe that 2019 will be a bad year for Hong Kong. There is a good chance that economic growth in 2019 will equal that of 2018 or even better.
2018 proved to be a year marked by high expectations in the beginning but the optimism was soon turned into uncertainty on many fronts. 2019 will be exactly the reverse. It started with much uncertainty, but this uncertainty is likely to end - leading to better-than-expected growth.
2018 turned out to be a bad year for investors in the stock market, and buyers of properties in the year are also likely to suffer losses. But I expect the stock market to improve in 2019, although the housing market should continue to soften.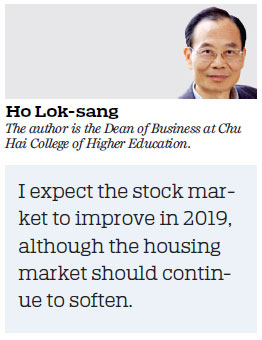 As a small and open economy, Hong Kong naturally is most sensitive to the ongoing trade war between the United States and China. Economists know well that there can be no winners in a trade war. Earlier on, US President Donald Trump said a trade war with China would be easy to win, but American stock prices took a sharp turn south as the trade war intensified in the last quarter of 2018. Although Trump openly put the blame on the Federal Reserve which continued its expected interest rate hikes in the year, secretly he knows it is trade tensions that were hurting the stock market the most. There were signs the US stock market was catching up with the declines in Hong Kong and on the mainland, and this is making him nervous and offers hope that ongoing trade talks will be fruitful.
Due to these trade tensions, Hong Kong's Purchasing Managers' Index dropped to 47.1 in November 2018 from 48.6 in the previous month. It was the seventh month when the index stayed below 50 - the dividing line between contraction and expansion. But we need not be overly pessimistic, as the index largely refers to manufacturing, and Hong Kong does not have much manufacturing anyway.
Hong Kong's tourism industry actually did quite well in 2018, and close to the end of the year this improvement was particularly impressive. In November total number of visitors hit 5,995,027, very close to the all-time high of 6,009,577 in August of 2014. Although the increase was mainly due to non-overnight visitors, overnight visitor numbers also grew by a healthy 4.5 percent for the first 11 months of 2018. There is reason to expect the increase will continue into 2019, aided by improved infrastructure including the Express Rail Link and the Hong Kong-Zhuhai-Macao Bridge.
Hong Kong's financial industry is also doing well. Hong Kong most probably got back the top spot internationally for initial public offerings in 2018, and very likely will retain that position in 2019. Although trading activities slowed down in the second half of the year because of US-China trade tensions, with trade tensions easing - which was expected - trading activities will bounce back to normal, which is now more than HK$100 billion a day. The latest quarterly results of Hong Kong Exchanges and Clearings Ltd are indicative of the trends in the financial sector, and its earnings per share rose 34 percent in the third quarter of 2018.
Indicative of these economy-wide activities are total loans and advances made by authorized institutions. For the first 10 months there was double digit growth over the year - at 11.4 percent. This has already reflected the downturn in trade-related financing in the second half of the year. If my expectation that US and China will actually come up with a deal, both the services sector and the manufacturing sector will rebound.
Perhaps one weak spot that is not going to recover any time soon is the housing market. The home price index reported by the Rating and Valuation Department fell 3.5 per cent in November. This was a much bigger drop compared to the drop of 2.56 percent slide in October, 1.27 percent in September, and 0.05 percent in August. Any ease in trade tensions may lead to a small rebound, but is unlikely to change the trend of decline, which has to do with the SAR government's decision to go ahead with creating a land bank that will supply land to meet market needs. Although the government has proposed, for new housing developments, to raise the ratio of public housing to private homes from 6:4 to 7:3, the relative reduced supply of private homes is not expected to fuel another round of home price increase. The higher interest rates, peaked household formation rates, overall housing supply increases, all will put a lid on housing price increases.
The other source of uncertainty is Brexit. But one way or the other, this uncertainty will ease. Whether it is hard, soft, or no Brexit, the current uncertainty will be gone in months. Investors abhor uncertainty.
Then there is again Donald Trump's behavior. He is known to be fond of changing and going back and forth. But he can ill afford to misbehave going into the second half of his presidency.
My bet is that 2019 will be a far less tumultuous year than 2018.
(HK Edition 01/02/2019 page8)