Coining a catastrophe bit by bit
Updated: 2018-12-28 07:03
(HK Edition)
| | | | | | | | | |
| --- | --- | --- | --- | --- | --- | --- | --- | --- |
|   | | Print | | Mail | | Large Medium  Small | 分享按钮 | 0 |
After a four-year feverish streak, 2018 has seen the worst year for cryptocurrencies as the bitcoin craze comes home to roost, leaving investors high and dry. Experts say rationality has prevailed, but blockchain technology will not be worth zero. Luo Weiteng reports.
Wu Tao seemed to be walking on air last month when he got a call from a headhunter offering him a "plum job" in a Shanghai-based blockchain company.
The job - as a blockchain-related content producer - could see him raking in a covetous annual paycheck of more than 1 million yuan ($144,700).
The "most attractive part" of the offer was that up to 70 percent of the salary would be paid in the form of a designated digital token, so said the headhunter.
"Having heard that, I couldn't help but guffawed over the phone," chuckled Wu, a Guangzhou-based freelancer.
The offer was ill-timed, with cryptocurrencies on the path to a miserable close in 2018 amid a drawn-out bear market and a host of smaller tokens having lost their entire value.
While upbeat crypto-enthusiasts may argue that the rout is just another bump on the road to a transformative technology, there's no denying that the bitcoin fad has finally come home to roost - a classic bubble is here.
Yang Hui remembered last year's winter months with crypto shills almost everywhere - on television, at the gym and even cabbies and elderly square dancers poking their noses into cryptocurrencies.
"In its heyday, the bitcoin just dominated conversations," recalled Yang, a programmer in Shenzhen - a city bestowed with the crown "the Silicon Valley of China".
"You saw its price on a tear. It all happened at an unthinkable speed. There appeared to be no end in sight to the boom."
A more-than-1,500-percent rally in a single year essentially made the original cryptocurrency probably a once-in-a lifetime chance to get rich, especially for those who had missed the boat either with tech titan Tencent Holdings stocks or elite Beijing financial houses.
Buoyed by a sense of urgency that "everyone is getting hilariously rich but you're not", Yang, in his 20s, dished out 100,000 yuan, about one-third of his savings, to "get on board".
Castle in the air
He caught the "last bus" nearly at the height of frenzy when the digital currency was racing toward the $20,000 mark last December.
The new found wealth was, indeed, intoxicating and feverish, because it seemed like something fallen from the sky. Built on sand or not, the crypto castle had risen - at a bewildering rate.
Next came seeing that castle becoming a castle in the air, with the flagship currency mauled in an almost year-long losing streak in 2018, erasing a whopping 84 percent of its value from an all-time high of nearly $20,000.
Over the past seven years, there was only one year in which the bitcoin had lost its value - 2014 - when the price plunged 58 percent. This makes 2018 the worst year for cryptocurrencies in their relatively short history.
As the bitcoin's crippling collapse sent jitters across every corner of the market, other cryptocurrencies fell like dominoes, wiping out more than $730 billion in market value from the January peak this year, according to data compiled by CoinMarketCap.com.
Yang, who called it quits recently with a mere 2,000 yuan left, feels he had been on a "swooping roller coaster" for the whole year round.
Such a taste from heaven to hell landed him in the same boat with the millions of crypto-speculators nationwide - estimated at above 3 million - victims of a whirlwind of crypto meltdowns with no signs of bottoming out.
A veteran crypto-investor - surnamed Wang, claiming to be among the first batch of crytocurrency investors in China, as well as a survivor of previous sell-offs - admitted that his sizeable personal investments had "gone down the drain", essentially reducing him back to "dire poverty".
"There's no dearth of people selling or pawning all their possessions to jump on the cryptocurrency bandwagon or overstretching themselves with their credit cards at the peak. Many of them are now on the verge of bankruptcy," said Yang, swearing to steer clear of digital tokens as long as he lives.
"Just guess what's the motto on everyone's lips in today's cryptocurrency community in China? It's the quote attributed to famous Russian author Fyodor Dostoevsky: There's only one thing I dread - not to be worthy of my sufferings," said Yang, shaking his head with a bitter grin.
Speculators and hardcore crypto-fans have not been the only ones caught in the eye of the storm. Bitcoin miners themselves are biting the bullet and licking their wounds.
"Last month, when the bitcoin price shrank below $4,300 - the breakeven cost of mining the cryptocurrency - I was forced to shut down operations," said miner Zhang Jun.
"Larger miners may be able to weather the storm, biding their time and bargain hunting for cheaper mining machines to make a comeback. Smaller ones, however, are calling it a day or staying on the sidelines until the crypto markets bounce back, if they ever do," sighed Zhang.
Bitcoin is created via an energy-intensive "mining" process using high computing power to solve a complex mathematical equation.
A mining farm operator from the autonomous region of Xinjiang in western China, who owns more than 20,000 Whatsminer M3 mining machines, tried to dispose of all his equipment by the kilogram, but still there were no takers, according to a recent report in Tencent Finance.
The mining machines, each costing more than 20,000 yuan a year ago, are today reported to worth no more than 1,000 yuan, just like "a pile of worthless metal".
Still, some miners refuse to throw in the towel.
Although a more-than-36-percent dive in the so-called hash rate, or mining power in the bitcoin network, from its all-time peak in August has tendered older models obsolete and forced profit-driven firms at the margins to turn off their machines to avoid running at a loss, it has lowered mining difficulties, offering a glimmer of hope for miners struggling to hang on, said Zhang.
Amid reduced mining difficulties, potentially squeezed profit margins and the wave of shutdowns, the crypto industry has undergone a shakeout.
The shakeup may not be seen in China alone - the indisputable global leader in bitcoin mining whose mining pools control more than 70 percent of the bitcoin network's collective hash rate - but worldwide.
As smaller players get flushed out of the market, key players who manage to stay in the game may eventually survive and thrive, and get bigger and bigger. This may leave holders of the digital currency vulnerable to the dictates of the big miners, warned a recent report by cryptocurrency research group Diar.
"Bitcoin mining has, at least for now, and most likely in future, moved into the court of bigger players with deep pockets," the report said.
Such a worrying consolidation among miners echoes another alarming concentration of wealth among owners that may fundamentally question the digital token's original banner of decentralizing power and wealth and changing the world order.
Last year, data suggested that about 94 percent of the bitcoin wealth was held by men, with some estimating that more than 95 percent of the digital currency in circulation are held by a mere 4 percent of owners.
Ardent fans bet everything on a decentralized cryptocurrency future. But the recently ended "hash rate war" between two coin communities makes the bet a question of touch and go, said senior market insider Qian Anyi.
The division of the coin community was intended to upgrade the bitcoin network to accommodate more transactions due to the entry of new investors into the market.
"But, the division is reduced to a power struggle," Qian said. "If the hash rate could be manipulated by one single entity to settle any interest dispute, in essence, it's a bitter irony of people's belief in decentralization," he warned. "It also casts a shadow over the coin's intrinsic value to end the power of central authorities in finance."
"No wonder the (hash rate) war was deemed a final nail in the coffin for the epic slump."
Such a rhetoric mirrors a mixture of adventure, sudden wealth and a bubble long seen with the freewheeling and less-regulated industry that traces its roots to an anonymous paper by the pseudonymous creator Satoshi Nakamoto back in 2008.
From a mysterious beginning the world over, the disruptive industry has lingered between "the good and the evil".
It has minted a cluster of multimillion-dollar crypto-related startups, including China's Bitmain, Ebang and Canaan, that, together, accounted for more than 87 percent of global mining system revenues last year, and embarked on their IPO journeys in Hong Kong, while falling into the trap of notorious scams and thefts and dismissed as a colossal pump-and-dump scheme, where promoters "pump" up the price of a security to create a speculative frenzy, and then "dump" part of their holdings at artificially high prices.
Perhaps, the most well-known and long-time bitcoin bear is the legendary investor and Berkshire Hathaway Chief Executive Warren Buffett, who slammed the digital token as "rat poison squared" and buying cryptocurrencies as a gamble like rolling the dice in casinos.
"That's one kind of game. That's not investing," said Buffett in an interview with Yahoo Finance. "You're just hoping the next guy pays more. And you only feel you'll find the next guy to pay more if he thinks he's going to find someone who's going to pay more."
Caught in the greed spiral
Bitcoin's obituary has been written countless times in its decade-long existence. But the rampant speculation on cryptocurrencies is reminiscent of the tulip mania that gripped the Netherlands in the early 17th century, the dot-com bubble of the late 1990s and the Tibetan mastiff craze in China at the turn of this century.
For a digital asset whose price had soared by almost 2,800 percent in a short four-year span before peaking, winners are few - usually the early investors who managed to come out ahead of the bubble or even sell some of their holdings at or near the peak.
Losers are poorly informed buyers caught up in the spiral of greed, most of whom are ordinary investors without the savvy or luck to time the market.
"Finally, we've returned to some level of rationality," said Xue Hongyan, a senior analyst at the Suning Institute of Finance.
Despite all the hype, the Wild West and gold-rush mentality, and the sheer power of technology could never be denied. Blockchain - the go-to technology behind bitcoin and other coins - "cannot be worth zero", Xue reckoned.
But who can shy away from the fact that a blockchain bubble is also in the making?
Wu, the freelancer, turned down the job offer but was surprised to get the call.
"In the past few years, old friends and acquaintances pop up, with the magic word 'blockchain' on their fancy name cards, which appears to be an everyday occurrence," he said.
"Whether we like it or not, blockchain has been the buzzword on everyone's lips," Wu shrugged.
Nowhere do alarm bells ring more loudly than in the realm of initial coin offerings - a form of crowdfunding in which firms issue digital "coins" or "tokens" in the blockchain network in return for a payment.
"In the madness of ICOs, most token-issuers in China are found to promise hefty returns for firms or projects that barely exist," reckoned Xue.
"'History doesn't repeat itself, but it often rhymes,' as Mark Twain is often reputed to have said," he noted.
"Clearly, bursting bubbles don't inoculate us against falling for another one."
Contact the writer at
sophia@chinadailyhk.com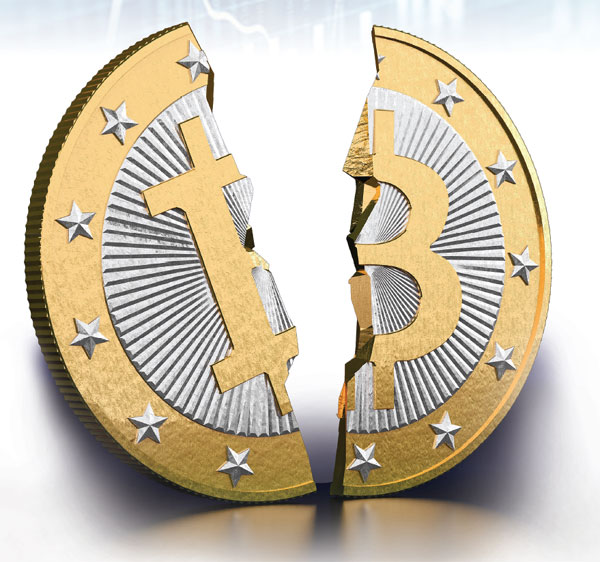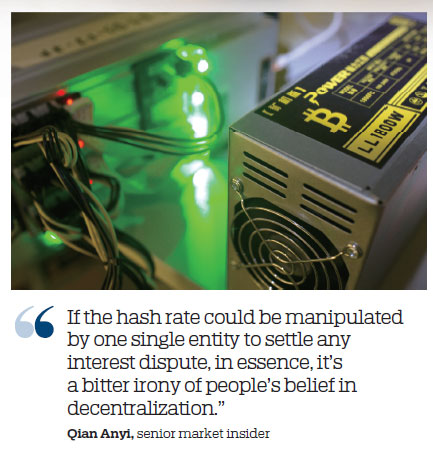 (HK Edition 12/28/2018 page8)