Roles people play
Updated: 2018-12-28 06:36
(HK Edition)
| | | | | | | | | |
| --- | --- | --- | --- | --- | --- | --- | --- | --- |
|   | | Print | | Mail | | Large Medium  Small | 分享按钮 | 0 |
The urge to be counted as proactive, responsible and conscious citizens is driving more people toward theater than before, as Chitralekha Basu finds out in part 4 of a series on the growth of immersive and participatory art forms in HK.
Wong Yat-long dabbled in theater in college, but had to stop after he became a flight attendant. Opportunity presented itself in October. Wong was selected to perform in Oedipus Schmoedipus, staged as part of Hong Kong International Black Box Festival 2018. He went on stage without any rehearsal and never read the script. "Even as I was acting my part, I was not quite sure what the play was about or the direction it might take," says Wong. "When I sat in the audience and watched the play again it was a completely different experience."
Co-produced by Australia's POST Theatre Company, Oedipus Schmoedipus is a takedown of the grandeur and gravitas associated with death in the classic tragedies of the Western canon. Each performance of the play's Cantonese adaptation staged in Hong Kong had a fresh supporting cast of 25 people in the age range of 18 to 70 joining the two professionals in lead roles. Wong and his fellow actors simply followed the prompts from the monitors hung inconspicuously from the ceiling. Since the play essentially argued that death was a great equalizer, getting non-trained performers to act in it was a perfect coming together of content and form.
"To me a play like Oedipus Schmoedipus breaks the hierarchy of the theater. The space of theater belongs to everybody," says Fung Wai-hang of Hong Kong Repertory Theatre who co-curated the festival with Lo Kee-hong, director of theater, West Kowloon Cultural District (WKCD).
Public participation was taken a step further in One Fine Day, performed entirely by non-trained actors. Nineteen people chosen from a pool of 125 simultaneously narrated their life stories on stage. The storytellers included a young layabout from Mong Kok, an 82-year-old retired woman, a former gangster and a French expatriate. "It was Hong Kong in miniature," says Lo. Audiences could pick a channel and choose the narrator they wanted to listen to.
The show both pandered to and at the same time exposed the shallow consumerist impulses channel surfing inspires in people. "In the first 10 minutes everybody switches from narrator to narrator. It's the fear of losing out," observes Lo.
To make the show more realistic, external sounds and traces of other narrations were allowed to infiltrate each audio track. When it got a bit too noisy, some people in the audience got up and left.
"Interestingly, in the post-show sharing both performers and audience welcomed the fact that the ones who did not like the show left midway through it," says Lo. "It meant they were exercising the choice to leave rather than remain trapped in the theater."
Food for thought
Increasingly, Hong Kong's theater-goers find themselves sharing the spotlight with performers. In November, Workcenter of Italy turned Hong Kong Cultural Centre's Studio Theatre into The Living Room where audiences arrived like guests to a party. They were offered drinks and canaps, and gently directed to a seat on a couch or a cushion on the floor from where they could watch a high-octane family drama unfold up close.
Eating and drinking on a more lavish scale was at the heart of WKCD's Acrobat, the Hong Kong edition of the Xan Colman-directed Dining Room Tales series performed by David Chong. Chong narrated the extraordinary story of his parents who left Hong Kong for Brazil in the 1950s to become circus performers, sang in Brazilian Portuguese and also led the audience in a spontaneous jig around the dining table at Mr & Mrs Fox restaurant. The multi-course dinner had elements from Chong's three heritages - Hong Kong, Brazil and current country of residence Australia.
He agrees the show's success is contingent on audience involvement. However, food is a great adhesive to hold it all together. "People who never met each other are suddenly eating, singing, laughing and sometimes crying together. The universality of the emotional bond creates the connection. The show is performed with the audience. We are all part of it."
Soon Hong Kong will see more theater where the fourth wall between the audience and actors is non-existent. In March, Hong Kong Arts Festival and Jockey Club Charities Trust will present No Limits, a festival to showcase the creative side of differently-abled people. In its Kuro Tanino and Jasper Pichner-directed piece Mother, "four little nomads" will mingle with the spectators in Tai Kwun's virgin performance area, Duplex Studio. For a change, the audience will be in masks to underscore the mutually transferable nature of the observer-observed dynamic.
To each his own
Immersive and participatory theater experiences are hardly new in Hong Kong. Cheung Ping-kuen, chair of the International Association of Theatre Critics (Hong Kong), remembers Zuni Icosahedron co-artistic director Danny Yung creating a production called The Road in 1981. "The audience were free to wander around City Hall's exhibition gallery, and choose what to watch between the different performance pieces in various sites," Cheung recalls.
He also mentions Pants Theatre Production's 2011 show A Variation of Zhang Xueliang, in which audiences were offered different perspectives on Kuomintang leader Chiang Kai-shek's detention by subordinates in Xi'an in 1936. "Under Wu Hoi-fai's direction, the audience were divided into three groups and led to watch the history-based narratives in different acting areas. Therefore their perception of the history would inevitably develop into different possibilities", says Cheung.
"Such instances of audience involvement might not be as full-scale as what we see recently, but I must say that this 'trend' (of the audience playing a part in theater) is not coming all of a sudden," Cheung says.
Back to basics
While it might seem that the use of advanced technology-enabled tools has made participatory theater more attractive, the reverse is also true. Onnie Chan, artistic director of Banana Effects, has produced several technology-driven theater experiences since 2013, braiding the elements of gaming and reality TV into physical theater. These include the highly-popular Alice in Stuckyland staged in the Hong Kong Harbourfront Event Space as well as WKCD's Nursery Park. In this audio-driven tour the audience was made to follow different characters from Lewis Carroll's Alice in Wonderland, trying to find their way out of an elaborate maze.
However, Chan says the lure of high-tech in immersive theater might be on its way to a slow fade. "People these days are not so excited about high-tech and cyber-style shows. My teammates suggested imagining a more natural set-up for The Last Journey to the West," said Chan, referring to the 16th-century Chinese classic she recently adapted to create an immersive game theater experience.
All four shows in September sold out, despite Typhoon Mangkhut looming in the background. A 100-strong audience per show dutifully followed Journey's colorful cast of characters - Monkey, Pig, Moon Goddess, Princess Iron Fan - as they moved across partitioned spaces of This Town Needs, a live music venue in the loft of an industrial building in Yau Tong. Sometimes the audience was split into groups and made to take sides in the battle between good and evil. Followers were rewarded with "gold chains", though not necessarily for toeing the line of virtue, to make the experience more realistic.
A stage adaptation of the 5th-century-BC military classic The Art of War by Tang Shu-wing, due to open in WKCD's new Freespace in July 2019, is likely to keep the audience on their toes as well. Inspired by the practice followed by Teatro de Los Sentidos of Barcelona, the play is likely to have actors leading audience members, individually, through a range of experiences. "You might taste something along the way, smell something or touch somebody or you might be asked to walk through a dark chamber listening to the chirping of bird sounds," says Tang. "The show will combine the language of the senses and that in the text plus my physical theater experience."
Finding creative solutions
Meanwhile variations on the forum theater model, begun by the Brazilian theater practitioner Augusto Boal in the 1970s, enjoy currency in Hong Kong. FM Theatre Power puts on the Play Forward series in the JCCAC courtyard and also in Vessel on the Kwun Tong promenade every month.
"It's like forum theater mixed with playback theater," says Mo Lai, the organization's president. "We hear your stories, enact it and discuss with you and play again to find out if there are other ways out of a crisis situation. Then the audience have a discussion and choose the one they like the best. They can really change the course of the play."
Mathias Woo, co-artistic director of Zuni Icosahedron, combined theater with seminar in Plan HK Better. The show, which puts the government policy on land planning and urban development under scrutiny, was taken to 10 Hong Kong secondary schools before the two public sessions in September.
"In Hong Kong we discuss policies related to land and planning in an old-fashioned way. Usually it's crowds of people without much knowledge about land-related regulations shouting at each other," says Woo.
The Zuni team researched the subject, and came up with 50 key phrases related to land and housing policy in Hong Kong, like "rent control" and "town planning", trying to figure what these implied in practice. The ideas were presented to the audience through audio-visual material - videos, graphs, sequence of motion graphics, and of course some live action - and put to the vote, followed by discussions.
"I thought this worked well, because at the end of the day people were focusing on themes that mattered without trying to assert their political positions," says Woo.
Woo is aware that it isn't possible to work out a practical solution in the course of a three-hour show. Maybe that isn't even the point. "We can show people it's possible to think about it in different ways."
Contact the writer at
basu@chinadailyhk.com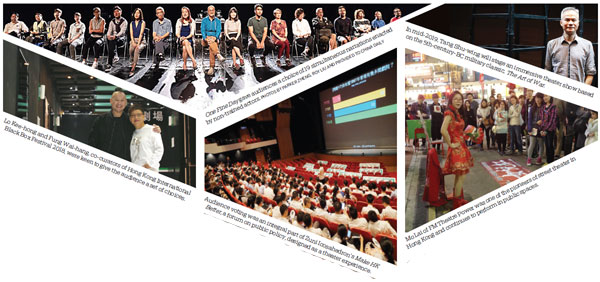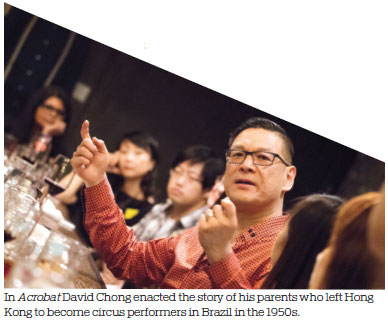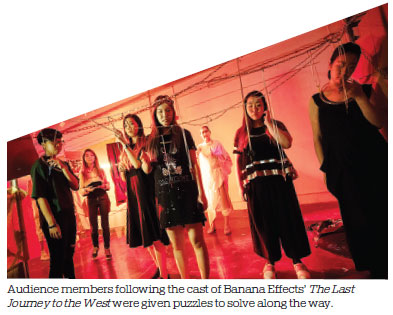 (HK Edition 12/28/2018 page10)