Why HK needs fiscal prudence
Updated: 2018-12-20 07:24
(HK Edition)
| | | | | | | | | |
| --- | --- | --- | --- | --- | --- | --- | --- | --- |
|   | | Print | | Mail | | Large Medium  Small | 分享按钮 | 0 |
Ho Lok-sang says the financial secretary of the SAR will need to find new sources of revenue and end unnecessary spending
Financial Secretary Paul Chan Mo-po has indicated that the SAR government will continue to exercise prudence in managing its spending plans, but will not hold back its infrastructure and other major spending, as long as such spending is well justified. He assured the public that he will not allow Hong Kong's fiscal health to decline.
As an economist, I think as long as the social benefits of spending are in excess of the social cost, the spending will be well justified. This principle can apply to any kind of spending, and for each kind of spending, expenditure should be raised as long as the last dollar spent still brings more benefits than costs. In economic jargon, a marginal social benefit greater than a marginal social cost is sufficient to justify an increase in spending, and this principle holds even when there is a budget deficit! There is also no need for a project to be self-sustaining. If there are benefits that are not reflected by the incomes from the project, the project may be money-losing and still be worthwhile.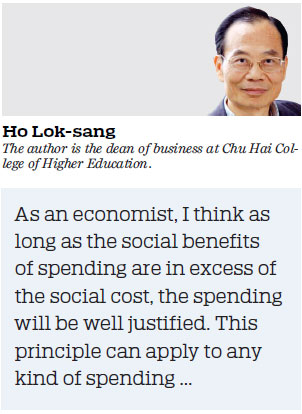 The Hong Kong-Zhuhai-Macao Bridge is a case in point. At a cost of 126.9 billion yuan ($18.77 billion) and built to last for 120 years, it will be well justified even if the cost cannot be recovered from the tolls, if it is well utilized and if it brings formidable benefits to the development of the Guangdong-Hong Kong-Macao Greater Bay Area. Actually, most mass transit systems throughout the world operate at a deficit, but many cities find them essential. Many households and businesses depend on the mass transit system for commuting. But infrastructure projects must be utilized adequately in order to be justified. Presently the HZMB is very much underutilized, largely because very few vehicles are allowed to use the bridge for the worry that local traffic could be unmanageable if there is no restriction to cross-border driving. If the HZMB remains grossly underutilized for an extended period of time, critics will say that this proves it to be a white elephant. This will undermine the credibility of new infrastructure projects.
I therefore very much hope that all the governments involved will work together to make the most use out of the beautiful bridge. One proposal that has been made is to allow vehicles to park in designated sites after crossing the bridge. The driver and passengers will then use public transport to go to their desired destinations.
Whereas in the last fiscal year a record surplus was recorded at HK$148.9 billion, Deloitte is now projecting a deficit of HK$23.8 billion - a result largely of a decline in land premiums and stamp duties collected from property and stock market transactions. Unfortunately, there is a good chance that even if a deficit does not show up this year, pressures are mounting for a deficit to appear soon. Property transactions and stock market transactions are both unlikely to recover in the short or medium term, given the uncertainties arising from the US-China trade war. Typically, buyers tend to wait on the sidelines in a soft market. And as the market weakens further still, instead of jumping in, most would continue to wait. The various new stamp duties introduced over the past few years are of course also directly causing a sharp shrinkage in transactions.
In the previous years, although transactions were low, the revenues from buyers' stamp duties, special stamp duties, and the so-called double stamp duties (raised to a flat rate of 15 percent on Nov 5, 2016) were quite big. But with the outlook of the housing market turning from rosy to gloomy, investment demand is taking a beating. So these sources of revenue are unlikely to hold up.
What makes things worse is that the low transactions and declining prices are both weighing down the outlook for the economy. The seasonally adjusted Nikkei Hong Kong Purchasing Managers Index dropped to 47.1 in November 2018 from 48.6 a month earlier, and this was the seven straight month of the PMI falling short of 50, denoting contraction. Although external trade appears to be more robust than expected so far, given the tensions over tariffs, it appears that economic growth will likely fall below 2 percent. This will drag down government revenues.
Moreover, I do expect the Housing Authority to continue to draw down its reserves, and will be in need of a government injection of revenues. With a lengthening queue for public housing the pressures to build more public housing and also to rebuild very old estates will continue to rise.
For these reasons, I agree with the government's recent proposal to allow concessions for rates to be applicable to only one property if the owner has more than one property. I think those with multiple properties are generally relatively well-off, and will be less in need for tax relief.
To conclude, the financial secretary will need to look for new sources of revenue and dispense with unnecessary expenditures. But he is right that if something is worthwhile, the spending will be justified, and there is no worry even if a deficit arises in the short term.
(HK Edition 12/20/2018 page8)