On two little podiums, they're worlds apart
Updated: 2018-12-14 07:49
(HK Edition)
| | | | | | | | | |
| --- | --- | --- | --- | --- | --- | --- | --- | --- |
|   | | Print | | Mail | | Large Medium  Small | 分享按钮 | 0 |
China's dizzying economic growth has given rise to a new breed of 'super consumers' and another class of underserved consumers, testifying to a highly segmented market. Luo Weiteng reports.
Dressed in fashionable clothing and with immaculate make-up, young gals in their 20s are seen dining at fancy cafes and Michelin-starred restaurants, patronizing parties and social events with friends, or flying to Boracay, Tokyo and Dubai as if every day is a holiday.
Welcome to the petite bourgeoisie world of Xiaohongshu, literally meaning "little red book" - a popular social e-commerce platform in China that operates like a mashup of Instagram and Amazon.
For Joyce Sun - a fresh graduate who has settled down in Shanghai, the city humorously dubbed "the center of the universe" - idling away a couple of hours at Xiaohongshu and uttering a long sigh "how come there're so many wealthy people of my age" has become part and parcel of her bedtime rituals.
Apparently, Xiaohongshu's fairy tale works better than traditional, old-styled bedtime stories for a deep and peaceful sleep.
Sun knows she's a bit addicted. Although her first month's salary could barely afford the limited edition luxury items or expensive skincare products recommended by bloggers she followed on Xiaohongshu, Sun believes this is more of a new form of social networking, keeping herself abreast of the latest fads and allowing her to pick up the threads with ease in daily conversations.
For years, the dizzying growth of the world's second-largest economy has given birth to a new breed of "super consumers", who have now gone beyond mimicking the patterns of the more sophisticated Western shoppers to being the trendsetters and innovators.
Deemed as one of the most remarkable footnotes to the nation's growth story, they are known to be enamored with top-shelf brands and vote for quality within their reach.
But, another big slice of the population goes gaga over a 72-cent steak, a $4.2 wireless, solar-powered smartphone charger, or two boxes of Tieguanyin oolong tea for $1.1.
These are shoppers on Pinduoduo, loosely translated as "buy more together" - another popular social e-commerce platform in China that claims to draw nearly 390 million customers by the third quarter of this year - more than the combined population of the United States and South Korea.
The platform's $1.6-billion initial public offering on the Nasdaq stock exchange in July, less than three years into its existence, not only comes as a stepping stone for founder Colin Huang Zheng to the elite club of self-made billionaires, but also puts the clout of an underserved category of Chinese consumers under the spotlight.
They live miles away from the country's prosperous megacities that stand as China's calling cards on the global map. Research by Shenzhen-based consultancy Jiguang Big Data showed that 65 percent of Pinduoduo users live in third-tier cities - those with a population below 3 million, less-known towns and remote villages that make up the often-overlooked segment of the nation's trillion-dollar e-commerce industry.
More than half of them are found to be aged between 25 and 35. They are typically price-sensitive without much care for brand and could hardly resist a bargain or discount even though an awful lot of purchases turn out to be downright failures.
Giving priority to prices
"The trick is to always sharpen your eyes," said Yang Fang, a 55-year-old retiree in the southwestern city of Panzhihua in Sichuan province.
Clearly, such a trick does not work all the time. Yang still has some misfires. A pair of black slippers priced at 9.9 yuan ($1.4), inclusive of delivery fees on Pinduoduo, turned her feet black with the dye. A red one-piece dress that goes for 15 yuan free of shipping fees on Pinduoduo faded when it was washed for the very first time. The dress was of such lousy quality that Yang even could not make do with it as a rag.
Between the bottomless cascade of "hero products" or viral items, the bargain-bin prices, and the battery of coupons and deals, the strange and scrappy underground world of Pinduoduo bears little resemblance to the consumer world that Sun has long been familiar with.
Jeffrey Huang, a Zhejiang-based e-commerce retailer, believed that the meteoric rise of the once little-known platform, which has taken many by surprise as a wonderland for fervent deal hunters, does not come from nowhere.
"To shop on Pinduoduo, it's to be reminded that many Chinese consumers, mostly from less-developed areas where incomes are lower, still give top priority to prices and live with the philosophy of trading quality for price," Huang said. "A mere 1-yuan difference in price tag could be enough to make a big difference."
The branded household slipper retailer, whose business is run across every major e-commerce platform, ventured into Pinduoduo last year.
As a firm believer that each e-commerce platform has its own rule of game, Huang failed to have a clear idea of how to play the game on Pinduoduo, whose deliriously colorful main page gives him a taste of the grocery stores in the lively and gritty town where he was born and grew up.
Huang recalled his online store was not well received at the outset. When he offered a 1-yuan cash rebate for customers who left favorable comments, "the rating scores just shot up".
"As an open secret, branded retailers like us have no choice but to make Pinduoduo a platform for clearance sales. Even so, we sell a pair of slippers at a loss, say 16.8 yuan, and Pinduoduo consumers would always be tempted by knock-off slippers priced at 14.8 yuan," Huang shook his head with a bitter smile.
He feels that "both the consumer worlds of Xiaohongshu and Pinduoduo, with a strong color of Magic Realism, do reflect part of the reality in the most populous country on earth".
"Though 'let some people get rich first' was the famous instruction for China's market reforms, it's hard to deny that our society is becoming worryingly unequal. The lightning ascent of Pinduoduo just illustrates how big and segmented the Chinese market could be," said Fu Yifu, a researcher at Suning Institute of Finance. "The key chapter of the story is the festering wealth inequality and uneven development between urban-rural, coastal-inland areas - a time bomb that could find its roots in the country's unbridled economic, technological and industrial development," Fu reckoned.
The story mirrors that of the Hugo award-winning sci-fi novella Folding Beijing, where the city's residents are divided into three social classes who each live on a different physical surface of the city.
Such folded society also leaves some space for low-end manufacturers, who almost have nowhere to go to as the government speeds up plans to move the nation's manufacturing sector up the value chain.
As once the world's factory no longer makes its fortunes churning out cheap and labor-intensive clothes, electronics and toys for big foreign brands, large swaths of low-margin, low value-added manufacturers have been rendered uncompetitive and abandoned to their fate.
E-commerce platforms like Pinduoduo offer a beacon of hope.
Runaway success
On the evening of July 26, Colin Huang Zheng invited Pinduoduo customers to a simultaneous remote bell-ringing ceremony in Shanghai to witness the runaway success of the newly-minted billion-dollar company.
Such glory may not have much to do with the tens of thousands of low-end garment suppliers, who toil from dawn to dusk, snaking through the crowded, narrow alleyways of the urban villages in Guangzhou's Haizhu district to essentially send a young upstart that created the Facebook-Groupon mashup to the stock exchange on the other side of the ocean.
Of the two totally different worlds, one holds high hopes of capital markets, while the other bears the burden of scratching out a living for ordinary workers.
As Huang was inundated with flowers and applause in Shanghai, Cheng Yong was racing against time in Guangzhou to deliver a batch of sweatshirts to his partnered merchant on Pinduoduo.
The first batch of sweatshirts used to test the water was sold out in the blink of an eye. Cheng rushed to recruit 20-plus workers to work against the clock. Hopefully, the new batch of sweatshirts could become the next "hero product".
"Hero product" is a buzzword on the lips of almost every seller and supplier at Pinduoduo as a promise for big fortune and a better life.
In the dense, tangled warrens of the nearby urban villages, such a colorful community is a real animal world ruled by the law of the jungle, bearing the imprint of the wild west of southern China's Pearl River Delta megalopolis.
Fetching a small fortune
Known as an iconic and vital part of the supply chain for Pinduoduo, Guangdong province - the country's traditional manufacturing heartland crawling with all sorts of labor-intensive industries - is home to more than 45,000 small- and medium-sized garment businesses.
Cheng feels his business is like "a tiny boat in a vast expanse of water". He must always be one more step ahead to fight his way out.
In his early 30s, he often rides his electric scooter to the neighboring fabric suppliers and printing plants to nose around for the "hero product"-related grapevine and hearsay.
More often than not, it needs an uncanny sense of business and a bit of luck.
This summer, he produced a batch of short sleeves printed with an image of "My Little Pony", which helped him fetch a small fortune. Without the slightest idea of where the image comes from, he just "felt it looked nice and should be well sold".
"I would not say they are fakes," he hesitated, with a stint of self-mocking. "This is what my business is built on."
Just like fast-fashion retailers Zara and Forever 21 being able to mimic designs seen on the runway and have them in stores just weeks later, suppliers like Cheng go the extra mile to make similar collections out of cheaper fabrics and squeeze down the costs in almost every part of the production process.
But, there's a bottom line. The improbable price tag of orders from Pinduoduo always blows his mind.
"It's not a matter of whether it's doable or not. The price tag doesn't make any sense," Cheng said. "Even the clothes I wear go for 25 yuan! Are you sure the clothes priced at no more than 15 yuan on Pinduoduo are really wearable?"
"When you are not rich, you don't care what toilet paper you use to wipe your butt. True enough," said Jeffery Huang. "Even without Pinduoduo, other platforms would definitely stand out to meet the enormous demand."
"But China has developed so much. If residents from less-developed areas could only use blatant knockoffs and things that are not top of the line, we should take a new serious look at our growth story," he lamented.
"Without a doubt, consumers will become more mature, sophisticated and demanding. It's a matter of how long this will take," said Pedro Yip, a partner at global consulting firm Oliver Wyman.
As China rids itself of the "sweatshop" label and moves up the value chain, boosting manufacturing innovation and promoting high-quality home-grown products, the low-end manufacturers without the foresight or ability to adapt will find no place for them in the new market, Yip noted.
Cheng has taken orders for a new batch of Chanel-styled skirts from Pinduoduo. Again, he nagged about the rock-bottom price tag and razor-thin profit margin.
But he finally figured it out. "Everybody already knows what kinds of products should be sold and at what price," he shrugged.
Contact the writer at
sophia@chinadailyhk.com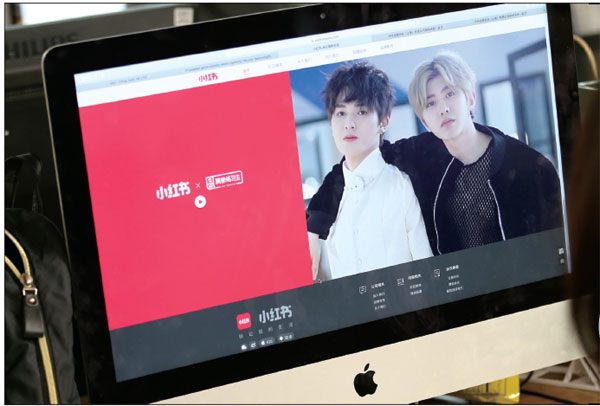 Xiaohongshu users typically keep up an avatar embellished with luxury items that speak for an a-la-mode lifestyle. Photos by Edmond Tang / China Daily
(HK Edition 12/14/2018 page8)