Can digital startups extract more value for HK property?
Updated: 2018-12-03 07:38
(HK Edition)
| | | | | | | | | |
| --- | --- | --- | --- | --- | --- | --- | --- | --- |
|   | | Print | | Mail | | Large Medium  Small | 分享按钮 | 0 |
Hong Kong real estate is a major pillar of the economy, enjoying high transaction values. Smart digital technology can enhance transparency and reduce friction for all stakeholders. The Bay Area opportunity beckons. Can HK get its act together fast to become the proptech hub? Zhou Mo investigates.
All stakeholders benefit
Property technology, or proptech, aligns information technology with real estate platform economics, to network developers, sellers, brokers and buyers efficiently with greater transparency, reducing paperwork, time and transaction costs. It leverages digital data for listings, categorization, search, locations, price ranges, and multimedia virtual tours.
The internet of things could enable "smart" architecture to automatically sense and regulate light, air-conditioning and security, to balance energy efficiency with comfort at work, home and common areas. IoT makes inanimate objects "intelligent" enough to control pre-programmed functions without constant human monitoring.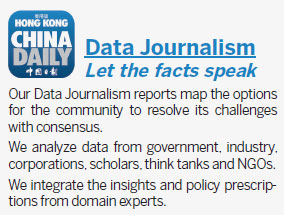 Proptech, when fully deployed, will integrate blockchain, artificial intelligence, IoT, virtual reality and data analytics to drive the key segments of the real-estate business: brokerage and leasing, project development, property management, and investment and financing. Proptech has great promise for Hong Kong. However, the city is lagging behind the United Kingdom, the United States and South Africa.
Why the reluctance?
The Hong Kong property cartel is deeply entrenched and highly profitable with disproportionate policy influence. The inertia against innovation comes from a stable environment for business as usual. There are no disruptors threatening the players yet. The engineers, surveyors and lawyers who service the industry see no urgent need to change.
Proptech startups in Hong Kong have different focuses, with brokerage and leasing being the most active. According to a recent report by real-estate consultancy Jones Lang LaSalle (JLL), brokerage and leasing is the most popular vertical for startups. Several sub-verticals in brokerage and leasing that Hong Kong startups are concentrated in are in sales, marketing and customer relationship management, and smart home fixtures and functionalities.
"There has been limited technological application in Hong Kong's rental sector," said Vincent Chan, managing director of mainland agency Qfang.com's Hong Kong office. "Proptech has so far been confined to the process of apartment-hunting, like using AI to help people find apartments quicker, or VR for an immersive virtual housing tour," he added.
The JLL report recorded that 179 proptech startups in the Asia-Pacific region raised $4.8 billion in funding, accounting for over 60 percent of the $7.8 billion invested globally from 2013 to June 2017. Startups in brokerage and leasing received nearly 90 percent of the total Asia-Pacific proptech funding.
About $202 million of proptech investments were signed in Hong Kong over the period, accounting for 2.6 percent of the world total. The JLL report indicated transaction volume of the local property market was $14.6 billion over the first half of this year, up 1.51 times from a year earlier. This high value transaction velocity is ideal for proptech innovation and a startup ecosystem.
Go digital for transparency
Leo Lo Ming-yan, a chartered estate surveyor-turned-entrepreneur, founded Asia PropTech in 2016. The Hong Kong-based network links investors, real-estate agents, private developers, academia and government agencies to promote proptech in the city. Lo believes the Hong Kong government should make its data more transparent to facilitate proptech development, like Singapore.
Lo believes Hong Kong's land and housing shortage problem can find solutions from innovation in technology and business models in the short and mid-term. He said the Guangdong-Hong Kong-Macao Greater Bay Area, which plans to integrate 11 cities, has the potential to become the world's third proptech hub, following New York and London.
Lithuania launched the world's first proptech sandbox earlier this year, allowing startups to test and pilot their projects in the country. "With a vast real-estate market in the Bay Area, government and industry can introduce similar programs, to attract startups and funds for a proptech hub," said Lo.
No will to change
Jordan Kostelac, director of proptech at JLL, takes a more conservative attitude. "At the moment, the outlook is not good for proptech in Hong Kong," he warned. Kostelac observes that while there is recognition of proptech benefits for Hong Kong, action is lagging against comparable cities in Asia.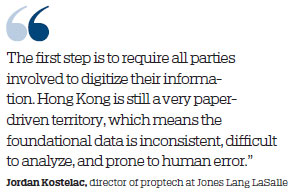 "Some of the current challenges are well known, especially in residential real estate. Prices are too high, availability too low, and regulation is largely symbolic. That is not the fault of any particular group but the imperative to change is simply not there for decision makers of the market," he pointed out.
Kostelac wants the Hong Kong government to play a more active role to create a healthy environment for proptech growth. Digitization of real-estate data will allow transparency and scrutiny to enforce regulations, he said. "The first step is to require all parties involved to digitize their information. Hong Kong is still a very paper-driven territory, which means the foundational data is inconsistent, difficult to analyze, and prone to human error."
More investor funding
Although the proptech industry is young, it has now become the focus of venture investors. Its first phase of software and marketplaces complementing real estate asset holders is rapidly shifting to the second phase, since 2015, of tech-enabled new players challenging incumbents: Airbnb for higher utilization of assets, and WeWork for space arbitrage.
The next phase of "3.0 real estate tech" is the one-stop solution fully integrating AI, VR, legal, financing, interior design and IoT for buyers to select, specify and transact with optimum transparency and minimum friction. Hong Kong needs to jumpstart its property cartel if it aspires to lead in proptech within the Bay Area. It faces the same foot-dragging with its banking cartel over fintech.
Contact the writer at sally@chinadailyhk.com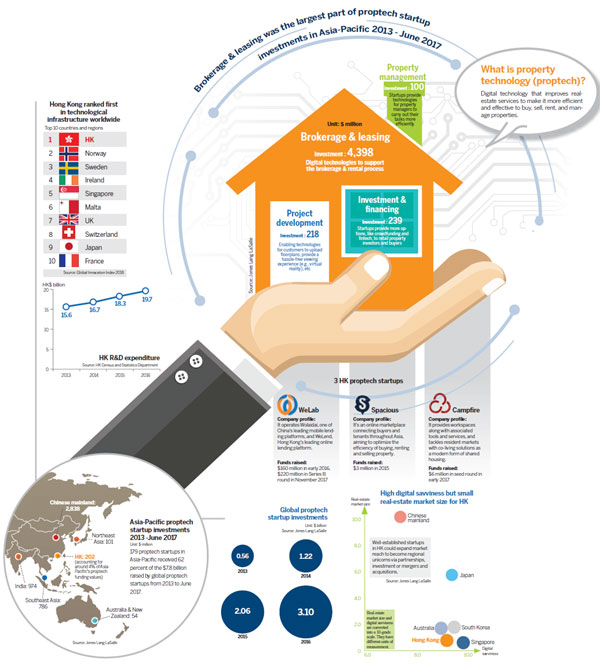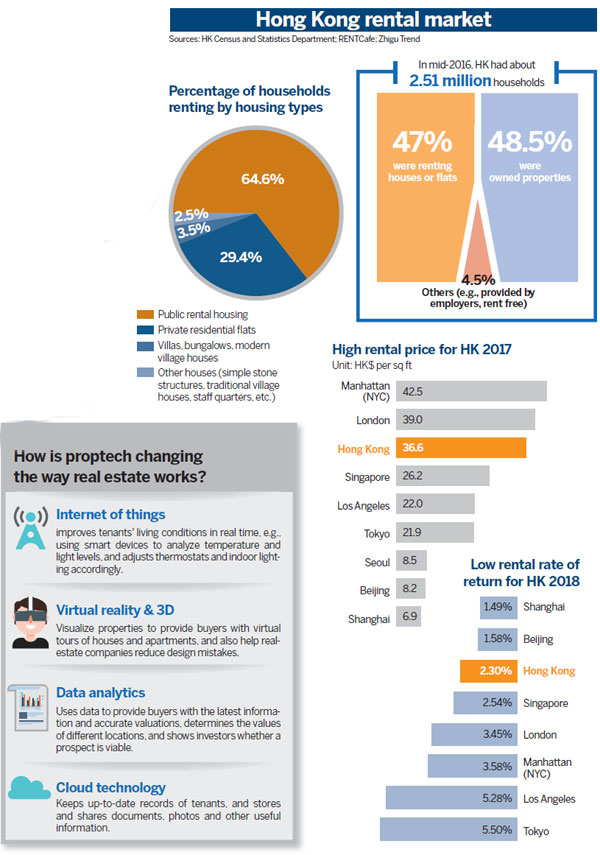 (HK Edition 12/03/2018 page8)