How to groom, attract, and then retain talents
Updated: 2018-11-27 07:38
(HK Edition)
| | | | | | | | | |
| --- | --- | --- | --- | --- | --- | --- | --- | --- |
|   | | Print | | Mail | | Large Medium  Small | 分享按钮 | 0 |
Ho Lok-sang outlines some practical ways which will help Hong Kong attract more skilled people and ensure they continue to work and live in the city
The IMD, the renowned Swiss think tank and business school, recently released its most recent World Talent Ranking 2018. It found that Hong Kong's ranking in world talent competitiveness has fallen sharply from 12th to the 18th position in the past year. Singapore stays at 13th place, while the Chinese mainland has moved up one place to 39th. In Asia, Hong Kong nevertheless is still way ahead of Taiwan, Japan, South Korea, and the mainland.
The World Talent Ranking to me is the most important report about competitiveness. Whether a place can groom, attract, and retain talents tells much about its overall competitiveness. Without the right institutions and the necessary infrastructure, it will be impossible to groom, attract, and retain talent. If a society lacks an inclusive culture and the open mind to welcome talents from different backgrounds, talents from foreign countries with different cultural backgrounds will feel alienated. Over the long run, talents or the human factor will determine an economy's overall competitiveness.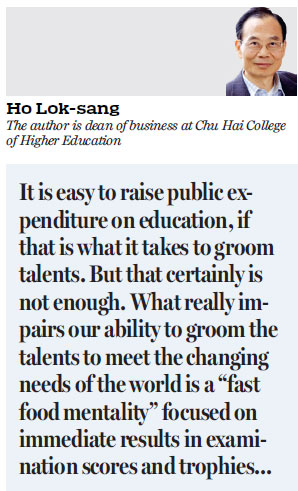 These days financial markets are volatile, and a trade war is still casting a long shadow on the global economic outlook. There is not much we can do to avoid the impact of the trade war nor can we be protected from financial market gyrations. But these things matter mainly in the short term or medium term. Fortunately, what really matters over the long run, in particular whether we can groom, attract, and retain talents, is largely our prerogative. We can make a difference.
The IMD report says we are behind the others mainly because we rank low in education and in the language competency of our workforce. In Education System, we ranked 22nd, in Science in Schools, we ranked 20th, in University Education, we ranked 19th, and in Management Education we ranked 17th. In language skills-and this is a wake-up call-we ranked 32nd. In all the above we are far behind Singapore. Paradoxically, our ranking in Education Assessment based on PISA scores is excellent, at the third place globally, even though still behind Singapore. One would naturally ask why and how can we rank so low in various aspects of education including the education system and language skills, and yet so high in the PISA survey?
Ten years ago, I conducted a study on the talent gap in the financial industry for the Hong Kong Securities Institute. We interviewed many people in the financial industry, and the language skills of our university graduates were always a big concern among those my team interviewed. Another problem was that they tended to be more passive and were not as forthcoming with their ideas or their initiatives as employers wished. Of course there are still outstanding young people who are good communicators and are full of initiatives and strong in various skills. But our education system is widely believed to churn out graduates who can do well in examinations but who are short on work ethic and initiatives.
The IMD report shows that in Total Public Expenditure on Education as a Percentage of GDP, Hong Kong ranks 56th while in terms of Government Expenditure on Education Per Student we rank 33rd. That may explain why we are short. But we did so well in our PISA score, and that seems to suggest we are very efficient, because with very little input we produce great output. Unfortunately this will be misreading the report. The output of education cannot just be measured by the PISA scores. The high PISA scores have been achieved through a pressurized examination-oriented curriculum in schools.
It is easy to raise public expenditure on education, if that is what it takes to groom talents. But that certainly is not enough. What really impairs our ability to groom the talents to meet the changing needs of the world is a "fast food mentality" focused on immediate results in examination scores and trophies than on nurturing whole-person development. Ironically, these days schools and universities keep talking about whole-person development but they are often doing totally different things. Because of this, many of our youngsters have lost a sense of direction, and, without a sense of direction they are more prone to complaints and protests than to putting their efforts on self-improvement. And this is not just the problem of the younger generation. Our educators, including education policymakers and teachers, as well as our parents, are at fault as well. The "fast food mentality" also leads to wrong diagnosis of the ills that appear. In Chinese language and literature at one time the Education Department abolished the use of specified classics. In English language at one time the Education Department encouraged the use of communicative learning over the study of grammar and style.
In addition, in order to keep talents, we must not treat expatriates as aliens. The Buyer's Stamp Duty is well justified for foreigners who do not live in Hong Kong but want to invest in Hong Kong property, but imposing the Buyer's Stamp Duty on an expatriate working here is discriminatory.
(HK Edition 11/27/2018 page9)