Star school
Updated: 2018-11-23 07:42
(HK Edition)
| | | | | | | | | |
| --- | --- | --- | --- | --- | --- | --- | --- | --- |
|   | | Print | | Mail | | Large Medium  Small | 分享按钮 | 0 |
In the lead-up to its 35th anniversary next year, Rebecca Lo finds out how HK's Fame school prepares students for the world stage.
It's rehearsal week at the Hong Kong Academy for Performing Arts and a student is sobbing. Jacko Ng Cheuk-fung, 22, and Calrina Leung, 21, look sympathetically at their classmate, and press on with rehearsing their paired contemporary dance routine.
"At least one student always cries during rehearsal," shrugs Ng. "One of our teachers is particularly direct. He has no concern for our feelings. If we do something wrong, he tells us straight away. Dance is not a pastime here - we are learning to be professionals."
Just as in the 1980 film Fame, the road to stardom can mean pain, exhaustion and disappointment for fleeting moments of glory. There are times when the students majoring in Chinese opera, dance, music, drama, entertainment or film are pushed beyond what they believe they can endure. Not all make it to graduation. But the ones who do feel that they have become better people, not just better performers.
The school (fondly referred to as APA by students and faculty) is launching a season of celebratory performances showcasing its various academic programs at their best ahead of its 35th anniversary next year. The first is the School of Dance Fall Performances. Ng has a solo routine, while he and Leung are paired for a duet. On graduation at year's end, Ng will begin an internship with City Contemporary Dance Company. Leung, his classmate, is hoping for a similar opportunity.
"I have been dancing since the age of 3 - it is all I ever wanted to do," admits Leung. "I considered going to dance school in Canada. But in the end, it was more economical for my family if I went to a local school. The only option in Hong Kong is APA."
"My parents forced me into Latin dance classes when I was in fourth grade - to prevent me from playing games all day," says Ng. "I then participated in APA's Gifted Young Dancer Program (GYDP) for two years before auditioning for its contemporary dance program."
GYDP is offered to budding dancers between 11 and 18. They attend their regular school from Monday to Friday and a full day of classes at APA on Saturdays. "GYDP helped streamline the process into APA," Ng says. "I got to know the professors and how the school operated."
"I thought that I would be dancing all the time at APA," says Leung. "In reality, we spend a lot of time in classrooms learning about dance science, culture, history and improvisation."
"Although we are dance majors, APA taught us performance basics: drama, music, even performance make-up application," notes Ng.
Leung and Ng feel that the most important lessons learned at APA can be applied off stage. "There were times when I had to dance and I didn't want to," admits Leung. "I learned discipline - how to hang on and push through, even when I felt like giving up."
"APA is like a mini community," says Ng. "We are with the same people for four years. There are people who become friends and people who I dislike, but we all have to support and trust each other if we are to dance together. It is not about competing with my classmates; it's about being the best that I can be."
Bringing joy to people
APA's director Adrian Walter joined the school in 2012 after more than two decades in Australia's tertiary academic environments. "One of my roles has been to increase educational opportunities for students to ensure APA remains a leader in performing arts education both in the region and internationally," he explains.
While not all of them will become professional performers, many will find careers as technicians, lighting designers and several other roles in the performing arts, says Walter.
"Next year is an exciting one as we celebrate our 35th anniversary," Walter says. "Many of our past achievements will be highlighted."
After initiating APA's first 10-year strategic plan in 2013, Walter has been strengthening APA's regional and global networks, including becoming a founding member of a Greater Bay Area Music Education and Cultural Alliance.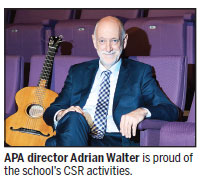 In 2017, APA launched its Academy Festival to showcase the talents of its students to local audiences. Walter says about 10,000 people attended this year's festival.
APA has a tradition of reaching out to members of the public. Recently students and staff visited two city hospitals. The school also hosted summer concerts for children from low-income families as well as those with autism who came to the event with family members, informs Walter.
"Students must be encouraged to share their skills and bring meaning into people's lives," he says. "I have seen firsthand how our performers bring joy to each audience member at our CSR events, particularly those who do not have the opportunity to easily attend a show."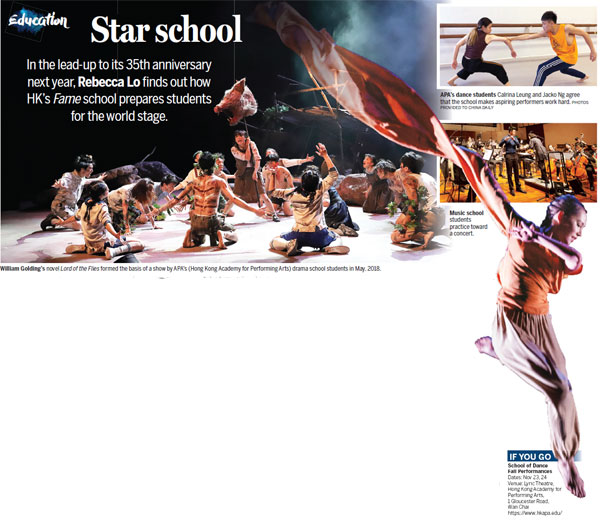 (HK Edition 11/23/2018 page12)