British MPs' criticisms are baseless, biased and bad
Updated: 2018-11-21 06:53
(HK Edition)
| | | | | | | | | |
| --- | --- | --- | --- | --- | --- | --- | --- | --- |
|   | | Print | | Mail | | Large Medium  Small | 分享按钮 | 0 |
Grenville Cross exposes the nonsense talked recently by some UK politicians in regard to the justice system in Hong Kong SAR
As the trial of nine defendants accused of criminal offences arising out of their alleged participation in the street protests of 2014 gets underway, a group of eight members of parliament in the United Kingdom have unfortunately sought to interfere. The accused are charged with various public nuisance offences, which allegedly resulted from illegal demonstrations and sit-ins. These caused three thoroughfares to be brought to a standstill, with buses and ambulances being diverted. Huge public disruption resulted, and continued for many weeks.
Quite clearly, no civilized jurisdiction can tolerate organized obstruction on its streets, particularly when its objective is to advance a political agenda. In the UK, public disruption is not tolerated, and offenders are always brought to account. Hong Kong authorities exercised maximum restraint throughout the disturbances, and allowed the protests to run their course, for which they deserve full credit. This, however, certainly does not mean that those suspected of related criminality can expect to evade justice.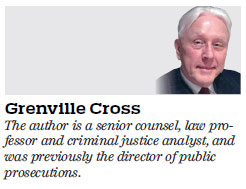 In Hong Kong, everyone is equal before the law, and people who are believed to have committed offences face being charged, irrespective of their motives or their position in society.
The Department of Justice reviewed the evidence against the nine accused, and charged those it considered responsible for the disruption. In doing so, prosecutors will have exercised their own discretion and acted in good faith. They must have concluded, as prosecution policy requires, that there was a reasonable prospect of conviction on the available evidence, which is the same test as applied in the UK. Their decisions will have had nothing to do with the government, as they enjoy constitutionally guaranteed independence. The Basic Law stipulates that the department "shall control criminal prosecutions, free from any interference", which is profoundly reassuring for everyone in Hong Kong.
Although the trial will now take its course, Fiona Bruce MP has tabled a motion in the British House of Commons condemning the proceedings. It describes the charges as "vague and ambiguous", claims they are intended "to intimidate and silence pro-democracy figures", and urges the UK government to raise the matter with the Hong Kong authorities and to consider "further actions". This, of course, is political grandstanding, and disregards not only the independence of Hong Kong prosecutors, but also the integrity of the legal system. The reasons for this motion, however, are not hard to find.
Bruce has worked very closely with Benedict Rogers, in the Conservative Party's Human Rights Committee, where they are both described as "commissioners". In fact, Bruce has been its chair, with Rogers as her vice-chair. Rogers, of course, came to public attention in 2017, when he was denied entry to Hong Kong, and established the Hong Kong Watch think tank.
Although Hong Kong Watch claims to provide "independent" analysis on freedom and human rights in Hong Kong, its activities show otherwise. Far from being independent, Hong Kong Watch is virulently anti-China, with a penchant for distortion. It specializes in peddling half-truths and myths about Hong Kong, all designed to blacken the central government. Rogers has hosted anti-government figures visiting London, and bizarrely described two political activists, Joshua Wong Chi-fung and Nathan Law Kwun-chung, who were convicted of an unlawful assembly which left 10 security guards injured, as his "heroes".
Bruce herself, moreover, used her party position to invite several Hong Kong activists to the recent Conservative Party Conference in Manchester. Intriguingly, those invited included Benny Tai Yiu-ting, who is one of the defendants in the current trial, as well as Law. It does not take a rocket scientist to work out who is feeding Bruce with her information about Hong Kong, or who is egging her on.
If, as Bruce claimed, the charges faced by the nine defendants are ill-defined, they can, of course, be challenged by their lawyers in the courts. As a lawyer herself, she should know that Hong Kong has one of the best legal systems in Asia, with highly regarded judges dispensing justice in an even-handed way. She should, moreover, instead of mischief-making, take a look at the World Justice Project's Rule of Law Index for 2017-18, which, out of 113 places surveyed, ranked Hong Kong's adherence to the rule of law at 16th, just behind the UK at 11th, but ahead, for example, of the United States, at 19th.
Instead of relying on biased sources to besmirch Hong Kong's legal system, Bruce should study its Basic Law. If so, she will discover that it not only provides that everyone charged with an offence has "the right to a fair trial", but also that the judges "exercise judicial power independently". If, therefore, the charges are defective, as she claims, the courts will put the matter to rights, unless, of course, she wishes, as part of her attack on the legal system, also to impugn our judges.
However, no matter what nonsense her local sources may be feeding her, Bruce should be wary of embracing that scenario as well. After all, the Hong Kong Court of Final Appeal comprises many distinguished judges from the UK itself, including the president of its Supreme Court, Baroness (Brenda) Hale, as well as her two predecessors, Lord Neuberger and Lord Phillips. She may wish to think twice before slagging them off as well, whatever her contacts may tell her.
That China agreed to allow jurists from other common law jurisdictions to sit on Hong Kong's top court was, by any yardstick, a quite remarkable move, but one which has reassured the community and contributed significantly to our jurisprudence.
Instead, therefore, of regurgitating biased commentaries and maligning our legal system, Bruce should take time out to acquaint herself with how it actually operates. If this means she will need to find some more reliable sources of information, so be it. This will do wonders for her credibility, and will surely be a price worth paying.
(HK Edition 11/21/2018 page7)