Qupital aims to alleviate financing difficulty for SMEs
Updated: 2018-11-16 07:17
By PAmela lin in Hong Kong(HK Edition)
| | | | | | | | | |
| --- | --- | --- | --- | --- | --- | --- | --- | --- |
|   | | Print | | Mail | | Large Medium  Small | 分享按钮 | 0 |
As a dynamic business sector that drives the city's innovation and competition, small and medium-sized enterprises' pain points such as difficult financing or slow payment are getting some relief.
Cash-flow management has been one of the most significant challenges SMEs face since banks tightened financing standards and stricter regulations on credit and risk management were implemented. It can also take a while for SMEs, especially those in the export trade and wholesale industries, to receive payments from their clients, which could stunt their development.
Growing up in New Zealand and studying in the US, Andy Chan used to work as a software engineer, and he is always interested in startups and entrepreneurship. He got to know different platforms by doing unpaid-invoice exchanges, and he would like to fill that void in the Hong Kong market.
Believing that opportunity goes alongside challenges, Chan and his partner Winston Wong co-established Qupital, a digital trading market for buyers and sellers of corporate receivables and the first Hong Kong-born enterprise to deal with cross-boundary e-commerce financing.
"We would like to link the two together because we see there are problems for SMEs regarding financing. Instead of going to the banks, money lenders or other institutions for financing, they can come to our platform and get financing immediately," Chan said.
The digital platform helps SMEs to connect with investors who are mostly Hong Kong hedge funds, family offices and high-net-worth professionals to get instant financing. "We've been talking with banks as well," Chan added.
The registered sellers put up the unpaid invoice on to the platform and wait for the funders to bid. The funders can bid on the invoice and get it at a discount. The full remit payment will be given to the funders directly and the funders gain the price spread. "We let our funders generate 10 to 18 percent annualized return," Chan said.
All possible with a few clicks, online accounts receivable exchanges on Qupital can ensure the money is sent to the sellers' bank account within a day without any fixed asset as collateral. Qupital charges both sides including a platform fee from the sellers depending on the size of the SME and a commission from the investors on the gain they realize on the platform.
Backed up with cloud servers which are protected by the same technologies used by major banks, Qupital's online platform includes SSL (secured sockets layers) encryption to help secure the data. The platform allows funders to see auctions at 10 am on working days including the highlights of the SMEs but not revealing the name or address of the SMEs. "Up to now, we have zero unsold invoices on the platform," Chan said.
To protect the stakeholders, sellers of unpaid invoices should be Hong Kong-registered companies with more than 2 million turnovers. Besides, the companies need to have open account trading with other businesses and at least 12 months of operating history.
"We have integrated with over eight different SME accounting softwares and the top e-commerce platforms to pull alternative data for our credit control procedure," Chan said. Qupital require SMEs either to purchase trade credit insurance or to sign the beneficiary to them. Trade credit insurance protects the transactions so that if the counterparty doesn't pay on time or goes bankrupt, the insurance company will pay up to 90 percent of the invoice value.
"Before the trade credit insurance is even set up, we have to ensure that these SMEs have a true trade relationship with the counterparty. We have to look at their old records, transaction registry, look at the invoices, their shipping documents, purchase orders," Chan said. "Many things need to be taken into consideration. We have to prove that the counterparty has paid into a bank and whether in some time has it had any returned goods or late payments," he added.
Founded in March 2016, Qupital launched its platform in August that year after receiving investment led by the Alibaba Entrepreneurs Fund, MindWorks Ventures and the other three investors for a total of $2 million.
It's noteworthy that Qupital was the first fintech investment Alibaba and MindWorks made in the city. In March, Qupital formed a partnership with Alibaba.com, China's leading platform for global wholesale trade. The tie-up enables the qualified golden suppliers of Alibaba.com to free up cash more easily via Qupital.

"It's a great achievement for us and, at the same time, it allows the two parties to refer customers to each other and also develop the markets together," Chan said.
With a great number of exporters and manufacturers, Alibaba.com has ratings for each of them concerning whether they have completed the order on time, customer service and so on. Qupital captures the data and provides faster turnaround for funding approvals and larger loan amounts to the qualified suppliers.
Starting from two people to now more than 40, Qupital aims to expand the market to the Chinese mainland, Taiwan, Macao and Southeast Asia. "We are planning to set up an office in Hangzhou, Zhejiang province which is China's e-commerce hub. And we can be close to our customers," Chan said.
Until August this year, the online marketplace had reached HK$1 billion gross merchandise volume (GMV) with monthly growth of 20 to 25 percent. According to Qupital, the fourth quarter is expected to achieve HK$800 million GMV.
"Besides traditional invoice financing options, we started to push out our new e-commerce financing options this quarter as well," Chan said.
Recently, Qupital announced it's making inroads into the cross-boundary e-commerce market by providing supply chain financing services for suppliers from global e-commerce platforms like Amazon, eBay, and Tmall. According to Qupital, business related to cross-boundary e-commerce has achieved about 100 million fundraising.
As one of the few companies that focuses on digital financing, Qupital is a relatively new alternative lending solution.
"Stakeholders may not understand it and be scared of it because they are not familiar with such a way of financing," Chan said. "But it's getting better as we introduce them more. In some family businesses, the children take over the business and most of them are millennials. They are actually much more open to the online lending solutions," he added.
The Guangdong-Hong Kong-Macao Greater Bay Area also brings opportunities to Qupital. Chan believes that the Bay Area helps the young talents exchange which may help Qupital's recruiting side.
"E-commerce financing options are from companies founded by mainland entrepreneurs. These guys don't have the collateral of fixed assets to pledge to the banks, so they are open to alternative solutions. We could come out and help them all," Chan said.
pamelalin@chinadailyhk.com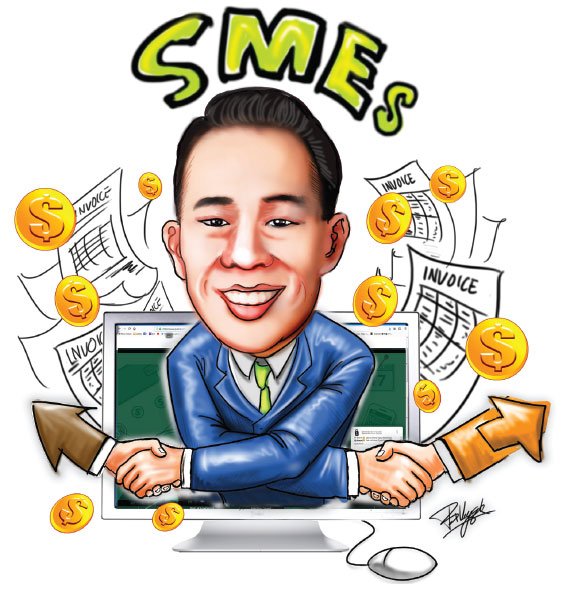 (HK Edition 11/16/2018 page8)