A Pandora's box of dark theater
Updated: 2018-11-09 06:34
(HK Edition)
| | | | | | | | | |
| --- | --- | --- | --- | --- | --- | --- | --- | --- |
|   | | Print | | Mail | | Large Medium  Small | 分享按钮 | 0 |
While cruel and disturbing themes marked the plays staged as part of the city's just-concluded biannual Black Box Festival, at least one of them was also about laughing at the grandeur vested in tragedy. A review by Chitralekha Basu.
Hong Kong International Black Box Festival (HKIBBF), which concluded last week, proved once again that bold is the flavor of the season. Like the performance pieces commissioned by Tai Kwun for its dance season which ran until mid-October, and some of the productions now showing in the city as part of the Leisure and Cultural Services-hosted New Vision Arts Festival, HKIBBF too was largely about pushing boundaries - taking the audience where they would probably not want to go in real life.
At least three of the four shows presented at the HKIBBF contained violence. Co-curated by Fung Wai-hang of Hong Kong Repertory Theatre and Low Kee-hong of West Kowloon Cultural District, the package was designed to "return the agency to audiences in theater" at a time when more and more people seem averse to directly participating in public life, preferring to do so from behind the safety net of social media. The curators chose three hard-hitting pieces of drama - sourced from Italy, Belgium and Australia - hoping to get jaded brains overexposed to fake news and hate campaigns back where the action was, even if it were only a theatrical reconstruction.
Silvia Calderoni's narration of her journey through life as a gender fluid is the theme of MDLSX, produced by Motus theater company of Rimini, Italy. In a night club-like set complete with the associated paraphernalia (fluorescent costumes that glow in the dark, glittery silver sheets on the floor, laser lighting and ear-splitting sound), Calderoni plays the DJ, filming herself as she re-enacts milestone moments from her life. She sings, prances around the stage like an angry bird, raising her fists in the air to challenge the authority of canonical texts and people who, unable to come to terms with the indefinite nature of her gender, have labeled her a "monster". Opening up her life, and body, she lets it all hang out.
Although the pitch is mostly high-octane - perhaps not unreasonably so, as Calderoni's life, after all, is crowded with instances of shaming, prejudice, and betrayal - MDLSX is not without its tender moments. One such is in the footage from the actor's younger days, showing Calderoni's father coming to terms with her sexuality after a long estrangement, followed by a round of dad dancing. These video clips from the past are wedged cleverly between the live screen projections of Calderoni's stage act, or rather its truncated parts, blown up on screen to cock a snook at the haters, in a deliberately exaggerated way.
End of innocence
Under-12-year-olds were barred from watching Five Easy Pieces, although when the play was first produced by Campo arts center of Ghent, Belgium in 2016, the cast was almost entirely pre-teen. The same cast, now two years older, has since toured across half the world and performed in Hong Kong last week.
The plot centers around the pedophile and serial child murderer Marc Dutroux, whose 1996 arrest and subsequent trial had turned him into a household name in Belgium for the wrong reasons. Writer-director Milo Rau's play has child actors interpreting this very adult and deeply-troubling story.
The result is a performance piece in which children play people whose lives were turned upside down because of Dutroux's crimes. For example, there is a piece in which Sabine Dardenne narrates her unsent letter to her parents, telling them of her time spent in the dungeon where Dutroux had incarcerated her. The part is played with bone-chilling impassiveness by 11-year-old Blanche Ghyssaert. Extreme close-ups of children's faces, screened live as they act out the roles of a murderer's harried father (Arno John Keys), or parents of an abducted young girl (Fons Dumont, Lucia Redondo), in all sincerity and yet in need of a dab of glycerin under the eyes - and a stern rebuke from an impatient play director - when trying to force out a tear, makes one wonder if there isn't a serious violation of child rights entailed in the process, and if as an adult spectator watching the show like a voyeur one isn't a party to it.
Death is a joy ride
Oedipus Schmoedipus was the goriest among them all. The two main actors shot, stabbed and punched each other, sawing off hands and ears and spilling so much "blood" on stage in the opening act that it took three people nearly 10 minutes to clear the mess and mop the space clean before the play could continue.
The blood-splattered first act was a mock tribute to the "Great White Men" of theater - Aeschylus, Shakespeare, Ibsen, Chekov, Pirandello among several others from the western hemisphere - who between themselves seem to have monopolized the canon of classic tragedies. It's a clever excuse to introduce, or in some cases reacquaint, the audience with some of the most lofty and also often most-hyped moments of death written for the stage.
I'm not totally convinced by the default white male theory, as plays with heart-rendingly tragic slants by some of the brown and black female playwrights from India (Mahasweta Devi), China (Liao Yimei) and Africa (Maya Angelou) are not entirely unknown, not to mention male playwrights from the East such as Cao Yu and Lao She. Still, Oedipus Schmoedipus managed to rip right through the pall of righteous grief wrapped around the notion of death and turned the play into a joyous romp and therefore the trio of Zoe Coombs Marr, Mish Grigor and Natalie Rose of the Australian theater company post (with a small "p") deserve our applause, and wolf whistles.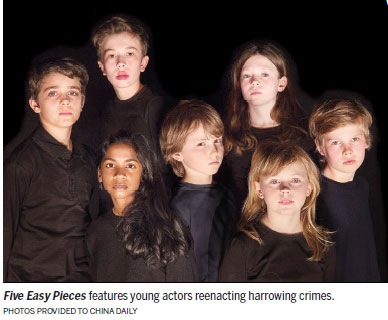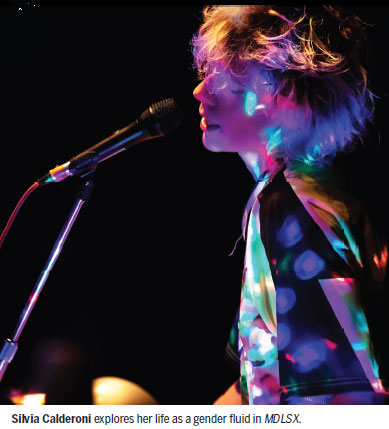 (HK Edition 11/09/2018 page12)