Standing for a LegCo seat not a right without limits
Updated: 2018-10-19 07:55
(HK Edition)
| | | | | | | | | |
| --- | --- | --- | --- | --- | --- | --- | --- | --- |
|   | | Print | | Mail | | Large Medium  Small | 分享按钮 | 0 |
Screening legislative candidates to safeguard Basic Law and local laws is well within the purview of the Electoral Affairs Commission, writes Grenville Cross
Lau Siu-lai was banned this month from contesting the Legislative Council by-election in Kowloon West on Nov 25 because the Electoral Affairs Commission doubted her motives, and there was an unseemly rush to judgment. A spokesman for the British consul general, for example, complained that the right to stand for election is enshrined in the Basic Law's Article 26, which is quite correct, but only up to a point. What Article 26 actually does is to provide permanent residents with a right to stand for election "in accordance with law". The right, therefore, is not absolute, and can, for good reason, be limited by local legislation, as happens elsewhere.
People seeking election to the legislature are subject to various requirements, prescribed by the Legislative Council Ordinance. Under Section 37, for example, these include an age qualification of 21, a residency requirement, and a requirement of registration as an elector. Section 40, moreover, requires candidates to make a declaration that they will "uphold the Basic Law and pledge allegiance to the Hong Kong Special Administrative Region". The Electoral Affairs Commission is charged with operating these procedures, and preventing people from standing if there is a breach of requirement or other impropriety.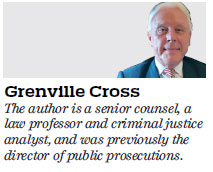 This happened, for example, in 2016, when Andy Chan Ho-tin, convener of the now-banned Hong Kong National Party, was prevented from contesting the Legislative Council elections because his political agenda conflicted with his declaration. Quite clearly, if someone is simply repeating the words of the declaration in order to get their name onto the ballot, while actually disagreeing with its terms, he or she is, at best, abusing the system, and, at worst, committing a deception. If, therefore, the integrity of the procedure is to be safeguarded, false nominations need to be weeded out.
After Chan challenged his exclusion in the High Court, Justice Thomas Au Hing-cheung ruled in February that electoral officers could exclude nominations on the grounds of insincerity. However, he stressed that this required "cogent, clear and compelling" evidence that the candidate's declaration was not genuine. Au explained, moreover, that the affected person should be given a "reasonable opportunity" to respond to the electoral officer's concerns, before any final decision is taken.
In Lau's case, the electoral registration officer, Franco Kwok Wai-fun, concluded that although she claimed never to have supported Hong Kong independence, the evidence indicated otherwise. Her denial was "only a strategy she adopted to prevent the returning officer from making a decision not advantageous to her nomination". In other words, this was a ruse, as Lau "completely rejected the governing rights of the Central People's Government and the Hong Kong Special Administrative Region".
In so concluding, Kwok relied on a joint statement by Lau, legislator Eddie Chu Hoi-dick and Demosisto party activists in July 2016, which said they would defend Hong Kong independence as an option if people were allowed a choice on "democratic self-determination". He also pointed to the High Court judgment of 2017, which disqualified Lau from the Legislative Council, and in which it was said she had no intention to take her oath of office properly, citing a Facebook post she made in protest shortly after her oath-taking ceremony in October 2016.
Kwok noted, moreover, that Lau had only very recently deleted from her website media reports quoting her 2016 platform on self-determination. He believed that "the recently deleted general platform has been Lau's political view all along".
Notwithstanding the evidence and Kwok's conclusions, Lau has complained that she should, because of Au's judgment, have been given an opportunity to respond. However, as a matter of common sense, Au's guidance should be seen as directory, rather than mandatory. If Kwok was satisfied on all the material before him that the case for exclusion was overwhelming, there would have been little point in inviting Lau's comments.
In any event, under the Legislative Council Ordinance (Section 34), Lau has a right of appeal against Kwok's decision to the Electoral Affairs Commission's revising officer, whose determination "on such an appeal is final". Even if any appeal is unsuccessful, her exclusion is by no means indefinite.
Chief Executive Carrie Lam Cheng Yuet-ngor has denied that people in Lau's situation face life bans, insisting it is only for one election. This, of course, is provided that there has been a genuine change of heart in the meantime. Quite clearly, if someone abstains for a reasonable time from involvement with constitutional positions which contravene the Basic Law, and demonstrates a realistic appreciation of Hong Kong's status as an integral part of China, there is no reason why they should not have a political future. The choice is theirs.
Since 2016, moreover, nine people have been excluded from standing in Legislative Council elections by the Electoral Affairs Commission. This was presumably because its officers did not believe, on the evidence, that their declarations were genuine, which may involve criminality. Section 103 of the Electoral Affairs Commission (Electoral Procedure) (Legislative Council) Regulation makes it an offense, punishable with up to six months' imprisonment and a fine of HK$5,000, for a person, in an election-related document, to make a statement which he or she "knows to be false in a material particular or recklessly makes a statement which is incorrect in a material particular or knowingly omits a material particular from an election related document".
If, therefore, the Electoral Affairs Commission has evidence which shows that a candidate has filed a declaration which is,or may be, untrue, it will be necessary for Secretary for Justice Teresa Cheng Yeuk-wah, as chief prosecutor, to examine it. She will then need to decide if there is enough evidence to justify criminal charges, and, if there is, whether a prosecution is in the public interest.
(HK Edition 10/19/2018 page12)