Should Fringe Club relegate F&B to the margins?
Updated: 2018-10-19 07:50
By Rebecca Lo(HK Edition)
| | | | | | | | | |
| --- | --- | --- | --- | --- | --- | --- | --- | --- |
|   | | Print | | Mail | | Large Medium  Small | 分享按钮 | 0 |
The year was 1984 and Hong Kong was beginning to find its voice as a city in the buzz that eventually led to the Sino-British Joint Declaration. Local artists, buoyed by a fresh sense of optimism, began exploring the potential of art forms and practices that were uniquely Hong Kong. One man felt that the indigenous cultural heritages as well as the new art being created by Hong Kong's artistes deserved a home. He adapted the Old Dairy Farm Building in Central - a heritage structure abandoned for more than a decade - turning it into a platform for staging cultural shows and conversation.
"It took four weeks from the key handover to our first performance," recalls Benny Chia, founder and director of Hong Kong's Fringe Club (FC). "The building had no lights, no electricity and no water. We relied on volunteers to help. The paint was donated. We borrowed most of the sound equipment. The carpet came from local schools. There was a lot of improvisation."
Chia wanted to tap into the energy of the Fringe Festival held in Hong Kong at the time by creating a place where artistes could connect directly with their audience. Nearly 35 years later, FC has remained true to that mandate. Over the years, however, an increasingly large portion of the building's spaces has become dedicated food and beverage outlets - with varying degrees of success.
After upmarket restaurant M on the Fringe vacated the southwest first storey space in 2009 following a successful two-decade run, FC opened its own fine dining establishment there. Circa 1913, named after the year the building was erected, opened in 2017.
Circa 1913 joins the Fringe Vault, a recently renovated cafe, and Colette's, an art bar with al fresco seating named after the actress Colette Koo who died prematurely in 2010. "I believe that to create a social platform for artistes to thrive, we must have food and beverage," Chia states. "F&B is a catalyst that brings people together."
Trying to break even

Chia admits that he is still trying to find a way to make FC's eateries self-sustaining, as he faces stiff competition. While in the mid 1980s, restaurants outside of hotels were limited to fast food chains and local diners, the culinary landscape changed completely by the late 2010s. Restaurants, bars and cafes offering a plethora of local, regional and international cuisines have sprouted all around Ice House and Wyndham Street. Seasoned F&B operators find business hard to sustain as Central rents continue to soar while the price of dinner out has remained relatively constant.
"There is a lot of pressure to make our outlets work," Chia acknowledges. He is not in favor of outsourcing the job to professional restaurateurs as he doesn't expect them to always appreciate the principles on which art spaces operate. The club maintaining autonomy on its eateries helps, for example, "if we wanted to close a restaurant to host a poet in town, we have the liberty to do so since we operate our outlets."
As well as accommodating contemporary visual and performing arts needs, Chia has other headaches to contend with. The club's popular al fresco seating area on the roof is closed indefinitely until a secondary exit without affecting the spaces in the floors below can be worked out.
Closures for maintenance and renovation work affect FC's attractiveness, and combined with seasonal downturns, many who previously chose to put on a show at FC may look elsewhere.
"I had no idea initially that operating an art hub in a heritage building would be so much work," Chia laments. "It's like marriage. I was very passionate when we started. But after 14 renovations, it has been challenging."
While F&B may seem like a good entry point to foster artistic discussion, FC has made its reputation by being the city's go-to place for emerging artistes. In a city with few reasonably priced and centrally located arts venues, FC is a precious resource with multiple venues that should be nurtured. Dialogue can continue virtually anywhere. Hong Kong Fringe Club should focus on Hong Kong artistes, and let others feed them.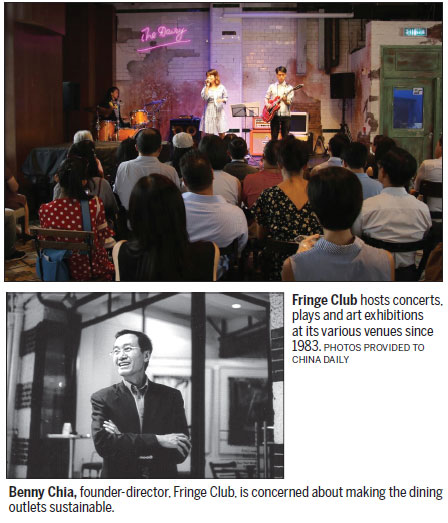 (HK Edition 10/19/2018 page10)