Shaking off the Octopus grip
Updated: 2018-10-19 06:17
(HK Edition)
| | | | | | | | | |
| --- | --- | --- | --- | --- | --- | --- | --- | --- |
|   | | Print | | Mail | | Large Medium  Small | 分享按钮 | 0 |
While digital payment platforms may be finding their feet in Hong Kong after years of dominance by the Octopus card, experts say it's still a long way off before the city's ubiquitous cards can be fully replaced. Edith Lu reports.
If Hong Kong were resolved enough to cast off its perceived image of a "tech desert" vis-a-vis the mobile or digital payment age, it may now be seen to have made some headway after the city's de facto central bank stepped in.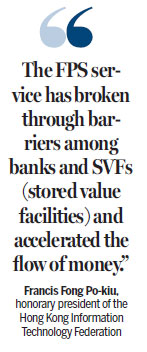 Wang Lin had saved for himself the embarrassment of being unable to pay the van driver after he had inadvertently placed his wallet in the trunk of the vehicle that had delivered all his belongings to his new home in North Point.
Instead of rummaging through the mountain of luggage in the vehicle for the wallet, he immediately opted to settle the delivery fee by scanning the driver's QR code via his online banking account.
The digital payment was made possible as a result of GoGoVan - Hong Kong's intra-city logistics platform - having joined the money transfer service, Faster Payment System (FPS), launched recently by the Hong Kong Monetary Authority.
The service became effective late last month, accepting person-to-person fund transfers and person-to-merchant (P2M) retail payments in Hong Kong dollars or yuan. It works all year round, including public holidays, across different banks and e-wallet operators in real time.
GoGoVan is the first major local company to have joined the new system, enabling its users to pay van drivers with a swipe of their smartphones.
According to the HKMA, up to 1.07 million people had registered to use the new money transfer service using their mobile phone numbers, email addresses and the so-called FPS ID as of Oct 7. To date, nearly 488,000 transactions in Hong Kong dollars have been recorded, amounting to HK$5.24 billion ($670 million).
To make it more convenient for merchant clients, the HKMA and Hong Kong Interbank Clearing launched a mobile application combining QR codes from different platforms into a single one. So far, 13 platforms support the common QR-code app, including Alipay HK, WeChat Pay HK, Octopus and Union Pay.
GoGoVan co-founder Reeve Kwan Chun-man says the traditional cash payment method has led to huge amounts of unnecessary costs as drivers need to give change to customers who, very often, just do not carry cash.
The QR code-based payment method, hopefully, will bring down costs in settling disputes between customers and GoGoVan's more than 40,000 registered drivers. Kwan expects nearly 30 percent of the platform's orders to be settled via the FPS service in the first year of its adoption, with 20 percent of new customers likely to use the new payment method.
GoGoVan's FPS service has been fostered through the logistics provider's cooperation with HSBC, which is among the first batch of banks and e-wallet operators, also known as stored value facilities (SVFs), involved in the FPS.
Besides HSBC, 20 other local commercial banks and 10 e-wallet operators have joined the system, including Hang Seng Bank, Bank of China (Hong Kong), Alipay HK, WeChat Pay HK and Octopus.
Kwan says it's possible for GoGoVan to start other digital payment methods in future although he believes there's no need to do that as most e-wallet operators back the FPS.
The advent of the FPS service appears to have set the stage for fiercer competition in Hong Kong's digital payment market.
Financial Secretary Paul Chan Mo-po said at the FPS activation ceremony it has provided an open platform for various market participants to throw their hats in the ring for a healthy contest.
Fiercer battleground
"The battleground will become far fiercer, for sure, as the FPS service has broken through barriers among banks and SVFs and accelerated the flow of money," says Francis Fong Po-kiu, honorary president of the Hong Kong Information Technology Federation.
Consumers, he adds, will be able to enjoy the various benefits and discounts offered by different e-wallet operators more flexibly, as they can top up their e-wallets through the FPS service round the clock, instead of waiting for one or two days, or going to convenience stores to recharge.
Such an arrangement is also likely to trigger a new battle among SVFs for a bigger market share.
Micro-amount payments, ranging from coins to a few hundred Hong Kong dollars, used to be a major focus for all e-wallet operators. But, since 2016, Alipay and WeChat Pay - the twin pillars of digital payment on the Chinese mainland - have been aggressively wooing convenience stores, cosmetics shops and many other brand-name brick-and-mortar stores in Hong Kong with all kinds of incentives, such as cash rebates and coupons, in an attempt to shake off the city's traditional reliance on credit cards, cash and the Octopus card.
Similarly, most transactions through the FPS via the account proxy identifier, including mobile numbers, email addresses and FPS ID, have also been in small amounts. According to HKMA data, the total value of fund transfers using the account proxy identifier hit nearly HK$538 million as of Oct 7 - just about one sixth of that using ordinary account numbers. But the former's transaction volume was much larger than the latter's.
Besides retail micro-amount payment, the HKMA plans to introduce the FPS for public transportation fares. It could be in line with Alipay and WeChat Pay's bid to break Octopus' dominance of MTR and bus ticket purchases in Hong Kong.
The once groundbreaking stored value card, based on near-field communication (NFC) technology, that was invented in 1997 is currently accepted by 22,000 businesses across the special administrative region. Though the Octopus card has lacked innovation since its inception, it's the widely preferred choice for Hong Kong residents in public transport.
MTR Corp, which runs the city's metro-and-railway network, also plans to install new automatic fare gates and create a new QR code-based payment system for the local subway system. It has begun inviting tenders and will officially invite bidding next year. Alipay, WeChat Pay and Octopus' QR code-based O!ePay are expected to participate.
"But, I reckon the FPS service and its underlying QR-code technology will not necessarily reform the public transport payment system," says Gary Ng, risk assurance partner at PwC Hong Kong. He explains that, compared with the QR-code payment, Octopus' contactless NFC technology allows users to move much faster. And, the speed of payment is a key issue for the city's huge population and busy traffic.
Diehard spending habits
"In addition, people's spending habits are hard to change and need triggers for rectification as the Octopus card has been a part of Hong Kong people's daily lives for decades," says Fong, adding he does not see the possibility of the FPS ultimately replacing the Octopus.
Moreover, the FPS' P2M operation - the most commonly used function of e-wallets - is still in the early stages. The FPS cannot completely replace SVFs, given its reliance on the tie-up with banks and how banks connect with merchants, Fong notes.
GoGoVan's partner bank HSBC is considered the most aggressive in tying up with a number of big business names, including Hongkong Electric.
"The FPS service and digital wallets work more like a matching pair, complementing each other," says Ng. It's expected the FPS service will prompt more merchants to adopt digital payments and encourage people to use e-wallets more frequently.
Octopus Holdings Chief Executive Officer Sunny Cheung Yiu-tong says he has confidence in the real-time fund transfer arrangement of the FPS service. Users can top up their Octopus cards through its mobile app O!ePay anytime, anywhere now with the FPS service. He expects the new service to help the company develop its business in more areas.
The city's ubiquitous payment card had failed to fully conquer the taxi payment market after several attempts in the past. It re-entered the market in May by launching a new app for taxi drivers which can turn their NFC-enabled mobile device into an Octopus reader for payment by Octopus cards. The new app accepts Octopus' O!ePay QR-code payments as well. So far, about 3,000 taxi drivers have signed up for the app - just 7.75 percent of the total number of the city's taxi drivers.
Cheung says although the registration number did not see a sharp rise after the FPS' launch, he believes the effect of the FPS service will be noticed gradually.
The long waiting period is seen as one of the major reasons for taxi drivers refusing to go digital and sticking to cash. It used to take them one or two working days to settle e-payments and get the cash. With the real-time fund transfer arrangement of the FPS service coming into place, taxi drivers are now able to get their money at any time.
Currently, among taxi payments via Octopus' new app, about 85 percent of passengers choose to tap or wave the Octopus card, much more than those who scan the QR code on O!ePay. It shows the Octopus card maintains its advantage in transport payment.
"The FPS service could be a new opportunity for Octopus. I think it'll be one of the four or five large SVFs which will survive the competition in two or three years in the end," says Fong in predicting the short-term future landscape of Hong Kong's digital payment market.
Ng says e-wallet operators will need to have more innovations to win the game, which is actually what every SVF is striving for.
Focusing on the local market, Octopus is looking for chances in virtual payment and e-commerce. As a physical card, Octopus is working on linking the card with online stores and supporting online payment after eyeing e-commerce as a big market, says Cheung.
As for mainland-based e-wallet operators like Alipay HK, they continue to branch out worldwide following the footsteps of Hong Kong travelers. The strategy is similar to Alipay's "Chinese wallet" strategy on the mainland. It expands cooperation with Hong Kong people's favorite overseas merchants in their favorite spots, and encourages them to pay with Alipay HK during their trips abroad.
It seems the battle lines in the digital payment market have just been drawn.
Contact the writer atedithlu@chinadailyhk.com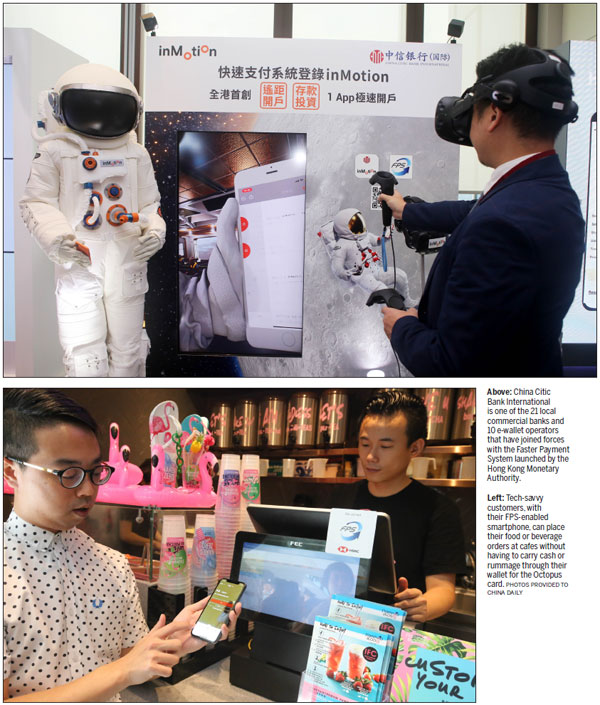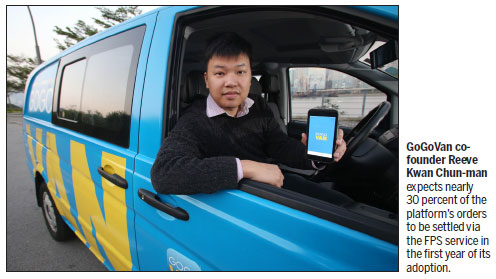 (HK Edition 10/19/2018 page9)